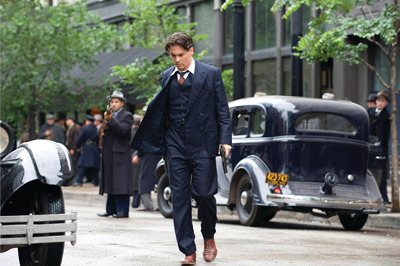 MovieREVIEW
"Public Enemies"
Directed by Michael Mann
2009, R, 140 min.
A film expert once told me that historic "period" movies are more about current events and context than they are about that historic time or character. So I was particularly excited to see "Public Enemies." What would a historic movie about a Robin Hood-like gangster who lived during the Great Depression when millions of people were out of work while banks were still making lot of money have to say about today? People hated the banks then, people hate the banks now. Seems like a sure thing.
Coulda, woulda, shoulda. It fell far short of my expectations. I didn't learn too much about John Dillinger or why he became a "folk" hero to millions. Was it his audacity of prison-escapes and wild bank robberies that captured millions of people's imaginations? An ordinary guy taking on the fiends of finance and G-men through his own wit and courage? The hype around the movie certainly says these things, but the movie doesn't. (However, my 17-year-old son loved the movie and does not share my opinion on this.)
Character development and plot were noticeably missing. It seemed like a patchwork of beautifully shot scenes, with solid acting, but without an overall purpose.
The movie did shed light on how the FBI came into being – and that J. Edgar Hoover was just as despicable younger as he was older. Hoover built the organization, which was more about promoting himself and his friends then getting justice. Police brutality was on truthful display as well.
I liked Christian Bale's heartless performance of agent Melvin Purvis. And for Johnny Depp fans – it may be worth the price of admission. But if you are trying to decide what to spend your hard-earned movie money on – see a matinee showing or wait for it on Netflix.
— Teresa Albano