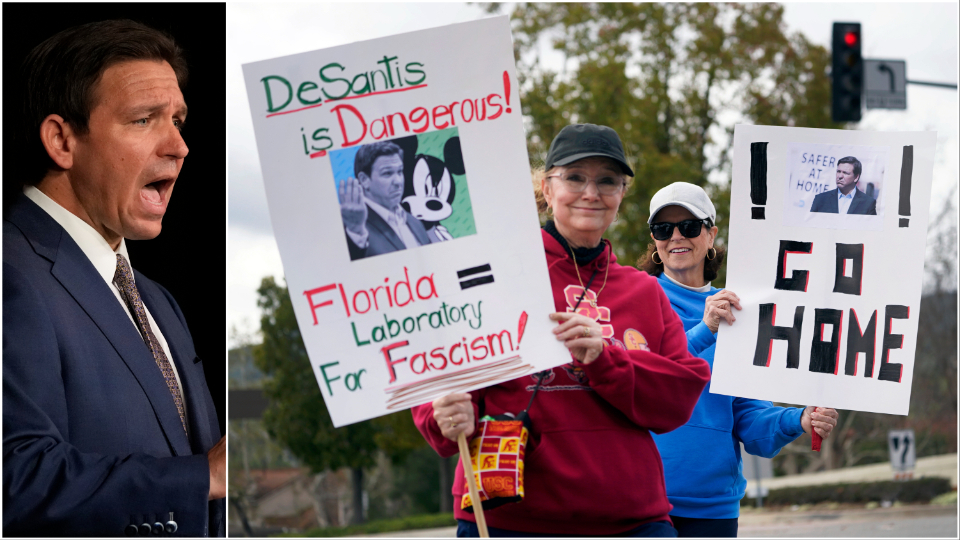 TALLAHASSEE, Fla.—A year before the March 5, 2024, Florida Republican presidential primary, the state's radical right-wing Republican governor, Ron DeSantis, is pitching himself as what could be called the not-Donald Trump version of Donald Trump.
But in one key respect, DeSantis is very like Trump, says a Floridian teachers' union leader who's had to battle him, as DeSantis has made teachers his main target and state takeover of the schools his main goal: DeSantis is a danger to democracy.
In another respect, he's different: As a governor who just won a landslide re-election in what had been a "purple" state, and as a U.S. House member before that, DeSantis knows political levers to pull and how to pull them to elevate his causes if he wins his White House run next year.
That makes him more dangerous than Trump, says Andrew Spar, president of the Florida Education Association, the state's joint AFT-NEA affiliate.
"He's very much like a dictator, and we've seen what that does" in other nations, the FEA's current chief, a music teacher from Volusia, emphatically told Press Associates Union News Service in a telephone interview.
"We have a governor dictating what classes someone can take," or not take, from kindergarten all the way up to graduate school. We think a lot of this is unconstitutional."
"We've seen this all before: This book banning" prohibition of Advanced Placement courses in high school that deal with the nation's racial history, and "the onslaught of negativity and the divisiveness," adds Spar's predecessor as FEA chief, Fedrick Ingram, now Secretary-Treasurer of the Teachers (AFT). The "before," he said, was Trump.
"We have to show these will be bad for the whole country," added Ingram—especially in early primary states next year.
This brings up the real reason DeSantis and his right-wing crusades draw attention now: He's running for the Oval Office, having all but officially declared himself in the Republican nomination race.
There, he presents himself as the alternative to Trump. In short, Trumpism without Trump the man.
DeSantis eliminates Trump's bombast, lies, egotism, and record of trying to overthrow his own government in the Jan. 6, 2021 invasion, insurrection, and coup d'etat attempt at the U.S. Capitol. Polls of Republicans make DeSantis their #2 choice, behind Trump.
So DeSantis tours the country, campaigning for other Republicans, raising money—besides the $200 million he had in the bank as of Dec. 31—touting his campaign biographical book and his right-wing crusades. The two latest out-of-Florida crowds to hear him: big givers in Southern California and the notoriously right-wing Chicago Federation Of Police at a closed-door meeting in Elmhurst, Ill.
Draws protesters
He draws protesters, too. One in Simi Valley, Calif., sported a sign reading "Ron  DeFascist." In Elmhurst, some waved gay pride flags. DeSantis is anti-gay, anti-LGBTQ, anti-abortion, anti-public worker—local, state, or federal—and pro-corporate class.
But the governor doesn't advertise that. Like Trump, he hammers away on social issues: "Wokeism," critical race theory, abortion, opposing anti-coronavirus safeguards, and favoring taxpayer-paid school vouchers for parents of private school kids.  DeSantis just sent in legislation banning abortion after six weeks of pregnancy, one of the stiffest anti-abortion state laws nationwide.
"And he's attacking anyone who doesn't agree with him. That's who Mr. DeSantis is," says Ingram. "He was part of" the ultra-right "Freedom Caucus" in the House, Spar adds.
Long ago, DeSantis picked universities, teachers, and professors as his punching bags. And he wants total state control over what kids learn. "We're his main target," Spar says of teachers and their unions.
DeSantis's advantage there is a pliant gerrymandered Republican supermajority in the Florida legislature. When DeSantis tells them "jump," they jump, very high. And very high features a raft of anti-teacher anti-education legislation in the 60-day session which began March 7.
The legislation he's pushing there includes the vouchers plan and a measure (SB256) "aimed at unions and union members," Spar explains. Unions would suffer the loss of dues through a right-wing "paycheck protection" plan. Public worker unions would have to stand for recertification by their members each year—and flunk if they don't get 60% of the vote.
"And the state could go in and inspect their membership records at any time," Spar continues. That includes individual names and identifying data.
DeSantis's higher education bill eliminates tenure and due process for professors who get fired by gubernatorially appointed college and university boards and bans classes in diversity and race relations, among other mandates.
DeSantis's latest genuflection to the Trumpites and the radical right came in his March 7 State of the State address: Ordering lawmakers to enact an open-carry law—in the state that suffered the Marjory Stoneman Douglas school massacre on Valentine's Day 2018. That gunman killed 14 students and three AFT member teachers. His rampage gave birth to the student-led March For Our Lives movement.
Despite all this, both FEA and national unions plan a mass rally in the state capital of Tallahassee on April 1. Ingram has moved down to Tallahassee full-time for the 60-day session to both lobby lawmakers and organize the protest. Spar expects it to draw unionists, parents, teachers, and others from all over the state and nation.
"These are things he all wants to do as president," Spar says of DeSantis's agenda.
But while the rally will be in Florida's capital city, it won't be in the state capitol building.  And blogging reporters will need state "permits" to cover it.
"Right now," thanks to the governor, "if you want to protest in the state capitol, you can't—unless you get the approval" in advance "of a state agency, the State Senate President, or the State House Speaker," all of them Republicans, Spar explains.
"And the protest still can't 'go against the mission or values of the state.' DeSantis doesn't want people to know he's trying to silence the opposition."