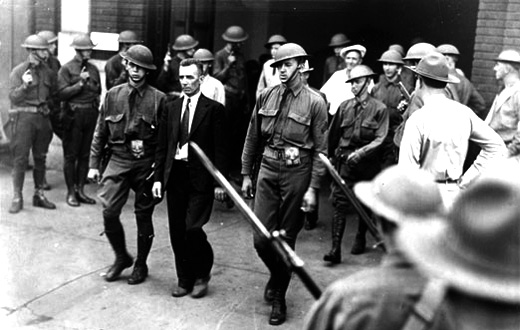 ST. PAUL, Minn. (PAI)–The 10 or so people gathering in a home in St. Paul might have been meeting for the first time, but they forged an instant bond. Their parents or grandparents 80 years ago stood together and fought in the streets of Minneapolis for the right to organize a union during 1934's Teamster strikes.
These descendants included the grandchildren of notable strike leaders like Vincent "Ray" Dunne. They also included people who knew little about their parents' or grandparents' involvement – only that daddy or grandpa took part and that it was damned important.
One by one, as they shared their stories, the descendants also expressed a common calling in life: To stand up for what's right and to work to make the world a better place.
Linnea Sommer, Granddaughter of Chester Johnson
"My grandfather, Chester Johnson, was in the Socialist Workers Party and was involved in the strike," said Linnea Sommer of St. Louis Park. "All I know is that it happened and my grandfather was in it. I know it broke the back of the Citizens Alliance and made Minneapolis a union town." (The "Citizens Alliance" was a business-backed anti-union group of firms.)
Her grandfather died before she was born, but she heard stories about him and about the strike from her grandmother.
"I was raised in a family that really values social justice," Sommer said. "There have always been renegades and protesters in my family. I'm very proud to be from that kind of lineage."
"I've been part of organizing a couple of unions myself," she related, and until a couple of years ago she was an active member of SEIU Local 26.
Rosemary Knutson, Daughter of Christ Knutson
"My dad was one of the original coal truck drivers that went out on strike in February 1934," said Rosemary Knutson of Minneapolis. She shared photos of her dad, Christ Knutson. In one photo he is in his World War I uniform. (He fought in the trenches in France under General John J. Pershing). In another photo, Christ Knutson is posing with a group of coal truck drivers and company owners.
She said her father told stories about "bodies stacked like cordwood" in France. On July 20, 1934 he was present for "Bloody Friday," she said, when police shot and killed two strikers and wounded 60 – but he didn't talk about it.
"He was out there fighting the good fight," Knutson said. "I'm so happy to be able to share his story. His entire character and being was about helping people and making the world a better place."
"We have an obligation to do the same thing – to show up and make the world a better place. It's a wonderful legacy," Knutson said. "Who we are is we work hard, we help those who can't help themselves, and we like to help others succeed. That was the ethic I got from him."
Knutson lives that ethic and has been a very active neighborhood volunteer and leader in the Cedar-Riverside area.
Shelly Zien, Granddaughter of Mo and Rose Hork
"My grandfather and grandmother were involved," said Shelly Zien of Minneapolis. Her grandparents, Mo and Rose Hork, were interviewed and featured prominently in a 1981 documentary film about the 1934 strike, Labor's Turning Point.
"My grandfather was one of the Committee of 100," Zien said. "I know he was very proud of it." (The Committee of 100 was the chief decision-making body elected by the striking workers). "He felt it was very important that people should get a living wage."
"He was kind of a gentle, soft-spoken guy," Zien said. "It's hard to believe he was so involved."
At the time of the strike, her grandparents had two children. While Mo Hork served on the Committee of 100, Rose Hork helped with organizing food and medical care for strikers and their families.
Zien heard stories about the danger her grandparents faced for being involved in the strike. "They lived in a tremendous amount of fear," Zien related. "They did talk about the fact that people were killed, shot in the back." She said her grandfather "feared for his life," adding "he was shot at."
"My grandmother used to send a lunchbox with him when he went to union activities," Zien said. "It wasn't a lunchbox. It was a gun."
"He was afraid for his family," Zien said. "He knew they were sitting outside watching. He assumed they were armed and he felt very threatened…They knew he was one of the organizers and he was in jeopardy."
"It is part of my family history and I want our kids to know it. We've been doing some research into…old newspapers and so forth. It's fun to see my grandfather's name.
"I spent lots of time with my grandmother and grandfather when I was little," Zien said. "We've all learned from their example…I'm on the board of the synagogue like my grandparents had been in the past."
"It was part of my family legacy," Zien said. "If it was important… you stepped forward, you stepped up to the plate and you did your part."
Colleen Casey, Granddaughter of Edward "Al" Nass
"I know through family stories times were hard, people were desperate…people were hungry, people needed work," said Colleen Casey, talking about the 1930s. "There was help to get them through. Everybody pitched in and helped each other out." Her maternal grandfather was Edward "Al" Nass, a truck driver involved in the 1934 strike.
"He was a truck driver into his 60s when he retired," she said. "He was always a strong advocate of the unions and collective power…He had this sense of fairness."
Casey said her grandfather was "a farm boy" from Illinois who followed his sister to the Twin Cities, in part to escape anti-German prejudice. "He and my grandma met at a dance hall." Grandma was a Dakota. Both were outsiders, outliers, Casey said. "In a way it made sense they found each other."
Casey's mother was born June 8, 1934, in the middle of the tumult of the Teamsters strikes. As a child, Casey said, her grandparents took her to all parks in Minneapolis, in order to play with kids from different backgrounds. "They wanted us to have their ideals," she said.
"They were builders, builders of community, builders of relationships with their neighbors. It was always community-building. They lived those kinds of lives. I give them credit for the way they shaped me."
Casey is developing her skills as a writer. "I want to tell stories and make a difference. I've been thinking about labor stories…Learning from our history helps us not repeat the same things that happened in the past…We need to come out of ourselves to tell the stories that need to be told."
Tim Ahern: Grandson of Walter Ahern
"What I know is kind of limited," said Tim Ahern. His grandfather, Walter Ahern, and Walter's brother Arthur Ahern both worked for the Glendenning trucking company and were involved in the 1934 strike. Walter Ahern was a warehouse worker. "It's nice to know grandpa was there," Ahern said.
Ahern said his grandfather, who was born in 1908, was 26 at the time of the strike and was married. "I wish we knew more but we don't. It would have been nice to talk to grandpa – but that's the way life works." Ahern said, "he gave me colorful stories" but not stories about the 1934 strike. Walter Ahern died in 1992.
"I've read bits and pieces" about the 1934 strike, Tim Ahern said. He added, "I usually get mad" at the working conditions and injustice faced by the strikers. "I'm a Teamster myself," Ahern noted. "I'm proud of the union back at that time…It was men and women standing up for their rights."
"People made a sacrifice for justice and it's benefited a lot of people over the years," Ahern said. "There are groups emerging today that can catch that spark."
Linda Leighton: Granddaughter of V.R. Dunne
"My grandfather was Vincent Raymond Dunne," said Linda Leighton of Hopkins. V.R.
Dunne, with brothers Grant Dunne and Miles Dunne, was one of the leaders of the 1934 strike. "He died in 1973 when I was 23," Leighton said. "My grandfather was a big part of my life. We saw him regularly.
"I was always aware of what my grandfather had done and stood for," Leighton said, although she doesn't remember her grandfather talking about the 1934 strike.
Over the years, she has learned more about his role in the strike and his continuing activism as a leader of the Socialist Workers Party. "I recently was given a transcript of his trial in 1940," she said (V.R. Dunne was sentenced to 16 months in Sandstone prison for his radical political views). "I can just see him saying the things that were said in the trial. He really cared about people. He wanted everybody to have a break.
"My family talked about class and workers and what was going on in the world," said Leighton. "It was like giant discussions bordering on arguments."
During the 1934 strike, Leighton related, her mother was in her senior year at Minneapolis South High School. "She was elected as homecoming queen." Leighton recalled her mother saying, "Because of the strike, everybody voted for me."
Leighton is a member of Service Employees International Union Local 284 and union steward. She works as a media paraprofessional for the Hopkins school district.
"I'm proud in a little way to continue the struggle my grandfather fought," Leighton said. "I'm a member of the Twin Cities International Workers of the World…I think it reflects what he thought, too."
David Sundeen: Grandson of V.R. Dunne
David Sundeen, three years younger than his sister Linda Leighton, also described a close connection with their grandfather, 1934 strike leader V.R. Dunne.
"I can see and hear grandpa as I read quotes from him and descriptions of his actions," Sundeen said.
Sundeen attended the old West High School in Minneapolis for the 1968-69 school year and after school he would go to visit his grandfather, who lived a few blocks away. "That's when I really got to spend more one-on-one time with him," Sundeen related. "I wish he had told me more about the strike. It was his interest to talk with me about the issues of the day…I heard more from him about issues of the day than his history.
"He was a real gentleman," Sundeen said, adding "he also could be very strong in expressing his views."
Sundeen recalled his grandfather debating issues with his father. "They had some real discussions – they remind me about a lot of the discussions today," he says.
Sundeen and Leighton remembered their grandfather's dining room serving as his office, maps on the walls, grandfather writing articles. "He was always doing work with piles of paper," Sundeen said. "He was in it for the long haul."
Sundeen, like his sister, is a member of SEIU Local 284 and works for the Hopkins School District. He also is a member of the Twin Cities IWW. Both Sundeen and Leighton have been involved in planning events for this year's 80th anniversary of the 1934 Teamsters strikes.
Sundeen sees similarities between today's economic conditions and the 1920s and 1930s. "It's clear the stress level has been rising," he said. People are getting scared. "They can despair. They can give in. They can cut corners. They can do without."
But, he continued, "at some point, enough of them can stop being scared and get angry and be determined to do something and make a difference."
That's what happened in 1934, Sundeen said, and "it can happen again."
Steve Share is Minneapolis Labor Review editor
Photo: On August 1, 1934, the National Guard raided strike headquarters and arrested Vincent Dunne and others, but backed down and reversed the actions soon afterwards. Photo from Minnesota Historical Society.