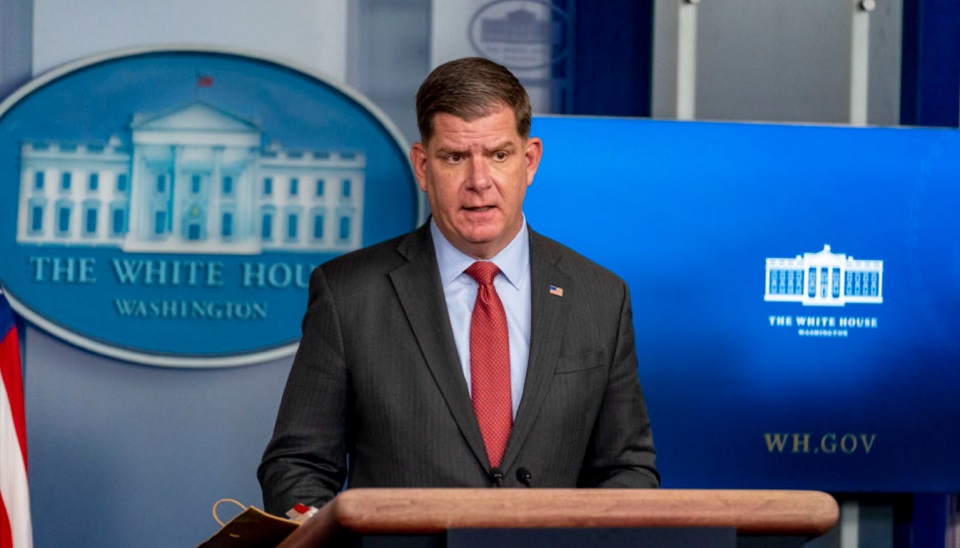 WASHINGTON (PAI)—Well, now we know why Labor Secretary Marty Walsh was the designated "no-show" among Cabinet members at Democratic President Joe Biden's Feb. 7 State of the Union address. Walsh's leaving the DOL's top job to return to organized labor, as executive director of the National Hockey League Players Association—the players' union.
His imminent arrival there, reported by The Athletic and several other media outlets, puts the former Boston Mayor and still-current Laborers Local 223 member at the head of a sports players' union that is wrestling with a league history of endemic racism and the lingering after-effects of a long lockout more than a decade ago.
That shutdown wiped out much of the NHL season. Players ended with a weaker contract for the players and a tighter cap on their pay than union players in other pro sports suffer from.
Walsh's absence was mentioned during Biden's address, but the newscasters did not say why beyond noting one Cabinet member is designated to miss the speech every year in order to be ready to take over the reins should a catastrophe hit the Capitol during the address. A movie about that, Designated Survivor, is still running on Netflix.
In other words, if something wiped out the president, vice president, the House Speaker—who's third in succession—and the Cabinet, which follows behind in that pecking order, there'd be the one surviving Cabinet member ready to take over the Oval Office.
The Communications Workers confirmed Walsh's looming departure, wishing him well.
"Throughout his tenure, Marty Walsh has done a phenomenal job ensuring workers have a seat at the table," CWA said. "He has gone above and beyond to protect and expand the rights of working families, including CWA members.
"In addition to focusing the department's resources to support worker organizing and empowerment, he personally met with and encouraged workers who are organizing," including with CWA. Walsh also walked at least one picket line and caught flak for that from Rep. Virginia Foxx, R-N.C., the notorious worker and union hater who now runs the House Education and Labor—whoops, "Workforce"—Committee. "Labor" is a dirty word for House Republicans.
"Walsh played an instrumental role in executing key pieces of the administration's pro-worker agenda., CWA continued. "His role in ensuring the inclusion of strong labor standards in federal broadband funding, raising wages and workplace standards for federal contract workers, and strengthening health and safety rules cannot be understated.
"The labor movement and working people across the country are better off today because of his leadership. We encourage President Biden to nominate a successor who will follow in Walsh's footsteps and build on his progress to strengthen the middle class and make sure workers have the freedom to join together in unions to stand up for themselves and improve their workplaces."