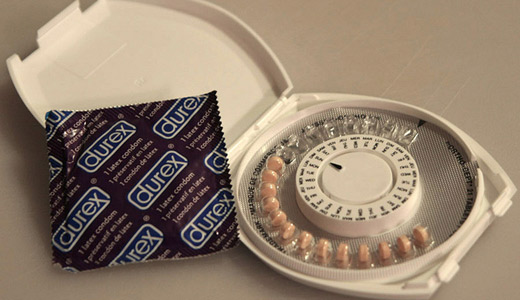 One would have thought that the Obama administration last week put a solid end to the fight over women's access to birth control.
In response to a furor kicked up by Catholic bishops and others, President Obama last Friday announced a further adjustment in a new rule requiring insurance coverage for birth control with no co-pays.
On top of earlier accommodations to concerns of some Catholic organizations, the revised rule says that religious non-profit employers – such as hospitals run by the Catholic Church or other religious denominations – that don't want to provide birth control coverage in their employee health plans don't have to do so. Instead, the insurance company is required to reach out directly to the women employees and provide free contraceptive care if the woman chooses to use it. As in the original rule, churches and houses of worship are exempt from the requirement to provide health coverage for birth control.
The rule is part of the implementation of the Affordable Health Care Act enacted in 2010. It addresses the fact that insurance companies have routinely excluded contraceptive care for women from their coverage, even while covering male impotency care and drugs like Viagra.
The revised rule drew praise from the Catholic Health Association, which represents more than 600 Catholic-run hospitals and 1,400 Catholic long-term care and other health facilities in all 50 states, the largest group of nonprofit health care providers in the nation.
"We are pleased and grateful that the religious liberty and conscience protection needs of so many ministries that serve our country were appreciated enough that an early resolution of this issue was accomplished," the organization's head, Sister Carol Keehan, said in a statement.
"The Catholic Health Association remains committed to working with the administration and others to fully implement the Affordable Care Act to extend comprehensive and quality health care to many who suffer today from the lack of it," she said.
But Catholic bishops and a few politicians seem to be intent on continuing the fight. The U.S. Conference of Bishops denounced the revised rule as "needless government intrusion in the internal governance of religious institutions," and said it threatens "government coercion of religious people and groups to violate their most deeply held convictions."
Other Catholic institutions and groups supporting the revised rule include the University of Notre Dame, the Association of Jesuit Colleges and Universities, and Catholic Charities USA, and Catholics United, a social justice organization.
Like the Catholic bishops, a number of prominent Republicans are simply opposed to birth control, period. For example, in 2010, Rick Santorum told an interviewer that as president he would talk about "dangers of contraception in this country, the whole sexual libertine idea." He said contraception is "a license to do things in the sexual realm that is counter to how things are supposed to be."
Clearly others see it as a potential "wedge issue" to try to win votes in the fall.
On Sunday Senate Minority Leader Mitch McConnell, R-Ky., said Republicans will press forward with legislation introduced by Missouri Republician Sen. Roy Blunt that permits any employer to deny birth control coverage in their health insurance plans.
The measure, known as the Blunt Amendment, is an amendment to the federal highway safety construction programs reauthorization bill, S 1813. It would give "virtually limitless and unprecedented license to any employer or insurance plan, religious or not, to exclude any health service, no matter how essential, in the health services they cover," says the National Women's Law Center.
In addition, the Rubio-Manchin Bill, S 2092, introduced in the Senate on February 9, by Sens. Marco Rubio, R-Fla., and Joe Manchin, D-W.Va., allows any employer of any type to refuse to provide contraceptive coverage and related services on the basis of religious beliefs or moral convictions.
This bill discriminates against women by "singling out for unfavorable treatment a health insurance need that only women have," says the women's law center.
Manchin's co-sponsorship of the bill indicates some Democrats will run scared in the face of the GOP-bishops' alliance. But the vast majority of Democrats support the administration's position.
James Salt, executive director of Catholics United, said the Catholic bishops and "their allies in the Republican Party" are "increasingly isolated" on the birth control issue. "The bishops' blanket opposition appears to serve the interests of a political agenda, not the needs of the America people," he said in a statement.
Photo: Jenny Lee Silver // CC 2.0