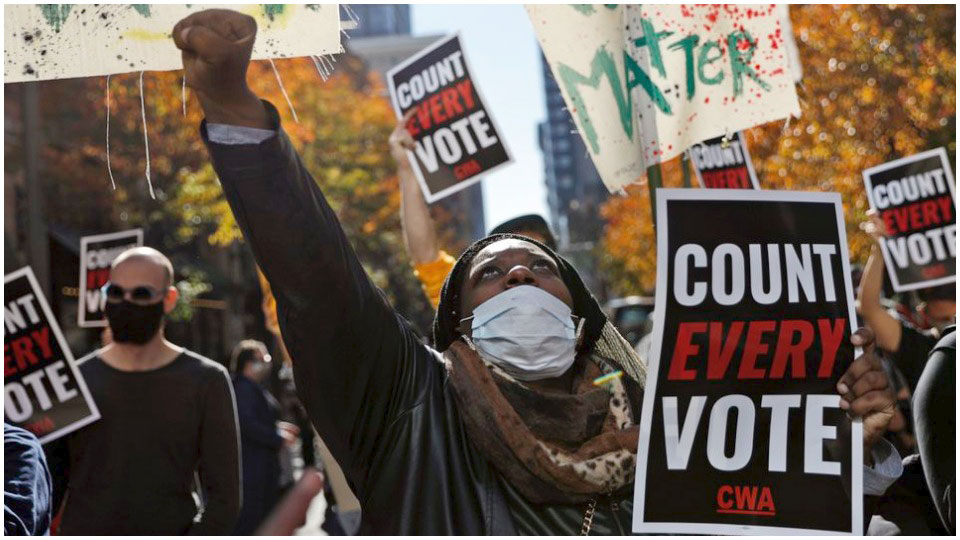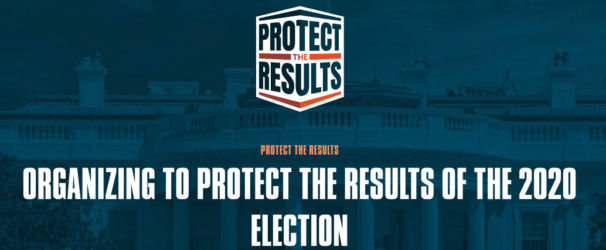 Desperate to prevent the increasingly likely outcome of a Biden victory in the continuing vote counts in key states, Trump is filing a barrage of lawsuits, including one in Pennsylvania that called for halting the counting of Philadelphia mail-in ballots that are overwhelmingly going for Biden.
There are unconfirmed reports that the Pennsylvania Supreme Court quickly overturned a Commonwealth Court ruling favorable to the GOP on that lawsuit but regardless, the count continues in Philadelphia. The GOP lawsuit falsely claimed that GOP watchers were not allowed to get close enough to the tables where the ballots were being counted.
The continuing GOP obstruction of the counting process followed the converging of armed supporters of the president on a vote-counting location in Arizona last night and comes after marches by tens of thousands across the country who demonstrated yesterday to protect the vote and demand that every vote be counted.
Attorney General Barr, as always Donald Trump's loyal servant, added to the attack on the vote by telling prosecutors in emails today that it is perfectly legal for the Justice Department to send armed troops into polling places where there are suspected cases of voter fraud. The law specifically forbids armed law enforcers from doing so but that, of course, does not concern either the attorney general or the president.
The unprecedented attempt by a sitting president to call a halt to vote-counting in places where he is losing while demanding continued counting in places where he is ahead, coupled with scenes of his armed backers intimidating vote counters is a dangerous first in American history.
The Trump mobs returned to the Arizona site this morning but left soon after, piling back into a bus that brought most of them to the site. The state has already been called for Biden by a number of news agencies, including Fox News.
Meanwhile, across the country there have been and continue to be mass demonstrations by voters demanding that the results be protected. A broad coalition of forces determined to safeguard democracy has emerged everywhere and across broad sections of the political spectrum in the country.
The Trump campaign has dropped a blitz of lawsuits in Pennsylvania, Michigan, Georgia, and Nevada. The lawsuits are less about anything legitimate than they are about creating a false picture for the public of a president fighting a conspiracy to illegally remove him from the White House.
Social media has been lighting up with posts and tweets from believers in those conspiracy theories. Trump himself has tweeted this morning, "STOP THE COUNT," as he alleged that Biden ballots are magically appearing everywhere.
The lies are nothing new for a president who until the last minutes of his campaign downplayed the record increase in coronavirus infections and deaths happening across the country. Yesterday alone, for the first time, there were over 100,000 new infections in a single day. There were more than 1,000 additional deaths, putting the lie to Trump's campaign claims that we were "rounding the corner" on controlling the virus.
When the country should be uniting around emergency measures to combat a pandemic that has become worse than ever since it began last spring, the president's attempt to turn an election he is losing into a tale of conspiracy and turmoil risks making that pandemic even worse than it already is.
Trump's claims in several of his many lawsuits that his poll watchers are being barred from counting centers have been confirmed as false by news media that have observed equal numbers of Democratic and Republican watchers in all of the locations under question.
The Associated Press called Michigan and Arizona for Democrat Joe Biden on Wednesday. Nevada, Pennsylvania, and Georgia remain undecided but with the slim Trump leads shrinking rapidly and with the Biden campaign expecting a win soon in at least Pennsylvania and Nevada, and possibly in Georgia where, as of Thursday morning, the candidates were only three-tenths of a point apart, with Trump in the lead. Outstanding ballots from the Atlanta and Savannah areas, the Biden forces believe, could put them over the top.
The Trump campaign also is seeking to intervene for a second time in a Pennsylvania case at the Supreme Court that deals with whether ballots received up to three days after the election can be counted, deputy campaign manager Justin Clark said.
The court actions represent a political attempt to overturn an eventual Biden win by getting the courts to toss out perfectly legal votes simply because they can result in a Biden victory.
Biden said Wednesday the count should continue in all states, adding, "No one's going to take our democracy away from us — not now, not ever."
Increasingly, it looks like even Trump's inner circle believes he has lost the election. The tactics of the Trump campaign now are not normal ones for a campaign that believes it has prevailed.
"What makes these charades especially pathetic is that while Trump is demanding recounts in places he has already lost, he's simultaneously engaged in fruitless attempts to halt the counting of votes in other states in which he's on the road to defeat," the Biden campaign said in a statement.
Election officials continued to count votes across the country, the normal process on the day following voting. Unlike in previous years, states were contending with an avalanche of mail ballots driven by fears of voting in person during a pandemic. At least 103 million people voted early, either by mail or in-person, representing 74% of the total votes cast in the 2016 presidential election.
The Trump campaign, throwing just about anything against the wall and hoping it might stick, continues to demand a halt in the counting in Michigan, a state he has already clearly lost.
A victory in Pennsylvania for Biden looks as though it could be imminent. The Philadelphia Enquirer is already out with a banner headline reading, "Race shifting to Biden."
Biden campaign officials express confidence they will eventually prevail in that state by 100,000 votes. The mail-in ballots from Erie County, a red county that Trump won four years ago, show a big lead for Biden right now.
Sen. Bob Casey this morning said, "We're still counting, and my assessment is that the president will lose Pennsylvania by 100,000." That would be larger than the amount by which Barack Obama won the state in either of his elections.
There have been no reports of fraud or any type of ballot concerns out of Pennsylvania. The state had 3.1 million mail-in ballots, which take time to count, and an order allows them to be received and counted up until Friday if they are postmarked by Nov. 3.
Pennsylvania Attorney General Josh Shapiro told a CNN interviewer that the Trump lawsuit filed against that state was "more a political document than a legal document."
"There is transparency in this process. The counting has been going on. There are observers observing this counting, and the counting will continue," he said.
Major media, in an effort to quell the conspiracy theorists on the social media who see a plot to steal the election from Trump, have tried hard to objectively report what is going on at counting centers.
AP, for example, reported that poll watchers from both sides were present in abundance at the major counting location in Detroit.
Wednesday, at one major polling place in question, the TCF Center in Detroit, the press service reported that the bi-partisan watchers checked in at a table near the entrance to the convention center's Hall E and strolled among the tables where ballot processing was taking place. In some cases, they arrived together in a group, AP reported, and huddled together for a discussion before fanning out to the floor. Uniformed Detroit police officers were on hand to make sure everyone was behaving.
"This is the best absentee ballot counting operation that Detroit has ever had," a police officer on duty told the press. "They are counting ballots very efficiently, despite the obstructing tactics of the Republicans."
Biden campaign attorney Bob Bauer said if Trump goes to the Supreme Court, "he will be in for one of the most embarrassing defeats a president has ever suffered by the highest court in the land."
No one should assume that right-wing judges who have a majority on the Supreme Court won't eventually intervene on behalf of their patron, Trump, however. The justices could decide to step into the dispute over the three-day extension for absentee ballots if they prove crucial to the outcome in Pennsylvania, for example.
The president continued to tweet up a storm today. "Stop the FRAUD," he tweeted in a description of what he apparently thinks about the democratic process of vote counting.