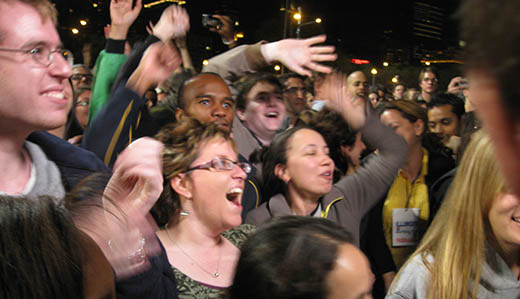 Despite record levels of unemployment, Black young people, since the election of President Barack Obama, have become optimistic about the future, according to a number of recent studies.
One survey conducted by Professor Steven Wum, an economist at Hamilton College, found that "70 percent of black students ages 15 to 18 thought their standard of living would be better than their parents, compared with just 36 percent of white students."
Over all 39 percent of those polled expected to live better, with a majority expressing pronounced economic anxiety.
A Harvard study produced similar results. Conducted by the university's Institute of Politics, the analysis reports, "With half or more of most subgroups believing that the "American Dream" may be out of reach – among the financially most optimistic members of this generation are: African Americans (60% better off, compared to 43% of whites and 41% of Hispanics); Hispanics who speak English (51% compared to those who prefer Spanish, 32%).
Both studies, however, demonstrate extreme economic anxiety among 18 to 30 year olds, prompted by the recession, with contradictory results particularly among Black and Latino youth who, while maintaining faith and optimism because of the new administration have deep concerns about making ends meet.
About 37% of 18- to 29-year-olds have been underemployed or out of work during the recession, the highest share among the age group in more than three decades, according to a Pew Research Center study released in February. The House and Senate are considering jobs bills which could add 2 million new jobs. Close to 11 million were lost due to the recession.
The Harvard study continues: "The level of economic anxiety in America today is intense with this generation – especially among African Americans and Hispanics – who tend to view these economic questions from the same prism. For example, 68 percent of African Americans and 69 percent of Hispanics are concerned about meeting their bills and obligations (56% of whites say the same) and 65 percent of African Americans and 68 percent of Hispanics are concerned about affording a place to live.
A simply majority of those polled continue to have favorable views of the Obama administration, while differing on policy issues such as jobs, health care and the war. This view runs across racial lines despite joblessness. "Unemployment among Gen Y members is badly setting back their careers," says Paul Taylor, executive vice president of the Pew Research Center. "Yet, despite the problems they face, they tend to be upbeat – which is typical of young adults."
This positive outlook among African American "millennials" or "Generation Y" members, may have a significant impact on the November elections. The Harvard study found "a third of whites and just 18 percent of Hispanics planned to vote in the midterm election. That compares with 41 percent of African Americans who said the same."
The Obama administration and the broad coalition that supports it are planning intensive get-out-the-vote efforts among young people leading up to the November elections.
Photo: http://www.flickr.com/photos/stringbot/ / CC BY 2.0