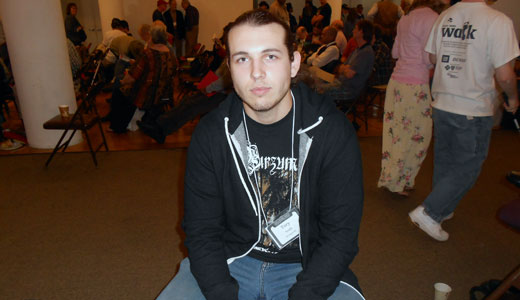 When Dave Mustaine (frontman of thrash metallers Megadeth) in February made a number of homophobic comments and supported GOP presidential candidate Rick Santorum, much of the metal community was in uproar, fearing Mustaine's words would paint an unrealistic picture of metalheads or even youth as a whole. But this year's Communist Party USA National Conference ought to have cleared up that misconception.
The two-day event saw a large number of Communists gathering to talk about the upcoming election and discuss plans for the future – and many of the faces present belonged to youth. Of those, a large number were music fans. One of them, Tory Smith (22), had a few things to say on how he became interested in the Party, and on metal's sometimes-abrasive relationship with politics.
Smith, who works in grocery markets as a Pepsi salesman, is Chairman of the Nevada Communist Party. "I live in Las Vegas, where I moved in 1996," he said. "I've been in the Communist Party for six months. I studied history in school – I've always really been into history, but what particularly inspired me was the Cuban Revolution – you know, how a small country could rise up to American imperialism like that."
So how did he become more politically involved?
"Well, not having any outlets to be active in politics, I went researching and reading books on the subject. Once I graduated from high school, that's when I started coming across Marx and Lenin.
"After a while, I wanted to find other people that I could relate to – so I googled 'Communist Party of America.' Now, I read the Peoples World and Political Affairs…I think it's a great online source of information; [a way to get] outside the garbage on FOX News."
The ongoing fight for the rights of undocumented citizens is also an important aspect of the struggle to Smith, who noted, "I'm half-Hispanic, so the immigration issue touches me very strongly."
Later, this reporter – an avid metal fan himself – reminded Smith of Mustaine's unpleasant words:
When asked during a radio interview with Seattle Sounds whether he supported gay marriage, Mustaine replied, "Well, since I'm not gay, the answer to that would be no." When asked if he would at least support the legalization of gay marriage, he remarked, "I'm a Christian. The answer to that would be…no."
Mustaine added to his seemingly skewed perspective when asked whom he would support in the 2012 election: "I'm just hoping that whoever is in the White House next year is a Republican. I think Santorum has some presidential qualities, and I'm hoping if it does come down to it, we'll see a Republican in the White House, and that it's Rick Santorum." Of course, this was said prior to Santorum dropping out of the race.
After the musician's worrying statements, metal musicians seemed eager to clear up any misunderstandings outsiders may have. Greg Puciato, frontman of the Dillinger Escape Plan, dealt directly with Mustaine's statement:
"It's frustrating that the United States leans so much on Christianity, politically," he replied. "It's a religion that, at its fundamental core, teaches complete intolerance toward homosexuality."
In an interview with LA Weekly, Nergal (vocalist of death metal outfit Behemoth) stated, "Everyone has their reasons for getting involved with metal. To me, it's the rebellious spirit, attitude, and life philosophy of the music…,. But I'm sure when you talk to Dave Mustaine, he'll give you the opposite angle of the situation."
Since Smith, the young Las Vegas Pepsi salesman at the Communist conference, wore a band shirt (displaying black metal artist Burzum), it was pretty clear he was a fan of the genre. And so, the inevitable 'metal question' arose: How did he view the political positions – or non-positions – of some metal bands today? How did he view the genre as a whole?
He clearly disapproved of Mustaine's outlook, as so many others in the metal community do. "I listen to a lot of European, traditional metal," he said, "and I also listen to a lot of punk music. But metal is becoming a little more political now.
"And you've got bands like [death metallers] Molotov Solution – I mean, they're just straight politics."
In closing, Smith agreed that the presence of so many youth and music fans at the CPUSA conference was a very good thing. "I'm really excited about the conference," he said. "It's great."
Photo: Tory Smith talks music and politics at the CPUSA conference. Blake Deppe/PW