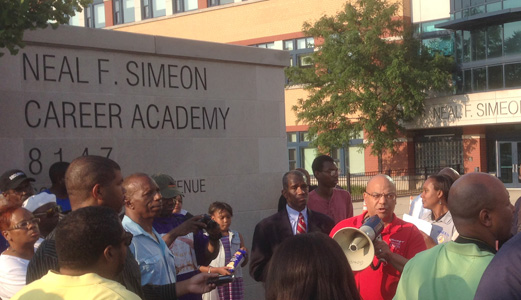 CHICAGO – On a near perfect summer evening here, July 31, about 75 parents along with a number of students filled the Simeon Career and Technical Education auditorium. They described themselves as being outraged that the school plans to eliminate its electricity-training program this fall.
Chicago Public School (CPS) spokesperson Lauren Hoffman cited low enrollment stating, "Only 18 of 370 incoming freshmen had expressed interest in the electricity program."
The decision to close the program was made without parent or student input. Local School Council members said the closing has never been discussed with them. Chicago has experienced the unprecedented closing of some 50 public schools. Community opposition was able to prevent some closings. The closings have been in predominately African American neighborhoods at the behest of Mayor Rahm Emmanuel. The justifications for the closings have been low enrollment and academic failure. Ironically, Simeon is considered good academically.
At the meeting, the electricity teacher and journeyman electrician Latisa Kendred listed the success of students who have gone through the class in obtaining employment as electricians and also those who decided to enroll in college. The success of the program is beyond challenge. Former students spoke of the importance of the program in giving them entry to a middle class life.
Vice President Maurice King of IBEW Local 134 voiced continued support for the program because of the job opportunity it offers and its practical need. The Rev. Jeanette Wilson of the Rainbow-PUSH Coalition said the class has to be continued and expanded. Alderman Howard Brookins Jr. and numerous state representatives have pledged to keep the program at Simeon.
Parents in attendance told Dr. Sheldon House, principal at Simeon that they are invested in the school and program. They ensured him increased enrollment for the class would be obtained through their efforts of promoting the program to students. They asked if he would allow the class to be available when the fall term begins. His answer was no. The meeting ended with a vow to continue putting pressure on Mayor Emmanuel and CPS for the electricity-training program to continue.
You can take action. Tell CPS to save Simeon's vocational programs!
Dr. Sheldon House (principal, Neil F. Simeon Career Academy): 773-535-3200
Elizabeth Kirby (CPS network chief): 773-535-8207
Barbara Byrd-Bennett (CEO, Chicago Public Schools): 773-535-1500
Photo: Roberta Wood/PW