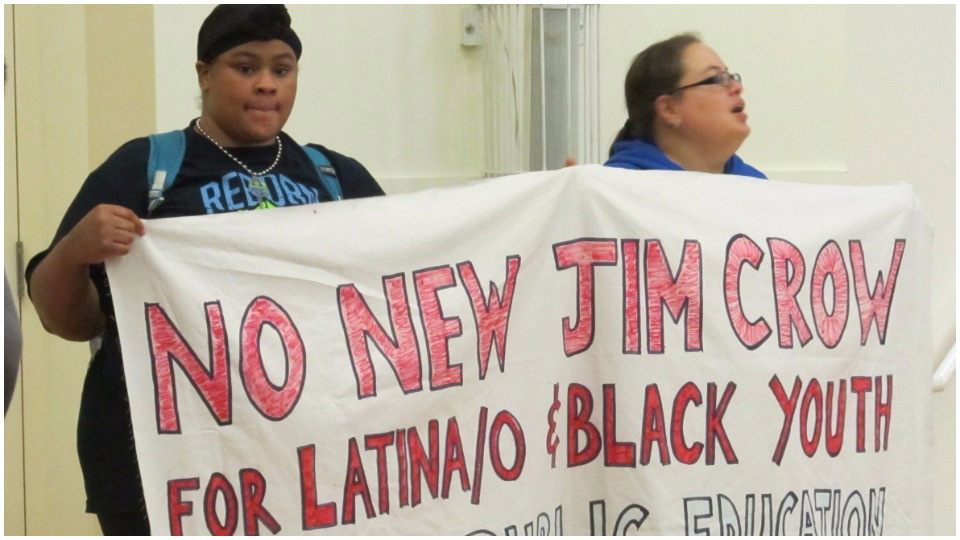 OAKLAND—Despite long, vigorous, and sometimes boisterous protests from parents, students, teachers, and school workers, the Oakland United School District Board voted 6-1 Dec. 13 to slash $9 million from its nearly $800 million budget, effective midyear.
Before the meeting began, hundreds of protesters repeatedly circled the auditorium in a picket line, carrying homemade signs with slogans such as "Don't punish kids for grownups' mistakes," "We demand the schools all our children deserve," and "No new Jim Crow for Latina/o & Black youth: Quality public education is a right for every student." Among their chants: "Hey, hey, ho ho – where did all the money go?"
Students took the lead in public comments.
"I've been fighting against budget cuts since I was in kindergarten," Oakland Technical High School senior Eleanor Davis told the school board. "I remember sitting in my kindergarten class, making posters with band-aids on them, saying 'Please don't cut us!' And still, I don't get the education I deserve, because of the cuts being made to our schools."
Eighth-grader Griselda Aleman asked the board members, "Are you really going to let our chances to get into college be ruined because of this budget cut? … I want to be an educated person to do something that I will make you guys proud of – so no more budget cuts for us!"
Also on the long speakers' list was Pastor Jim Hopkins of Lakeshore Avenue Baptist Church. With him were a group of other speakers whom he introduced as coming from Oakland Community Organizations, a federation of congregations, schools, and allied community organizations representing over 40,000 Oakland families.
"We call on OUSD this evening to protect our most vulnerable students from the impact of the budget cuts, to prioritize site funding for critical services for our most vulnerable students in their schools, including English learners, foster youth, newcomers, and special education communities," Hopkins told the board.
The cuts are the latest development in the school district's long-running struggle to adequately fund its K-12 students' needs. While it deals with rising costs, the district must overcome financial mismanagement problems and overspending in some budget categories under the previous superintendent, Antwan Wilson, who left the district last winter to become schools' chancellor in Washington, D.C.
The district estimates it will fall short of meeting its required reserve by about $1.1 million, and calls for reserving another nearly $8 million to protect against both known and unpredictable risks. Cuts were originally projected to total $15 million, but were later adjusted to $9 million.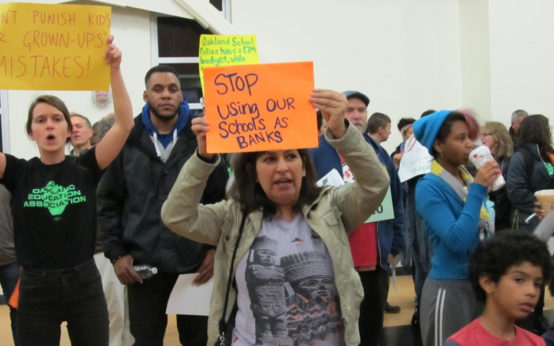 Many speakers, including members of the Oakland Education Association—the teachers' union—urged that cuts be limited to assuring the required reserve. But Board members and Superintendent Kyla Johnson-Trammell, a longtime Oakland teacher now in her first year as superintendent, argued a larger reserve is needed to assure the district is protected against unforeseen issues.
Many students, teachers, and community members also urged that needed cuts be focused as much as possible on administration spending, which soared under the former superintendent, rather than on programs and staff at school sites.
OUSD's fiscal troubles go back many years. In 2003, a financial crisis forced the district to go into state receivership in exchange for a $100 million state loan. The district was administered by the state Department of Education for six years, and now operates under supervision of a state trustee who can veto any decision that might threaten fiscal stability. School Board members stressed the need to avoid risking being forced back into full receivership.
Teachers, students, parents, and community groups are now looking forward to discussions on the 2018-19 budget.