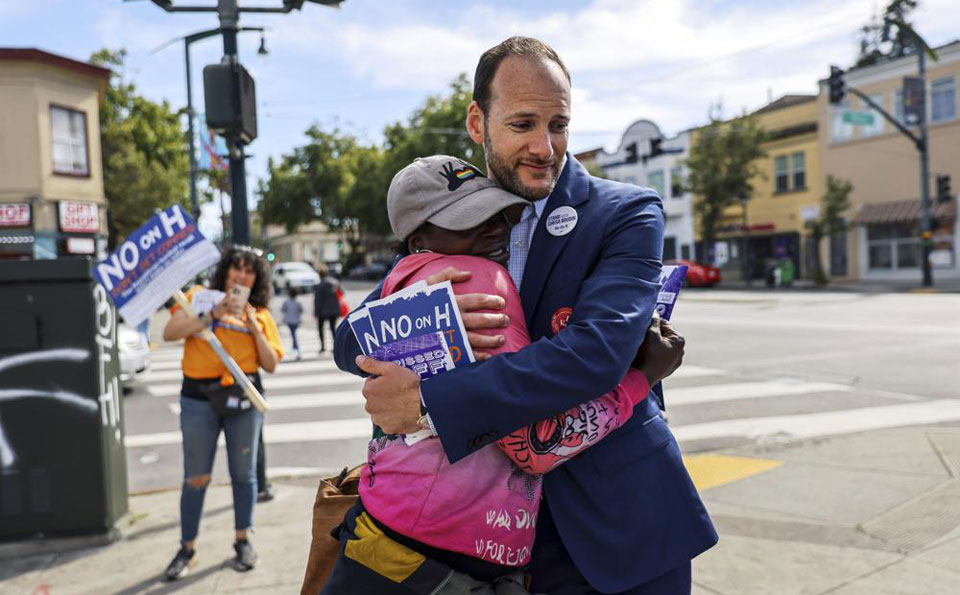 SAN FRANCISCO—Progressive San Francisco District Attorney Chesa Boudin may have been decisively recalled in last week's widely publicized election, but he and his supporters wasted no time in letting it be known that their fight for criminal justice reform is far from over.
At the same time, elsewhere around the Bay Area, other progressive candidates for district attorney and sheriff are staying well in the lead as vote tallies continue following the June 7 primary election.
On election night, as votes to recall him hovered near 60%, Boudin gathered with supporters at San Francisco's The Ramp restaurant. Thanking them for their hard work during the campaign, he declared that the "broad, diverse, strong" coalition of labor, environmental, racial and economic justice organizations, and progressive Democratic Party clubs that worked to defeat the recall is "going to continue in the weeks and the months and the years ahead" because it is "a coalition deeply committed to justice."
Amid constant cheers and applause, Boudin told the crowd, "We represent the people, when we stand up in court. When we fight for justice, it is not just about protecting the rich and powerful, it is about protecting everybody in this great City of Saint Francis. And that is what we are all going to continue to fight for!"
The very next day, SF Rising Action and the American Civil Liberties Union of Northern California announced they are co-convening a newly formed San Francisco District Attorney Accountability Alliance along with the Coalition on Homelessness, Coleman Advocates for Children & Youth, SEIU Local 1021, Smart Justice California, and Treatment on Demand Coalition.
"While we are disappointed District Attorney Chesa Boudin was recalled, the ACLU of Northern California remains committed to advocating for public safety policies that are consistent with the values of civil liberties and civil rights," ACLU NorCal Executive Director Abdi Soltani said in a statement. "We insist that the next San Francisco district attorney pursue reform, reduce incarceration, hold police accountable when they break the law, and root out racial bias in the criminal justice system."
The overwhelming support for the recall occurred in an election where just over a quarter of registered voters participated, while financial support for the recall topped $7 million—much of it from real estate interests, tech and hedge fund investors, with over $650,000 coming from Republican billionaire William Oberndorf. In contrast, the No campaign raised about $3 million, including significant donations from the ACLU of Northern California and SEIU.
Commentators have observed that Boudin was in a difficult situation from the start, having won the DA post in 2019 in a ranked-choice election where he initially received 36% of votes for first place, reaching 51% only after second- and third-place votes had been taken into account. Shortly after he assumed office early in 2020, the COVID-19 pandemic struck.
Among reforms Boudin initiated while in office: ending cash bail, ending the practice of charging children as adults, increasing the use of diversion programs to keep people who did not need to be incarcerated out of prison, initiating a first-of-its-kind Innocence Commission, and stepping up prosecution of hate crimes.
His endorsers included the San Francisco Democratic Party, the San Francisco Labor Council and many unions, over a dozen retired judges, and civil rights and community leaders including Angela Davis and the Rev. Jesse Jackson.
Boudin isn't required to leave office until 10 days after the Board of Supervisors declares the election "official," which could happen at the board's June 25 meeting.
Meanwhile, across the Bay, progressive civil rights attorney Pamela Price leads in the race to fill an open seat for Alameda County's next district attorney. At week's end, with counting continuing, Price had over 40% of the vote, followed by current Chief Deputy District Attorney Terry Wiley with more than 29%, Deputy District Attorney Jimmie Wilson with over 20% and Oakland political aide Seth Steward with just under 10%.
If current figures hold up, Price and Wiley will face each other on the ballot in November.
Price, who is African American, began her legal career as a criminal defense attorney at San Francisco's Bayview Hunter's Point Community Defenders office and opened her own law office as a civil rights attorney in 1991. She has been sharply critical of the Alameda County DA's office and its failure to hold law enforcement officers accountable.
Among Price's long list of endorsers: civil rights leaders Angela Davis and Fania Davis, Philadelphia District Attorney Larry Krasner, activist and actor Danny Glover, along with the Rev. Wanda Johnson and Cephus "Uncle Bobby" Johnson, mother and uncle of Oscar Grant, murdered by Bay Area Rapid Transit police in 2009. Also endorsing: a long list of Bay Area elected officials, Democratic Party leaders, and many unions.
Price's 10-point program includes rigorous examination of unfair prosecutions and excessive sentencing practices, implementing gun violence reduction strategies, implementing fair justice measures including alternatives to incarceration, ending over-criminalization of youth, protecting immigrant communities, holding police accountable for misconduct, and investing in effective reentry strategies, public health and social services.
Price ran against current Alameda District Attorney Nancy O'Malley in 2018, garnering some 42% of the vote. O'Malley, first elected in 2010, announced last year that she would not run for reelection, and has endorsed Wiley, who is currently the third-ranking official in her department.
In neighboring Contra Costa County, at week's end progressive District Attorney Diana Becton was well ahead at more than 56% percent of the vote, and is unlikely to face a runoff in November.
If current figures are sustained, the biggest election news in Alameda County could be that for the first time in decades, a sheriff could lose a bid for reelection. Sheriff Gregory Ahern, reelected without opposition since entering office in 2006, faces possible ouster by Sheriff's Commander Yesenia Sanchez.
Sanchez, who is endorsed by the Democratic Party in California and in Alameda County, the Alameda Labor Council, many area unions, and a long list of area elected officials, had 50.1% of the vote as of June 10, to Ahern's 34%. San Francisco Police Officer JoAnn Walker, whose platform was to the left of Sanchez, including demilitarizing policing, was tallying just under 16%.
Sanchez was picking up votes during counting last week. If that trend continues, she could win the election outright.
Ahern has faced sharp criticism for abysmal conditions at the county's Santa Rita Jail, one of the U.S.' largest jails. Advocates for justice say at least 58 people have died while in custody—by suicide, drug overdoses or killings by fellow inmates or while under restraint by jail guards—since 2014.
Ahern has also been taken to task for promoting militarized policing including repeatedly hosting the Urban Shield weapons and training expo, and for letting Immigration and Customs Enforcement (ICE) agents access the jail to deport incarcerated people who were undocumented.
Since becoming a Division Commander in 2020, Sanchez has been responsible for running Santa Rita. In her platform, she declares, "Every incarcerated person deserves humane treatment, and support to help prevent recidivism." She pledges to bring more services, including education, work skills training, and mental health services, into the jail, to pursue "active working relationships" with the community, elected officials and law enforcement agencies to focus on crime prevention and safety.
Sanchez promises "to work to repair and build trust" with immigrant and undocumented communities to make sure they have "the same support, rights and services" regardless of their citizenship status. She also says she supports "a new county oversight committee" that can "hold the Sheriff's Office publicly accountable."
At the statewide level, broad support continues for California's Attorney General Rob Bonta, appointed to the office by Governor Gavin Newsom last year after President Biden tapped his predecessor, Xavier Becerra, to head the U.S. Department of Health and Human Services.
In his new job, Bonta is continuing the emphasis on justice reform that he brought to his nine years as a member of the California Assembly. Latest figures show Bonta with nearly 55% percent of the vote, far outpacing two Republican challengers and a no-party-preference opponent.