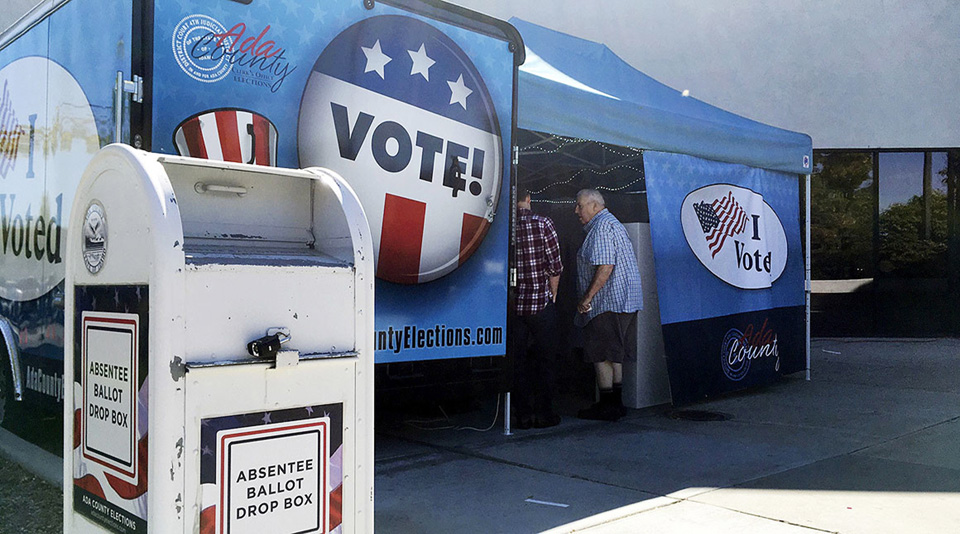 Despite the fact that Republicans have taken steps to discourage it, people have been using early voting opportunities in record numbers.
As of midday yesterday, some 12 million voters have already sent in absentee ballots or have gone in person to early polling places, according to one of the nation's leading experts on early voting, the University of Florida's Prof. Michael P. McDonald.
The voters, especially those voting in person, are disproportionately working people, low income folks, students and members of minority communities.
The majority are voting for Democratic candidates. Right wingers don't like it.
The Political Insider, an online newsletter that's as right wing as you can get, reports:
"Democrats appear to be outpacing their 2012 early vote performance in several critical swing states, giving Hillary Clinton a head start on Donald Trump in some of the most important presidential battlegrounds. … Democrats typically dominate early in-person voting … ."
The writer, using the single name "Kosar," complains that "This is bad news, as many states will cast as many as 40 percent of their ballots before Election Day. Republicans usually do well in early voting, but Democrats are determined to steal this election."
He whines, "With Democrats fighting voter I.D. laws and countless examples of non-citizens or deceased people casting ballots, serious questions have been raised about the integrity of the ballot. Most early votes are cast without being observed by election officials, which may make fraud easier."
In reality, there have been zero examples of "non-citizens or deceased people casting ballots," and the "integrity of elections" is being undermined only by election officials who are preventing people from exercising their right to vote.
Do-overs allowed.
On the other hand, honest election officials are addressing a problem that has surfaced to an unprecedented degree in this election: many people who sent in early absentee ballots want to change their vote now that Donald Trump has been exposed as a sexual predator.
Early absentee voters in Minnesota and Wisconsin are allowed to do just that.
Minnesota Secretary of State Steve Simon says that up until November 1, voters "can … take back their ballot" and get a new one.
Secretary of State Douglas La Follette of Wisconsin has assured voters there that they can do the same thing.
Voter suppression
However, far from trying to accommodate voters, the right wing governor of Wisconsin, Scott Walker, has tried to prevent many Wisconsinites from casting ballots. He and the Republican-run legislature passed a voter ID law that would have knocked out 10 percent of all voters in the state. Fortunately, the Supreme Court blocked it.
Wisconsin is typical of many Republican-run states that enacted voter suppression laws after the Supreme Court gutted the Voting Rights Act in 2013. Courts have blocked these states from putting into effect some of the worst provisions in these new laws but have allowed the states to limit early voting.
Right wing Republicans don't even pretend these limitations are anything but attempts to maintain their grip on government. In Wisconsin, for example, Green Bay City Clerk Kris Teske, an appointee of Republican Mayor Jim Schmidt, rejected a petition from students to open an early voting site on a campus of the University of Wisconsin. Instead, she opened up only one early voting site – in her office.
In an e-mail to David Buerger, counsel at the Wisconsin Ethics Commission, she was frank about her motive. "I have heard it said that students lean more toward the democrats [sic]. …Do I have an argument about it being more of a benefit to the democrats?"
North Carolina is another state where Republicans passed egregious voter restrictions only to have them overturned by a court. But limitations on early voting still remain.
Garry Terry, GOP chairman of North Carolina's 1st Congressional District, wrote to county election officials that "… none of us have any obligation in any shape, form or fashion to do anything to help the Democrats win this election.
"Left unchecked," Terry wrote, "they would have early voting sites at every large gathering place for Democrats."
Prof. McDonald reports that "Not all [North Carolina] local boards listened, but some did, and the effect is obvious. The volume of early voting is generally down in the counties that reduced the number of polling locations and is up where the number increased."
In Georgia, Gwinnett County, one of the largest voting districts in the state, opened just one early voting site, forcing people to wait up to three hours to vote.
Latino voting soars
However, despite Republican attempts to limit early voting, McDonald says that in some of the key battleground states, including Florida, North Carolina, Virginia and Nevada, people are turning out in record numbers to vote early.
Most are voting for Hillary Clinton and other Democratic candidates.
Furthermore, in California early absentee balloting among Latinos is up 45 percent, the vast majority of votes going to the Democrats.
Obviously, Donald Trump is turning out voters – but not to vote for him.
McDonald speculates that growth of the Latino vote is "most consequential to understanding dynamics in surprise battleground states like Arizona and Texas."
McDonald writes, "We are entering the crucial in-person early voting period for Democrats. Democrats tend to vote at higher numbers than Republicans during in-person early voting, a behavior that is being born out in critical battleground states like Nevada and North Carolina."
He concludes, "If the election were held today…what am I saying? In many places the election is being held today and … through to November 8. Despite weakness for Clinton in the Midwest, Clinton looks well-positioned in other states Trump still needs for an Electoral College victory."