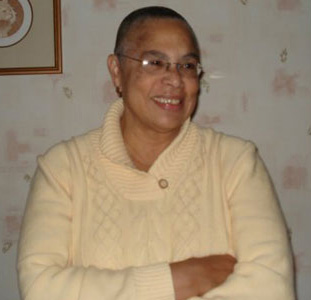 Remarks by Jarvis Tyner, executive vice chair of the Communist Party USA, at the meeting of the National Board on November 16, 2013, in New York.
I come before you this morning to make a special point. A tribute to one of the finest comrades in our party. She is a comrade who joined the Communist Party in her teens. She was recruited by Danny Rubin in 1955 and has been an active member of our party for 58 years. I'm talking about comrade Debbie Bell.
Because of her extraordinary contribution to the struggle and the Party, Debbie Amis Bell rose to the leadership of her district and is a long-term member of this body.
I feel a special attachment to Debbie because we were in the youth movement together back in Philadelphia. Actually we both are from West Philadelphia and we share the same birthday July 11th.
Debbie Bell is the daughter of an African American father and a Jewish mother who married in the 1930's. At that time, just a 30-minute car ride from Philadelphia into the state of Delaware and their marriage would have been null and void and they could have been charged with a crime.
It took courage to do what they did but it also took a high level of political consciousness. Debbie parents; B. D. Amis and Sophie Sinowitz were both seasoned, active members of the CPUSA. They understood and rejected the whole racist ideological underpinnings that rationalized slavery in the past, Jim Crow then and structural racism today.
They fell in love. They understood that a society that fostered lynching, bestial racist violence, (like Henry Winston would always say), a society that fostered racial oppression and Apartheid so that it's capitalist ruling class could make trillions in extra profits was on the wrong side of history. They dedicated their lives to ending racism and the capitalism system that fostered it. Black and white unite and fight was the great battle cry. Sophie and B. D. along with thousands of active U.S. Communist made the difference.
Debbie was the oldest of 5 siblings and they were all raised with the highest conviction to continue the struggle and to make a difference in this world.
After I joined the party in 1961 I had an occasion to visit Debbie's house on Leidy Avenue. When I walked into the house I felt like I had been in that house before and I had. It turned out that when I was a senior in West Philadelphia High my best friend had a huge crush on Debbie's sister and he asked me to come with him to visit her at her house. I don't think Debbie was there — she may have been away at college — but B.D. Amis, her father, was there and he welcomed us to his home. Debbie's dad had been active since the 1920's and had worked with Ida B Wells in Chicago, on the Scottsboro and Angelo Herndon cases.
At the time I didn't know much about communism but I had seen the news about Little Rock and the lynching of 14-year-old Emmett Till in 1955. To me it seemed like B. D. knew just about every thing about the struggle. We were very impressed.
Debbie joined the Communist Party at the ripe young age of 17. In April 1960 when Debbie was in a senior in college and already a seasoned communist, the party asked her to attend a student civil rights conference in Raleigh North Carolina as an observer. Debbie eagerly accepted.
She had never been South. And coming from a predominantly white Northeastern College she was very impressed with how well organized and professional this large gathering of mainly African Americans students was. And they got thing done.
The conference turned out to be the founding conference of the Student Nonviolent Coordinating Committee (SNCC). Debbie left the conference "with a sense of urgency".
At the time she said, "I was determined to make a difference." And she did, in fact one can say that she made a difference for the rest of her life.
Debbie decided to go south and work for SNCC. Her application was accepted and in March 1963 Debbie headed south. She drove straight through to Atlanta, just stopping for gas.
Working for SNCC, Debbie was based in Atlanta and was involved in the effort to desegregate restaurants in that city. She and a group of organizer would march downtown picking up people along the way and they would go from restaurant to restaurant picketing and sitting in.
In 1964 I travelled south to organize delegates to come to the founding convention in San Francisco of what became the WEB Dubois Clubs of America. I was pretty green, and while I met some wonderful contacts most places I went, it was not easy to get recruits to a "Socialist- oriented youth organization" which is how we defined ourselves. So you can imagine how happy I was to meet my comrade and friend, Debbie in Atlanta. She was a sight for sore eyes! She introduced me to everybody and gave me the political lay of the land.
She told me a story I will never forget. Debbie was picketing arch segregationist Lester Maddox's restaurant that was famous for its fried Chicken. This was the guy who carried an axe handle to use against demonstrators and his was eventually elected Governor of Georgia as an open racist.
Debbie and SNCC had a tactic were they would picket for a while and then suddenly make a mad rush for the door (which was guarded by Atlanta police) to try to stage a sit in and close down the store.
Now, you may not know this, but Debbie was a phys-ed major in college and was in very good physical shape. She was my sister's gym teacher at West Philadelphia High and my sister told me that nobody messed with Miss Amis.
So when Debbie and her crew would come charging at you it would be wise to get out the way.
After several charges at the door, the black cop assigned to protect Lester Maddox's chicken joint had had enough of these charging young people so he goes outside and quietly told them, "look, the next time you'll want to rush the door give me a signal and I'll step out the way." And they did.
This was our comrade Debbie "making a difference."
Some of their pickets brought out the KKK, and they were often arrested and taken off to jail.
In jail it was tough for SNCC youth. It was a hard place to be even though many of the black prisoners really appreciated what these young black and white activists were doing. The jail authorities, guards and inmates were especially vicious against the white young activists who were put in the all white units. In a segregated southern jail life was hell.
Most of the time bail would be posted and they would be out after a day or two. But one time authorities found out the Debbie was on a hunger strike. Fearing that she would be a "bad example" for the other prisoners, she was put in solitary: a room with no bed and no mattress no sink and just a whole in the floor.
She was kept there for 3 days with no contact with anyone but a black trustee who gave her toilet paper, candy, and paper and pencil to write letter to her parents to let them know her situation. The trustee would mail her notes home. When the Party found out about her imprisonment, comrade George Meyers reacted quickly to the grave danger that Debbie faced as a black comrade in a southern Jim Crow jail. George got to Atlanta as fast as he could and bailed Debbie out.
After that experience, Debbie, our brave young comrade, wrote the following, "The experience fortified me. And I continued to demonstrate and work for equality."
Determined to make a difference
After the experience in SNCC Debbie came back to Philadelphia to a hero's welcome. She had experienced some red baiting from one or two in the leadership of SNCC. Most people I met at the SNCC headquarters were very receptive. I made some life long friendship I think because of Debbie's extraordinary courage, discipline and commitment to the struggle. The book "Hands on the Freedom Plow: Personal Accounts by Women in SNCC" recounts her experiences.
Debbie came back to Philadelphia and continued to make a difference. As a teacher and class-conscious union member she made the difference. As an active member of the Communist Party. As a member of the party's district board and eventually the Chair of the district, Debbie made a difference. Through the years of fighting to end the Vietnam War, the Black Power days, the struggle to Free Angela, the anti apartheid struggle, the Black Radical Congress days where she was part of the national leadership.
Through all of that up to and including the election of the first African American president, being in that jail in Atlanta 50 years ago politically must seemed like a lifetime away. And it was. Today, Obama did not win the State of Georgia but he won Atlanta. A majority of the voters of that city today voted for an African American for the highest office in the land. Lester Maddox had to role over on that one. We are so thankful for the pioneering work that Debbie and her SNCC colleges did 50 years ago.
Through all of that Debbie Bell made a difference. And our party the struggle has moved forward and is that much stronger and influential because of comrades like Debbie.
Dave and Debbie have raised a wonderful family, two brilliant daughters and four grand children. Every summer Lydia and I drive down to the Jersey shore and join Debbie and Dave and about 100 of their neighbors, family and friends and comrades for a massive down home barbeque. As I mentioned, Debbie and I share the same birthday and so many of the same struggles. She is my comrade and sister.
Dear Debbie, The party is very proud of you! 59 years in the Communist party!
B. D. and Sophie would be so proud of you, and I know I speak for the entire membership; we are all so proud of you. Because you have carried and continue to carry high the freedom banner of our party, the hopes and dreams of the African American people and the working class as whole.
Photo: Debbie Amis Bell