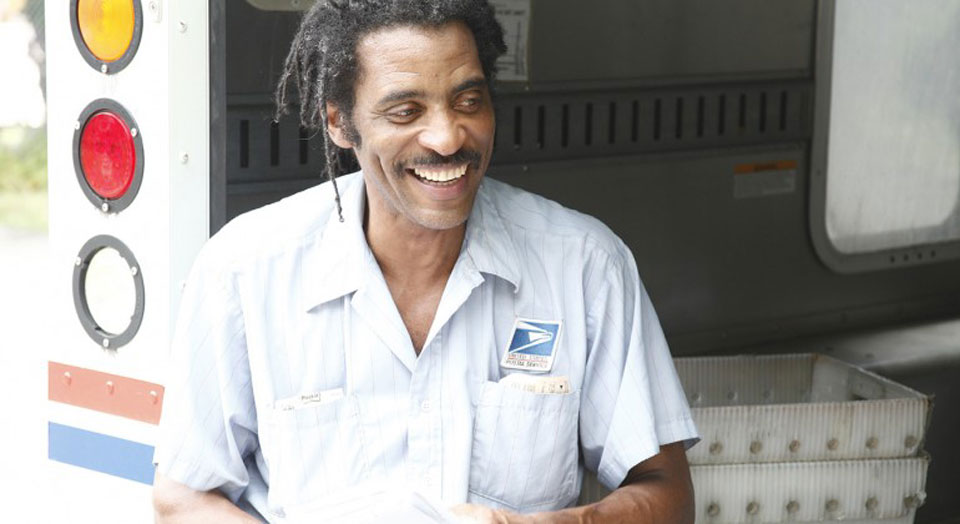 I see the familiar blue uniform. At 6 feet and 4 inches high, with a smile almost as wide, and dreadlocks drippin' off his scalp, I can tell this cat ain't your ordinary mailman. "Hey, what's happenin' man?" he yells to one of his patrons as he jumps out of his postal vehicle. This is Wendell Watkins and his postal route is in Detroit 48202. But for Wendell, Detroit 48202 is more than just the place he delivers the U.S. mail on his daily rounds. This zip code and the people who live on his route tell the story of the city of Detroit. These folks can tell the good, the bad, and the ugly.
I'll let Wendell start: "My grandfather was a mailman. When I started at the Postal Service I was 29 years old. I thought, Wow! Now I get to be a mailman. It seemed like a pretty good job. Now I'm 56!"
Wendell Watkins carried mail in the Detroit New Center area for thirty years before he recently retired from the Postal Service. That is where the 48202 zip code emanates, in the heart of the city. Within his route he had big historical homes, townhouses, apartments, businesses, and totally blighted streets. The hardest hit areas of his route were the concern and distress for this letter carrier. How and why did one of the greatest cities America ever become a billboard for Desolation Boulevard and end up in bankruptcy? Wendell looked to his postal patrons for answers. He talked with both young and old, black and white. Their stories were mesmerizing.
The older folks related tales to Wendell about coming to Detroit from the Deep South. Paradise Valley-Black Bottom-Hastings Street: this was the epicenter of the Detroit Black community during the '30s, '40s, and '50s. They came for jobs at the auto plants. Detroit was the magnet for African Americans during World War Two, but the racism that so many were trying to escape followed them to their new home in the North. Hastings Street and Black Bottom no longer exist. We know that thriving community now as Interstate 1-75.
Ms. Owens, one of Wendell's distinguished elderly patrons, relates a story from her childhood. A new development was built in the white part of town, the Sojourner Truth Housing Project. Her family was the first to attempt to move in. They were met by a posse of white men who refused to let the family move into their new home. After many threats of physical violence and much destruction of personal property, with police assistance the family was finally able to move into the white neighborhood. For thirty years, the mailman listened to these and so many more racially charged historical sagas of Detroit 48202.
Conversations along a postal route. That's what Wendell specialized in. He knew he was given two ears and one mouth for a reason. He listened twice as much as he spoke. And with that skill of listening he was given a multitude of insight from the people that he served daily. That insight and perspective have now been transformed into an 82-minute film, Detroit 48202. Filmed and produced over a six-and-a-half-year period, this documentary follows Wendell as he delivers the U.S. mail and interacts with his customers. Wendell, a community activist as well as a letter carrier, gives his unique perspective on the boom and bust, and supposed new boom to Motown.
After talking with a couple of City of Detroit retirees who had their city pensions cut by over $50,000 because of the 2013 city bankruptcy proceedings, Wendell looks directly at us through the lens of the camera and speaks: "The audacity of these guys that have taken everything out of the city, then turn around giving people the impression that it is their fault." He is angry. We then see the new Little Caesar's Arena being built. Subsidized with taxpayer dollars. Built on land that was bought for pennies on the dollar. Wendell goes on to say: "There are 140 square miles of land in this city. And we are only concerned with two square miles. Big corporations buy up housing, then hold it for speculation. We all bow down to Dan Gilbert and the Illitches. What about the neighborhoods? The people on my route didn't create this situation, they just survived it."
The Detroit NAACP headquarters is on his route. Wendell takes the kids from a local school on a field trip to see the building. He pulls out an old Detroit News and shows the students a faded want ad from 1956 for "whites only" housing. He tells them, "That's the year that I was born." The children are puzzled. Wendell proudly tells them, "We worked hard to organize and stop this nonsense."
Detroit 48202 is a searing film that weaves the racial history of the city with the economic truths of capitalism. The way Detroit looks is not an accident.  Wendell himself became a victim of the city's economics. With his middle-class postal union job, he was able to purchase a two-story brick home in the city for $105,000. In 2008, when the housing bubble burst, his house value plummeted to $25,000. That was and is the reality for thousands of Detroiters. Wendell had to short sell his home to the bank just before retirement and lost all the equity in that house. Economics and racism: This is how neighborhoods continue to die.
We also meet legendary labor organizer, General Baker, Historian Thomas Sugrue, and Urban Planner June Manning Thomas, who provide a thread of analysis and historical context.
The film shows Wendell on his last day on the route, after thirty years. The neighborhood is buzzing with bittersweet memories of their beloved public servant. This man was more than a mailman. He was family. Laughter and tears flow as Wendell gets back in his postal truck and waves his final farewell. His parting shot: "It's a good job for a sentimentalist!" Mailman Watkins, you make my heart crinkle.
Detroit 48202 will be broadcast on PBS in early 2019 on "America Reframed," World Channel's award-wining non-fiction showcase. The trailer can be viewed here.
Detroit 48202: Conversations Along a Postal Route
A film by Pam Sporn
82 minutes
Distributed by New Day Films