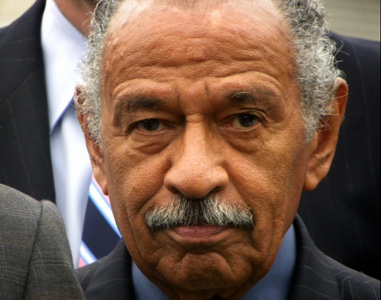 DETROIT – Detroit is the canary in the coalmine, warned speakers at a public forum on the city's bankruptcy, held at Detroit's Fellowship Chapel this past Saturday. Sponsored by Congressman John Conyers Jr., the event brought together an impressive 14-member panel of local and national leaders to discuss, with input from an overflow crowd, the ramifications of the recent bankruptcy filing by appointed Emergency Manager Kevyn Orr.
Moderating the panel was Georgetown University professor Michael Eric Dyson. Dyson predicted that what happens here will affect Philadelphia, Atlanta, Chicago, and 125 other cities – and even states – from coast to coast that are facing financial stress. The entire nation is looking at Detroit and asking, will they be forced to take the same path, said Dyson.
"Forced" is the key word. Conyers said never in U.S. history has an emergency manager, not elected by voters, opted to seek bankruptcy for a city. Conyers said Orr's constitutional authority to act on the city's behalf is "very much in doubt" and, to make matters worse, the action was taken with "precious little public discussion and no accountability."
The "pillaging" of Detroit is part of a national right-wing agenda, said Fellowship Chapel's Rev. Dr. Wendell Anthony. Anthony said Republicans are intent on blocking any federal help for cities in distress. Republican South Carolina Sen. Lindsey Graham even proposes extreme legislation forbidding federal funds for cities in economic distress, Anthony noted.
Cuts are not hitting all equally here. At the same time the city is filing for bankruptcy and considering slashing pensions of city workers, city officials plan to "publicly put $360 million into a hockey arena," said Al Garrett, president of AFSCME Council 25.
Growing inequality is a national problem, but speakers observed that nowhere has the transfer of wealth from the many to the few been greater than in Detroit.
"Wealth transfer gone wild" is how Dr. Julianne Malveaux, president emeritus of Bennett College for Women in North Carolina, described what has happened. From the city's water department to its museums, homes, buildings and pensions, all are up for grabs, she said.
Malveaux noted that Detroit was once the crucible of the Black middle class and had the highest level of home ownership in the nation.
The result of Detroit being under attack is that in the long run all American people are going to be hurt, she observed.
Michael Steinberg, legal director of the American Civil Liberties Union of Michigan, said Wall Street greed played a significant role in stealing the wealth of the city's residents.
Incredibly, over 100,000 buildings have been foreclosed in Detroit, a city with a population of just over 700,000 people, Steinberg said. In the process, Detroiters' wealth disappeared, he said. Homes that were in families for years and years were lost.
Steinberg singled out the predatory lending practices of Morgan Stanley, which targeted African American residents with designed-to-fail toxic loans.
Of all the indignities being heaped on Detroit, Orr's comments, quoted last month in the Wall Street Journal, that Detroiters are "dumb, lazy, happy and rich" have, not surprisingly, aroused incredible ire.
Orr perpetrated a "vicious transmission of stereotype" for public consumption, said Dyson who, like Orr, is African American.
"He should be fired," added AFSCME leader Garrett.
Photo: Rep. John Conyers Jr., D-Mich., challenged the constitutionality of Detroit's bankruptcy filing. Talk Radio News Service CC 2.0