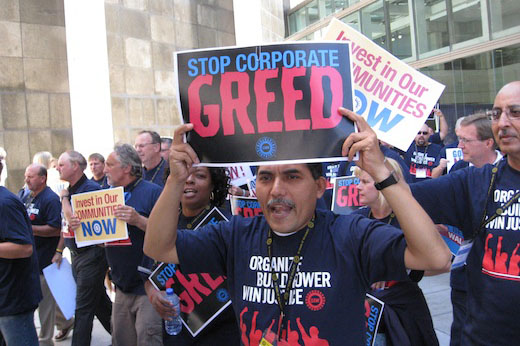 DETROIT – Bankruptcy Judge Steven Rhodes ruled today that Detroit, once home to almost two million people and responsible for producing one half of the world's cars, was insolvent and unable to provide basic services, making it the largest municipality in the country eligible for a Chapter 9 bankruptcy filing. He made that ruling even while saying the city did not bargain in good faith with its creditors.
His ruling will cause concern for the 23,500 retired city workers collecting pension benefits. Though their pensions are protected by the Michigan state constitution, Rhodes ruled they are not protected in a federal bankruptcy court.
However, Detroit Emergency Manager Kevyn Orr should feel some restraint. While Rhodes ruled pensions can be cut he also indicated he will not approve a plan with steep cuts and won't approve pension cuts unless the entire plan is "fair and equitable."
Of course what is fair and equitable for the average pensioner making less than $19,000 a year and what is fair for Wall St Banks are two separate things.
Michigan Council 25 of the American Federation of State, County and Municipal Employees, the city's largest employee union, filed an immediate appeal on the ruling to the U.S. District Court for the Eastern District of Michigan. The union also plans to ask Rhodes to allow the case to be sent directly to the 6th Circuit Court of Appeals to expedite the case.
Regarding the controversial idea of selling city assets including works of art from the world renowned Detroit Institute of Art, and the city's water and sewage utility, Rhodes noted the sales of city assets would not address the long-term issues of the city. One-time infusions of cash won't fix things, he said.
A regular cash flow is what the city needs. A report released three weeks ago by Demos, an economic research and policy center caused quite a stir when it concurred and said revenue, not spending, is the city's number one problem. It pointed out that contrary to popular opinion, city spending has declined over the last five years but its expenses have increased.
Further, the report noted, an exodus of jobs and loss of tax base devastated Detroit. The number of employed Detroit residents "fell by 53 percent from 2000 through 2012." On top of that crisis was another: the city was particularly hard hit by the foreclosure crisis.
AFSCME District Council 25 President Al Garret recently hammered on another problem: hundreds of millions in state aid were withdrawn over last decade. The city only gets about half as much revenue as it did 10 years ago.
Pensioners are right to be angry: Cuts for them, obscene profits for banks, and exorbitant incomes for CEO's. Rev. Charles Williams II, President of the Michigan Chapter of the National Action Network, pointed out one more indignity in a press release today. Money is not tight for all. "Governor Snyder and Kevyn Orr put together a package to spend millions on a hockey arena just weeks ago in Detroit."
Photo: United Autoworkers members protest extreme wealth gap and corporate greed. (PW/John Rummel)