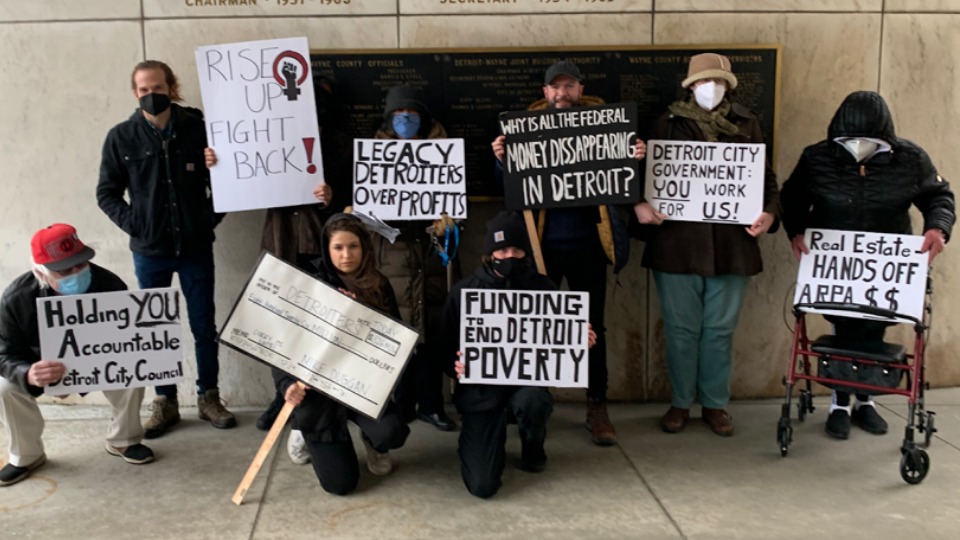 DETROIT—The newly elected City Council of Detroit is at a crossroads. It is caught between Mayor Mike Duggan, who represents the interests of big business, particularly Dan Gilbert (Quicken Loans) and the Illitch family (Little Caesars), and the residents, who are seeing their standard of living continue to decline with costly living prices, deteriorating infrastructure, and ongoing gentrification that is pushing long-term residents out of the city.
The mayor recently proposed a budget, dubbed the "Post-Crisis Budget," and while there is some funding for social services, housing, and jobs, it is nowhere close to matching the scale of the economic crisis impacting the legacy residents of the city. Community organizations, such as the Charlevoix Village Association (CVA), are stepping up and fighting back for justice and dignity in the face of austerity.
Just this past January, The Detroit Budget Priorities Forum held a meeting for District 5, where the CVA is located. According to organizers in the CVA, the attitude of the meeting was "to tell long-term Detroiters not to expect much from the city and to tell us how broke the city is." However, with the introduction of President Joe Biden's American Rescue Plan Act (ARPA), $826 million was allocated to the city, which makes this budget almost double the amount of last year's.
In 2021, the University of Michigan released a study detailing that the cost required to address the home repairs needed in the city of Detroit is at least $570 million. With Duggan's current proposed budget, there is only $30 million allocated to home repairs.
Additionally, there have been investment groups and corporations, such as RedfinNow, buying up a large number of houses for the purpose of renting them out. Black homeowners, in a city where Black people make up 78% of the population, are drastically underrepresented in this land sale. With white homeownership being as high as 30% above Black homeownership, the effect is a displacement of legacy Black residents in favor of predominantly white, upper-middle-class professionals and business owners.
On April 4, 2022, Detroit City Council held a session to discuss the mayor's budget and fiscal spending.
The CVA, in coalition with other activist groups in Detroit such as the Field Street Block Club, Detroit Eviction Defense, Detroit Will Breathe, and the Detroit Club of the CPUSA, organized a rally at City Council and pushed to make public comments.
Public commenters at the meeting pressed for funds to be allocated for housing-related issues. They called for energy-efficient home repairs, affordable housing, and reparations for overtaxation of properties that have been devalued since the economic crash in 2008.
Toyia Watts, a lead organizer with the CVA, said that, "We have six new City Council members before us and the reason is to make a change in our community. And we need to hold this board accountable."
"We get $30 million in the budget for home repair…. And it hurts that we can't dance in the street for $30 million for home repair. We're not dancing. This money is supposed to uplift us…we're not uplifted with this money," argued Watts. "And who got hit hardest with the COVID? The Black and the Brown people. We are being robbed, slapped in the face, and disrespected when it comes to federal funds trickling down to us in the city of Detroit."
People's World spoke with organizers at the rally. One CVA supporter described Duggan's allocation of the ARPA funds as a "slush fund for his priorities," meaning "real estate, big corporations, and making downtown look nice."
"He doesn't care about the people or the neighborhood," the supporter added.
Furthermore, City Council recently voted unanimously to give $5 million in bonuses to the Detroit Police Department, a sizable portion of that from the ARPA funds. This unanimous decision was seen as a major slight to the residents who have been fighting against police brutality and unaccountablity.
Xylia Hall, an organizer with the CVA, spoke with People's World following the City Council meeting. She has been living in Detroit for 70 years, and her home has been in her family since 1942.
She explained, "A home is a shelter and a place for family and community. And when you lose your home, you lose your possessions, your community."
When asked what motivated her to join the struggle for housing justice, she said, "Gentrification was occurring in my neighborhood. We've been here 80 years, and I'm now 70. All the anti-Black racism over the years and with people losing their jobs, last to be hired and first to be fired, and then these people have the audacity to come back to our city? They looted our city and left." She concluded, "I may not have much, but I have this city and my house."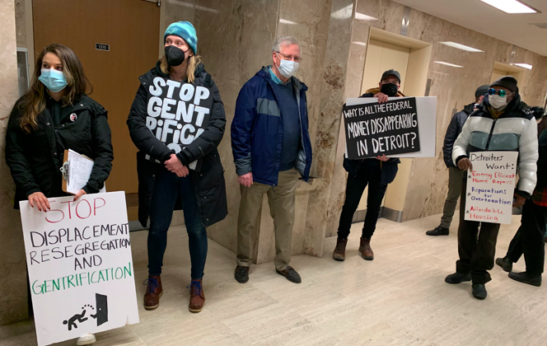 "When it comes to the act of policies, Detroit has had warfare with corporations and racism against the residents. Through poverty, they kept us with our wages low, our income low, and no employment. And with politics, they would ensure we got the minimum. We don't have the income or the resources to get our message out…our politics out. The policies should be about raising the income, being able to pay for housing, education, good jobs, and good schools. We need safe water, safe food, and safe shelter. These are human rights. We should have the ability to thrive."
The newly elected Detroit City Council has the opportunity to take the CVA's demands into consideration and put forth a budget that puts long-term residents, retirees, the disabled, working class, and youth in a better position after the disastrous economic effects of the COVID-19 pandemic.
The Charlevoix Village and their supporters put forward demands that include:
Reparations for over taxation of properties that had been devalued since the economic crash in 2008.
Allocation of money for subsidized housing that is priced at what average Detroit residents can afford.
Allocation of funds that addresses energy-efficient home repairs. Instead of tearing down homes, help people stay in them.
As the CVA stated in its letter to City Council, instead of allocating adequate funds in the budget for home repairs, "Mayor Duggan's administration would rather sell off what legacy Detroiters have built."
Activists argue that if the City of Detroit can give tax breaks to developers for the purpose of profits, then it can also choose to do what is in the interest of justice and give tax credits to overtaxed Detroiters. The legacy residents who have endured and kept the city running can say they deserve more.
That's why it's imperative that City Council use this opportunity and put Detroiters' interests front and center and carve a path that breaks from the priorities of Duggan's administration and previous City Councils. A "NO" vote from City Council would send a message that they intend to thereby force the mayor's office to shift away from its policies favoring corporations over people.
The City Council will hold a vote on the budget on Thursday, April 14.