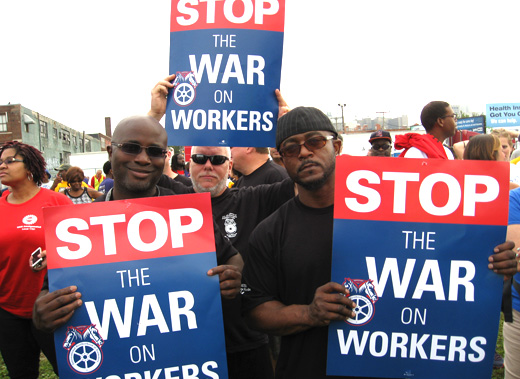 DETROIT – Detroit's Labor Day march and rally, the nation's biggest, sent a powerful message that "our democracy cannot be for sale."
On the grounds of the former Detroit Tiger stadium the pre-march rally heard Democratic Senate candidate Gary Peters warn "a couple of oil brothers" have put $6.5 million dollars into seeing Michigan labor backed candidates defeated. Referring to the Koch brothers' attempt to buy the election he declared, "We will not let them win."
Peters, whose father was a Michigan Educational Association member and whose mother became a Service Employees International Union (SEIU) organizer, was not the only Michigan candidate with good union credentials.
Waving his union card, Democratic gubernatorial candidate Mark Schauer said, "I'm a proud card-carrying member." To thunderous applause he declared, "I will repeal Right-to-Work-for-less," a hated piece of legislation Governor Rick Snyder signed after initially saying it "wasn't on his agenda."
Schauer said Snyder cuts millions from education and raised taxes on families and seniors; "He didn't get tough on corporations, he got tough on the middle class."
Headlining the rally was Vice President Joe Biden. "I still know how to say the word union." He said he does so because unions are the only "counter balance" that can reverse the chipping away of the middle class and the "tilting" of our tax structure towards corporations and the very wealthy.
"Our economy isn't growing because ordinary people don't have money in their pockets," he stated.
One of those "ordinary people" was introduced by Marge Robinson, President of SEIU Healthcare Michigan. Khaya, a fast food worker, announced this Thursday's nationwide strike of fast food and low-wage workers. She's raising a two-year-old child and "can't do it" on the current minimum wage.
State and national union leadership including Metro Detroit Labor Council President Rick Blocker, United Auto Workers' new president Dennis Williams and Teamsters' International President James Hoffa added their powerful voices against the concentration of wealth in too few hands and growing inequality hitting hard at working families.
Detroit Mayor Mike Duggan gave a warm introduction to Congressman John Conyers. Conyers, invoking Dr. Martin Luther King, Jr., called for a good paying job, justice and peace, "for everybody here and around the world."
With Election Day two months away, an energized labor movement and candidates heeding the concerns of working families might be the tipping point for the large movement needed to win November 4th and stop the war on labor.
Four years ago, working families got walloped when too many voters stayed home during the midterm election. Conyers said, "remember November 4th. That's the day we are all equal. Way more of us than them. Power to the people."