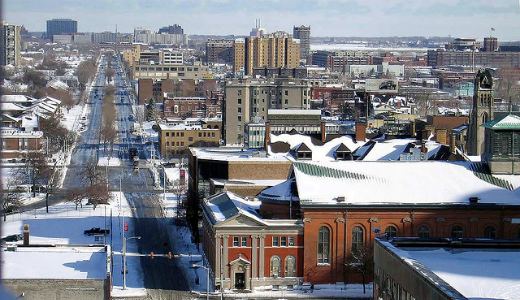 DETROIT – Republican Governor Rick Snyder's decision today to appoint an emergency manager for Detroit is a serious blow to equality, fairness, and democratic governance.
Emergency managers have failed to solve financial crises in Pontiac, Benton Harbor and other Michigan cities because they do not deal with the overwhelming cause of the problem: growing poverty and joblessness.
The City Council is considering challenging the move in court.
Alarmed the Governor would make such a decision, the NAACP issued a statement this past Tuesday at a press conference inside the organization's headquarters.
"Democracy should not be taken from the city of Detroit, or any other city in the state of Michigan, simply on the basis of economic distress," said NAACP President Rev. Wendell Anthony.
The threat of an emergency manager grew after a state review team concluded the city has a financial crisis.
However Anthony said there is no way an emergency manager is going to come into the city and fix in 18 months "what has taken 50 to 100 years to develop."
Over the span of many decades, Detroit's economy became auto dependent as automotive companies made the city the center of the industry. Globalization and outsourcing of jobs has eliminated hundreds of thousands of those jobs. In addition, this largely African American city faced racial and economic segregation, a "redline," that Anthony said cuts the city off from surrounding suburbs and strangled its economic growth.
Anthony called on the state to be a "partner" in helping to solve its problems not an "overseer" that wipes out duly elected officials, a power emergency managers have.
Emergency managers can also nullify union contracts and outsource many services. The city's public workers have already been subjected to deep pay cuts and huge increases in their health care costs.
Anthony noted that Detroit is not the only community under financial distress. Recent news reports have documented communities in Oakland County, one of the wealthiest counties in the state, being forced to layoff police and fire personnel and cut back other services. Bad as the cuts are, the higher incomes of many residents in those communities make it easier to survive.
Many residents in Detroit have few resources to fall back on. There are now whole areas of the city where the median family income is less than $16,000. More cuts in income and jobs are unfathomable.
"We don't need an emergency manager; we need someone to help manage our emergency," Anthony said. He cautioned against looking for "easy" and "half-baked" solutions and called on the state to instead do serious thinking on how to solve the economic problems the city faces.
Photo: palsule_mahendra // CC 2.0