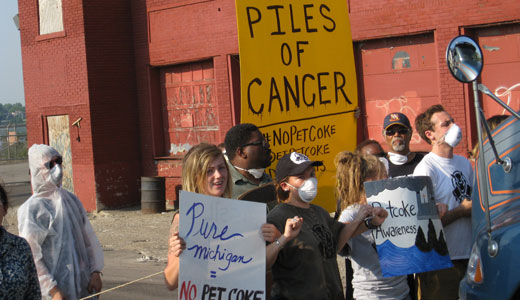 DETROIT – When you hear how bad it is, you understand their passion. Monday, alongside the Detroit River, community and environmental activists, members of the Detroit Committee Against Tar Sands (DCATS) stopped large trucks carrying petcoke from entering a Koch Brothers owned facility. There it is stored in forty-foot piles under the open skies to be shipped on barges.
Tia Lebherz explained that pipelines bring the "really dirty" tar sands oil, harvested in Canada, across the Midwest. One of those lines ends up at Marathon Petroleum Corporation in Detroit where a product of the refinery process is petcoke.
Headed to a Koch Brothers owned facility on the river, big trucks, like the ones being blocked, weave their way through neighborhoods in Southwest Detroit carrying loads of petcoke. With each trip, the most polluted zip code in the state, 48217, gets even dirtier.
Lebherz said one of the places petcoke is shipped is DTE Energy Co's coal powered Monroe power plant, on Lake Erie where it's a big contributor to the carbon dioxide being released.
City resident Stephen Boyle said petcoke is nasty stuff containing "chromium, nickel, selenium, and other heavy metals." He said it blows throughout the neighborhood, goes into storm water drains and has even blown over the streets in Windsor, Canada on the other side of the river.
McKenzie Duke lives within yards of those windswept piles. She moved here a year ago and didn't open her windows until the weather warmed in April. "All this black dust came in. It was all over my floors and my furniture. You can't use a 'swiffer' to pick it up; you have to use solvents. You walk your dog, you're breathing it. It's in our hallways, our garage." She now lives with the windows closed.
Speaking for DCATS, she presented a reasonable list of demands that included creating new forms of working and living that "don't force folks to choose between a paycheck, food on their table, and a job that jeopardizes the planets ability to support life."
She also demanded the government not issue permits that allows corporations to "pay to pollute," to stop the extraction of tar sands and to transition beyond fossil fuels.
Rev. Charles Williams, from the National Action Network, said the Koch Brothers and Marathon are making a lot of money taking advantage of Detroit and Michigan. They feel they can do whatever they want, but "this water belongs to everybody," he said.
Lebherz said the tar sands infrastructure seems to be "growing daily" as Marathon just completed a $2.2 billion dollar expansion to process even more of the oil.
Looking at the whole production process, she declared, "From start to finish, these tar sands are a terrible idea."
Photo: John Rummel/PW