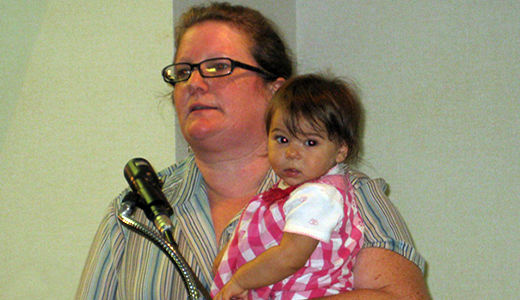 DETROIT—"Where are the jobs? We want to work," was the demand shouted by those attending last Saturday's "Town Hall on Jobs and a New Economy," sponsored by Southeast Michigan Jobs with Justice.
One of those wanting to work is Emily Norton who hasn't had a full-time job since 2007. Prior to that, the longest she had been without a job was three months. "I've always, always worked," she added.
Though she is without full-time employment, Norton works even harder today. She now has four part-time jobs but earns just one-third of what she made while working full time.
Norton said, "It doesn't matter how much college you have, it doesn't matter how hard of a worker you are, it doesn't matter how often you look for jobs; it's pretty next to impossible to find any kind of job."
Donald Boggs, former president of the Detroit Metropolitan AFL-CIO said, while fifteen million are officially counted as unemployed, in reality "there are a cadre of individuals who are not counted because they are no longer receiving benefits."
To emphasize this point he said, "I would hazard to guess that in the city of Detroit we have unemployment in excess of fifty percent."
He presented the AFL-CIO's five point program for jobs, which calls for extending unemployment benefits; rebuilding America's schools, roads and energy systems; increasing aid to state and local governments; putting people to work doing whatever is necessary and using the excess TARP money that bailed out Wall Street to create new jobs.
"I want government to come to those in need," said Boggs.
Sara Schambers works at Ford Motor Company and is a member of United Auto Workers Local 845. However many auto jobs no longer pay good wages and she considers herself underemployed because her work only allows her to "barely get by."
She is an activist in Whatever it Takes, a group of autoworkers that call for fair trade, not free trade. Earlier this year, the group traveled to New York and took their fight against corporate greed and investment bankers directly to Wall Street.
Pastor John Pitts Jr., President of the Interfaith Workers for Justice asked, "Are we still obligated to be our brother's keeper?" His answer was yes. He said it was "crazy for us to pray and ask God to do what he has told us to do."
"I want my children to have a good education," Pitts said. "I don't want health care sacrificed for education. I want to be able to pay my mortgage. I need transportation to work. I need food. These are things all of us need no matter how we worship."
"If we don't come together on these things," he added, "if we continue to let enemies divide us by the color of our skin, our age, where we live, we are doomed to failure."
A highlight of the meeting was the presentation by Sarita Gupta, National Education Director of JWJ, who said, "Corporate greed is the heart and soul of what we are facing."
To have full and fair employment Gupta said we have to fight for "jobs that pay the wages we need to support ourselves, our families, our communities."
She emphasized the need for good-paying union jobs: "We are fooling ourselves if we ever think there will be economic recovery in this country that isn't rooted in an understanding of collective bargaining rights."
Secondly, she called for protecting and preserving the safety net, including making sure that unemployment insurance extension passes.
Finally, she said we have to go where the money is. "Make Wall Street pay. Make the corporate players that got us into this mess pay for the job creation."
Gupta, who is based in Washington, D.C., and has done her share of lobbying, said that while lobbying is important, action in the streets is necessary. "Legislators are not going to make change unless we are out in the streets demanding the change."
Participants at the meeting gladly signed up to form a committee to help the unemployed fight for jobs.
Image: Face of the jobs crisis: Emily Norton works four part time jobs, and still doesn't earn as much as she did full time. By John Rummel