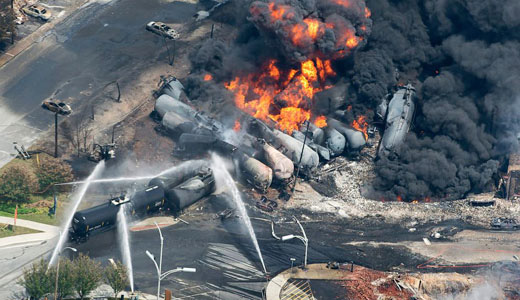 The Quebec town of Lac-Mégantec became a scene of fire and destruction when a freight train carrying crude oil exploded on June 6. The confirmed death toll so far is 13, with 37 still missing and feared dead. More than 30 buildings were destroyed. It is the latest of a seemingly endless barrage of oil-related disasters this year, and another tragic example of how risky oil transport (by train or pipeline) is.
Operated by the U.S.-based Montreal, Maine, and Atlantic Railway company (MMA), the train had oil in all but one of its 73 tanker cars. It was transporting the oil from North Dakota to a refinery in Saint John, New Brunswick.
During one of the train's stops, firefighters were called just two hours before the explosion, because of a fire in one car caused by a leaking fuel pipe. They left after extinguishing it and confirming that all was safe. But things were anything but safe, when the train began moving on its own while waiting for a crew change, speeding up until it derailed and crashed.
The MMA says that, most likely, the train moved on its own while left unattended because it was tampered with and shut down; this disabled the compressor that powered the air brakes and enabled it to roll downhill of its own accord.
Patrick Lambert, chief of the fire department in Nantes, the town where the train fire occurred, said, "We shut down the engine before fighting the fire. Our protocol calls for us to shut down the engine because it's the only way to stop the fuel from circulating into the fire." From that point on, company chairman Ed Burkhardt said, "if the operating locomotive is shut down, there's nothing left to keep the brakes charged up, and the brake pressure will drop to the point where they finally can't be held in place any longer."
The engine could have been shut down, they said, by pulling an emergency lever on the outside, which would have been accessible to anyone.
Upon visiting the site, which he described as a "war zone," Canadian Prime Minister Stephen Harper said the authorities would "conduct a very complete investigation and act on the recommendations."
Regardless of whether the explosion's origins lie in criminal activity or not, it follows a string of oil-related disasters this year, indicating how risky oil transport (by train or pipeline) is.
Brett VandenHeuvel, a critic of oil exportation and director of Columbia Riverkeeper, an organization devoted to protecting waterways, said, "We've seen over and over that derailments are not a matter of 'if,' but 'when.' We know a train derails, and when it is carrying hazardous cargo, it's a threat to our public safety, our economy, and our environment."
Though the loss of human life is obviously the most sobering aspect of this disaster, about 26,000 gallons of the spilled oil also poisoned the nearby Claudiére River. This forced local authorities in the adjacent town of Saint George's to install floating barriers to prevent contamination of their own water.
As with nearly every other oil incident this year, this incident will prompt oil corporations on both sides to tout one method or another of oil transport as "the safer way." Alex Pourbaix, president of Keystone XL company TransCanada, had on March 14 remarked, "If you move oil by rail … you have a higher risk of having some sort of incident, leak, or spill. If you're actually concerned about the environment … you very much want to see oil moving by pipeline." This he said mere days before the pipeline leak that blackened the town of Mayflower, Arkansas, demonstrating that neither way is better than the other, and that on safety and the environment, Big Oil is clearly not trustworthy.
Kate Collarulli of the Sierra Club dismissed the rail-vs.-pipeline arguments, noting, "To say that we have to choose between rail or pipelines is cynical and defeatist. Oil is a dangerous fuel no matter how it is transported."
Photo: Paul Chiasson/AP & The Canadian Press