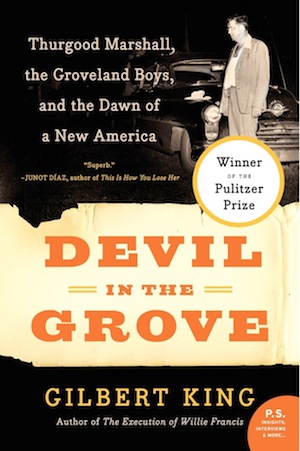 Whites meting out extra-judicial violence on African Americans is nothing new in the South even if white sheets and burning crosses are no longer publicly acceptable. Private police forces have ruled chain gangs and orange grove work camps for generations. "The Man" with a gun and a bad attitude is an enduring fixture of Jim Crow. Calling him "the neighborhood watch" – as with Trayvon Martin's killer George Zimmerman – changes very little. Jury selection in Zimmerman's trial begins June 10. Coincidentally a recently published book gives historical context to today's headlines.
In 1961, Harper Lee's "To Kill a Mockingbird" won a Pulitzer Prize for fiction. In 2013, Gilbert King's "Devil in the Grove: Thurgood Marshall, the Groveland Boys, and the Dawn of a New America " won the same award for nonfiction.
The plots are the same: lynch-law justice in the Jim Crow South. But the treatments could hardly be more different.
Lee wrote an idyll about small town life in Alabama, influenced, no doubt, by the "intrusion" of the infamous 1931 Scottsboro Nine trial which occurred when she was 5 years old (and the experiences of her lawyer-turned-politician father). King spent four years researching the proceedings against the Groveland Boys, accused of raping a white woman in Lake County, Florida, in 1951, and the racial inferno that eventually pitted two almost archetypal figures against each other.
On the side of good in the Groveland case was black crusading attorney and later Supreme Court Justice Thurgood Marshall, working for the NAACP Legal Defense Fund, who we see in the book slowly, one law precedent at a time, setting the stage for Brown v. Board of Education and the legal end of U.S. school segregation.
On the other side, standing in for all that to the liberal conscience seems backward, despicable, and downright evil, is Willis McCall, a Klansman and sheriff who is corrupt and brutal enough to make Joe Arpaio look like a choirboy.
"Devil in the Grove" is King's second courtroom documentary book. (An earlier one, "The Execution of Willie Francis," takes place in Louisiana.) Woven as alternating vignettes of Marshall's New York life in the waning years of the Harlem Renaissance and his forays south, "Devil in the Grove" contains closely recorded accounts of the defendants' multiple trials and enough car chases, beatings and murders to fill a slew of R-rated film scripts.
King's access to FBI files, NAACP notes and even audio recordings of interrogations allows him to present often verbatim dialogue that showcases Marshall's stellar courtroom tactics and his overarching stratagem to document initial defeats at the hands of racist judges and prosecutors for later appeal, right up to the U.S. Supreme Court. Even Marshall's attempt to curry favor with the FBI's J. Edgar Hoover by making anti-communist statements in exchange for investigations and protection against Klan violence is explained as a tactic.
"To Kill a Mockingbird" was voted the best American novel of the 20th century by a poll of librarians. And its tale, seen through the eyes of a child, has no doubt brought at least one generation of young readers to an enlightened sensitivity to the plight of black Americans at the bar of southern justice. But "Mockingbird" pales in comparison with the possible impact of King's gritty, factual, unprettified account of a very ugly situation.
Included as postscripts are several letters, sent to King before paperback publication by people who grew up in the misery of 1950s Groveland and had read the earlier hardback edition. Do not put the book down until you have read them and reflected on the role of willful ignorance and denial about the world we find around us, now before it is too late.
Pithy read – highly recommended.
Book information:
"Devil in the Grove: Thurgood Marshall, the Groveland Boys, and the Dawn of a New America"
By Gilbert King
Harper, paperback, 464 pages, $15.99, Kindle also available
Photo: Paul Perkins, Jack Greenberg, Walter Irvin and Thurgood Marshall at the defense table in Ocala, Florida. "Cases of this kind are the kind that will try the souls of men," Marshall said in closing arguments.