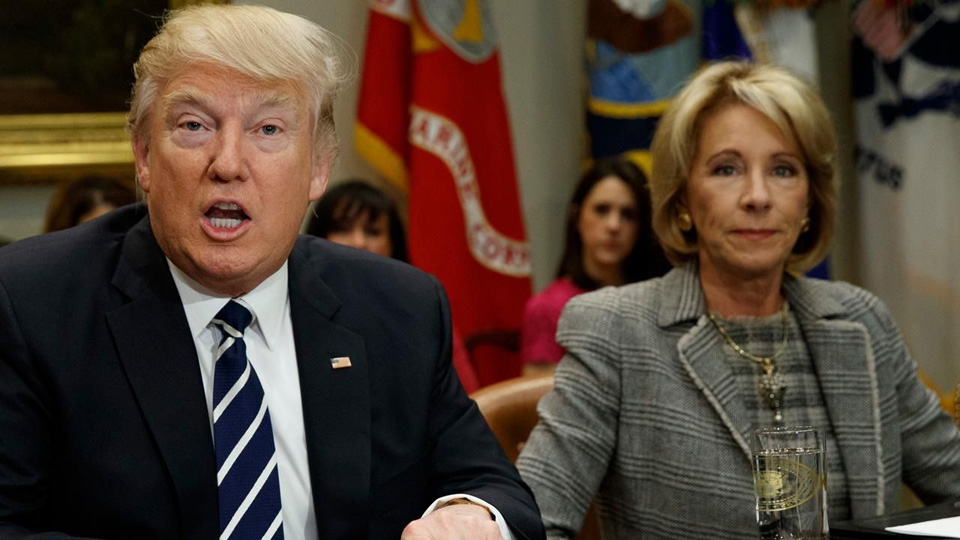 In the immediate aftermath of Donald Trump's Electoral College win, certain dystopian books started flying off online shelves. Among them were George Orwell's 1984 and Margaret Atwood's A Handmaid's Tale. Hulu recently released their version of the latter, which has garnered a wide audience.
Despite a wise caution by The Atlantic's Shadi Hamid to not draw too fine a parallel between the fictitious theocratic regime of Gilead and the authoritarian tendencies of the Trump administration (because there's still a lot of political space between the U.S. under Trump and the "religious absolutism" of Gilead), that doesn't mean we can't find close parallels between real life Trump appointees and Atwood's fictional characters .
U.S. Secretary of Education Betsy DeVos comes to mind as perhaps the living embodiment of Handmaid's Serena Joy, the ultra-religious wife of the Commander. Serena Joy "fought and argued for Gilead to come into being," yet winds up being denied the power she "helped to set into place," wrote feminist critic Cathy Colton, in her review of Episode 1.
DeVos testified May 24 to a congressional committee on the Trump administration's 2018 budget proposal for education, which would slash $10.6 billion – some 13 percent – from public education programs. Yet the administration proposed $1.4 billion for vouchers and other so-called school choice programs.
Well-known for using her wealth to fund conservative Christian causes like school vouchers, DeVos once said she wants to "advance the kingdom of God" through education vouchers, and that they would lead to "greater Kingdom gain." Government funding was necessary for the project, she said, because there were not enough private philanthropic dollars to do it.
Maybe it was the Gileadian-smile across her face when she refused to acknowledge Rep. Katherine Clark's, D-Mass., questions on whether or not the Department of Education would guarantee the civil rights of all students and families.
Clark asked about a Christian school in Indiana that receives more than $665,000 from the state through a voucher program. Lighthouse Christian Academy denies admittance to any student in a family where there is "homosexual or bisexual activity" or family members who practice "alternate gender identity."
"Would you say to Indiana that school cannot discriminate against LGBT students if you want to receive federal dollars?" Clark asked. "Or would you say the state has the flexibility in this situation?"
DeVos gave her go-to, non-answer answer: "I believe states should continue to have flexibility in putting together programs …"
Then DeVos denied that the administration is shifting money in order to fund "choice" programs. When asked the source of the voucher funding, DeVos said, "We're not proposing any shifting of funding from public schools to private schools."
But that is exactly what school choice programs do. Whether charter or vouchers, the budget takes from struggling public schools and gives to the private sector.
"If there are cuts to public schools, and there is new money going to school choice, that can't mean anything else," wrote Washington Post's Valerie Strauss in her analysis of DeVos' testimony.
Strauss said that DeVos' statements on the funding shift and on LGBTQ discrimination were two of the five "startling" things the education secretary said. The others were on the Individuals with Disabilities Education Act (IDEA), school accountability, and federal funding for high-poverty school districts. In each, DeVos deferred to the states.
Whether parents should be required to give up their rights under IDEA if they receive vouchers for their children, DeVos said the states should decide how to run their programs. On holding private schools that receive taxpayer-funded vouchers to the same standard as public schools, she said it was up to the states.
Regarding poor and rich school districts, DeVos defended the budget that takes $1 billion from Title 1 monies that go to districts with high poverty rates and makes it "portable" for families that opt for school choice programs, which would drain even more money from public schools in poorer districts. She was also under the impression that poorer districts get more federal funding than richer ones, which is often not the case.
It was in 2001 when DeVos, and her husband Dick, said in an interview at a meeting of wealthy Christians, that school choice would be a win for God's Kingdom. That was a long time ago and people change. But judging from her testimony, it does not seem like she has changed that much. School choice seems to be a bridge between Atwood's fictitious theocracy and the Trump administration's growing authoritarianism.