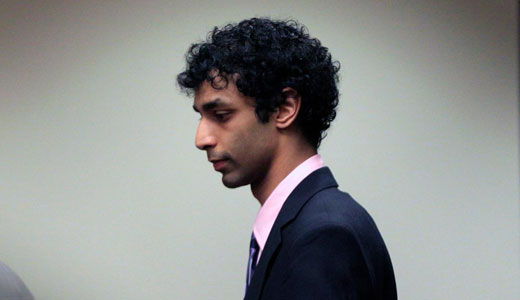 In September 2010, Tyler Clementi, a freshman at Rutgers University, where I have taught for 41 years, committed suicide. Soon it was discovered that Clementi, who was gay, had been harassed by his roommate, Dharun Ravi, who used a computer web camera to both film and send to other students Clementi's sexual liaison with an older man.
As a member of the Rutgers Faculty Senate I called for a policy of expelling students who commit such acts against fellow students, faculty, or staff members. The response of the administration was to do nothing and wait for the incident to blow over. Quietly, the administration did enact a few mild dormitory reforms, permitting LGBT (lesbian, gay, bisexual, transgender) students to opt out of difficult room situations, but it did little to address either the issue of homophobia or the most elemental right to privacy. The New Jersey state legislature responded with strong anti-bullying legislation.
Ravi refused to admit that his actions were motivated by anti-gay bigotry, claiming they were merely a prank. There was much disbelief of that claim in the Rutgers community.
At the same time, Ravi apparently feared taking the plea bargain offered him (a guilty plea and no jail time) because he would be subject to deportation, which some people felt was unfair. Ravi, who is from India, is a member of a U.S. minority group which has faced hate crimes and violence in New Jersey.
Ravi was subsequently tried and convicted. Potentially, he faced up to 10 years in prison. Most observers believed that a prison sentence was necessary under New Jersey law, but some felt that sending him to prison would only enhance the tragedy.
This week the sentence was handed down: 30 days in jail, plus community service and an $11,000 fine. Gay activists and others across the political spectrum expressed anger because of the perceived trivial nature of the sentence.
Rutgers students were not on campus when the sentence was announced. However, the outgoing university administration, busy with its refusal to sign a collective bargaining agreement with part-time lecturers (the most vulnerable group of faculty members), said nothing.
How can we make sense of this tragic and complicated case? Conservatives, broadly defined, usually believe in punishment as the solution to bad actions, although they are selective about who is to be punished. Progressives, broadly defined, usually believe that punishment in itself without rehabilitation leads to further bad acts.
In this case, punishment, given the New Jersey hate crime law, was clearly merited. One can say that the mild sentence in itself undermines the purpose and effectiveness of the statute. But treatment and rehabilitation for Ravi, as an individual, and prevention of such acts should be the primary responsibility of government.
His actions led directly to the death of Clementi and he needed to atone for his crime. Ravi should not have had to fear deportation for his plea bargain. But he should, as part of any plea bargain or trial sentencing, have been made to admit and understand why he did what he did.
For example, he could have been ordered to work with both gay rights activists and public officials to help high school and college students understand why the targeting of gay men and lesbians for intimidation and humiliation violates elemental human rights. In effect, he should have been given the choice of becoming a spokesman against homophobia.
If he refused to engage in that course of conduct, then he should have been given a major prison sentence under the law. That would have constituted justice for Tyler Clementi.
As for the outgoing Rutgers University administration, which for years has engaged in self-congratulations about the diversity of its student body, it is too late now to use this tragedy to develop a required course of anti-discrimination education for all incoming students, and too late for it to confront the consequences of its policies.
High tuition costs, threats from financial loan services, poor conditions in dormitories and classrooms – these are the subtext for undergraduate students' lives at Rutgers today.
These policies, which are the national trend in public universities, follow the example of private corporations and contribute to the anti-social acts that a small number commit.
I will recommend such a required course next year in the Rutgers University Faculty Senate. Hopefully, the incoming administration will be open to such ideas and listen seriously to the undergraduate students whose education, both professional and citizenship, is the foundation and future of Rutgers University and all U.S. public universities.
Photo: Dharun Ravi arrives at court for his sentencing hearing in New Brunswick, N.J., May 21. (AP/Mel Evans)