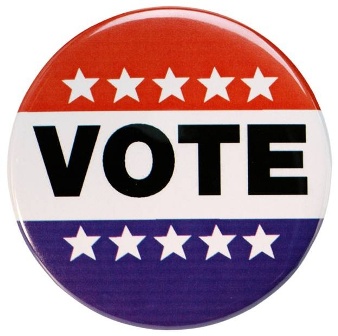 June 8 primaries happened in many different states with many different candidates. But all had the same message. The battle lines are drawn. It's Main Street versus Wall Street. And it's about jobs.
Wait, a minute. But, CNN and all report these primaries are about the anti-incumbent atmosphere, popularity of President Obama and strength of the tea party movement. Plus, on June 8, women ruled.
OK. You decide. Here are the results.
Voters in ten states, plus one run-off, went to the polls on June 8: California, Nevada, Arkansas (run-offs), Montana, North Dakota, South Dakota, Iowa, Virginia, South Carolina, New Jersey and Maine. All states had House of Representatives primaries, 7 states had governors' primaries and 6, plus 1 run-off, had Senate races. Big headlines went to California, the Arkansas Senate run-off, Nevada and South Carolina.
Conservative Democrat Sen. Blanche Lincoln narrowly beat upstart challenger Arkansas Lt. Gov. Bill Halter. Labor and progressive groups like MoveOn backed Halter. Lincoln refused to support worker rights bill, Employee Free Choice Act, which curbs the bosses' power to interfere in a worker's right to collective bargaining. She also infuriated progressives by refusing to support the "public option" during the health care reform fight.
Lincoln won by 10,000 votes, 52 percent to 48 percent.
Politico's Ben Smith reports a "senior White House official" (can you say, Rahm?) called and told him unions "flushed down the toilet" $10 million dollars by backing Halter.
The AFL-CIO and SEIU both issued statements on Arkansas results, which contradicted the official.
Richard Trumka, president of AFL-CIO, said, "Taking a two-term incumbent in deep red Arkansas into a runoff is a virtually unprecedented achievement. If working families were able to accomplish this in Arkansas, imagine what they can achieve in other states.
"It is also now abundantly clear to all politicians that if they want to get the support of working families on Election Day, they are going to need to fight for their issues every day."
SEIU President Mary Kay Henry said in a statement, "Tonight, Sen. Lincoln won a narrow victory after a bruising runoff election where each and every day she was reminded that her success is only measured by doing right by working people and their families. The tens of thousands of volunteers and activists have made their point loud and clear: If you stop fighting for working families, working families will stop fighting for you."
Arkansas is a "right to work" state, meaning its laws severely hamper a worker's right to join a union. Yet the campaign brought it to a runoff and forced Lincoln to shift on some issues, for example, finance reform. What will happen in the general Senate election there is still in flux.
In California, two women, both Republicans and corporate CEOs, Meg Whitman and Carly Fiorina, will battle Jerry Brown for governor and incumbent Sen. Barbara Boxer for the U.S. Senate, respectively.
California labor leader Art Pulaski said, primary results "set in motion a battle for the soul of California. It's Main Street vs. Wall Street."
He vowed labor would counter "massive spending with an unprecedented grassroots campaign" on critical issues like jobs, health care and retirement security.
Tea party and Club For Growth candidate Sharron Angle beat her opponents for Nevada's Republican Senate nomination. She will face Senate Majority Leader Harry Reid in November. Angle is reportedly Reid's opponent of choice because of her extremist views.
Political analyst Nate Silver says Angle's victory puts Reid in a much better place to win in November. If Reid "slips through, " Silver says, "or if Rand Paul [GOP Kentucky Senate candidate] gums up the race so much he loses what otherwise should have been a surefire Republican hold in Kentucky there is a going to be a major reassessment of the value of the tea party to the Republican Party."
Voter turnout on June 8 overall was reported as low-to-moderate. Unions, community and other groups are planning a major push to increase voter turnout for the November mid-term election.