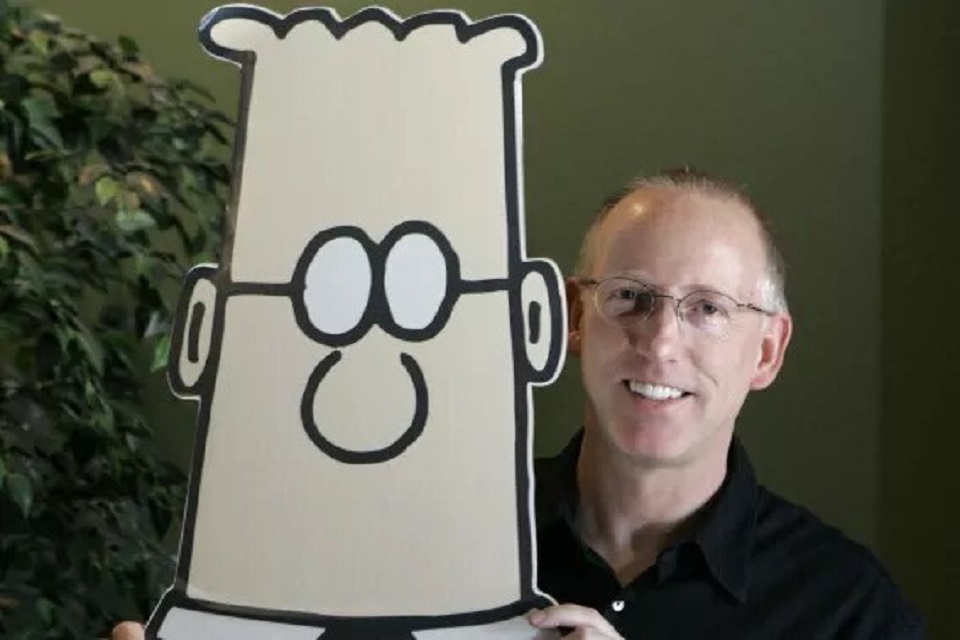 (AP) — "Dilbert" creator Scott Adams continued to see his reach shrink Monday as dozens of newspapers and a major comic strip platform said they would no longer publish his long-running office workplace comic strip over his recent racist remarks.
Newspaper readers around the country were greeted by notes from publishers—and, in at least one instance, a blank space—alerting them to outlets' decision to stop running the popular comic.
Monday morning's Los Angeles Times printed this statement on its comics page:
"The Times has decided to cease publication of 'Dilbert.' Cartoonist Scott Adams made racist comments in a YouTube livestream on Feb. 22, offensive remarks that The Times rejects. Further, in the last nine months, The Times has on four occasions printed a rerun of the comic when the new daily strip did not meet our standards. It will be discontinued effective Monday in most editions. But because Sunday Comics are printed in advance, 'Dilbert' will last appear in the March 12 paper. A replacement title will premiere soon. The Comics pages should be a place where our readers can engage with societal issues, reflect on the human condition, and enjoy a few laughs. We intend to maintain that tradition in a way that is welcoming to all readers."
Adams's fate was effectively sealed Sunday evening when "Dilbert" distributor Andrews McMeel Universal said it was severing ties to the cartoonist. By Monday morning, "Dilbert" was gone from the GoComics site, which also features many top comic strips like "Peanuts" and "Calvin and Hobbes."
In a Feb. 22 episode of his YouTube show, Adams described people who are Black as members of "a hate group" from which white people should "get away." Various media publishers across the U.S. denounced the comments as racist, hateful, and discriminatory while saying they would no longer provide a platform for his work.
Readers of The Sun Chronicle in Attleboro, Mass., found a blank space in Monday's edition where "Dilbert" would normally run. The paper said it would keep the space blank throughout March "as a reminder of the racism that pervades our society."
Newspapers ranging from the L.A. Times and The Washington Post to smaller papers like the Santa Fe New Mexican and the Arkansas Democrat-Gazette have also said they would cease to publish "Dilbert." The strip, which lampoons office culture, first appeared in 1989.
"This is a decision based on the principles of this news organization and the community we serve," Cleveland Plain Dealer Editor Chris Quinn wrote. "We are not a home for those who espouse racism. We certainly do not want to provide them with financial support."
The Andrews McMeel Universal statement said the distributor supports free speech, but Adams's comments were not compatible with the core values of the company based in Kansas City, Mo.
"We are proud to promote and share many different voices and perspectives. But we will never support any commentary rooted in discrimination or hate," the statement jointly signed by the chair and CEO said.
While Adams's strips are no longer on GoComics, he maintains an extensive archive on his own website. In a YouTube episode released Monday, Scott Adams said that new "Dilbert" strips will only be available on his subscription service on the Locals platform.
"They made a business decision, which I don't consider anything like censorship," he said of Andrews McMeel Universal, adding that his comments about Black people were hyperbole.
Adams is correct that this is not censorship, which involves imposed governmental power. It is simply the functioning of the capitalist business model which in many cases, such as this one, faces pressure to at least performatively embrace a certain standard of societal decorum.
"Dilbert" was first published on April 16, 1989, as a satire on the workplace. Considering that the strip has run for over 30 years, it was only as late as May 2 of 2022 that he first introduced Dave, a Black character. Even then, he dissed management's new "diversity" drive by having this character "identify as white," thereby also poking at the way individuals prefer to be recognized.
From time to time Adams would have his company boss outsource work to the "Elbonians," always portrayed as a cynical, violent, cruel, and amoral people (though cheaper to employ, of course). This xenophobic image, which readers could interpret as standing in for Latin American, Eastern European, or Asian workers, perfectly conformed to the cartoonist's essential racism.
Needless to say, toxic as Adams's workplace always was, there was never any hint of unionizing. If anything, workers pitted themselves against one another, and male chauvinism was rampant.
Adams had previously defended himself on social media against those who he said "hate me and are canceling me." He publicly anticipated being "canceled." Elon Musk of Tesla and now Twitter fame quickly sounded off about the media being already "racist against non-white people, now they're racist against whites & Asians."
During the Feb. 22 episode of "Real Coffee with Scott Adams," he referenced a Rasmussen Reports survey that had asked whether people agreed with the statement "It's OK to be white." Most agreed, but Adams noted that 26% of Black respondents disagreed and others weren't sure.
The Anti-Defamation League says the phrase at the center of the question was popularized as a trolling campaign by members of 4chan, an anonymous and notorious message board, and began being used by white supremacists. Rasmussen Reports is a conservative polling firm that has used its Twitter account to endorse false and misleading claims about COVID-19 vaccines, elections, and the Jan. 6, 2021 attack on the U.S. Capitol.
Adams, who is white, repeatedly referred to people who are Black as members of a "hate group" or a "racist hate group" and said he would no longer "help Black Americans…. I don't want to have anything to do with them. And I would say, based on the current way things are going, the best advice I would give to White people is to get the hell away from Black people…because there is no fixing this."
In another episode of his online show Saturday, Adams said he had been making a point that "everyone should be treated as an individual" without discrimination.
"But you should also avoid any group that doesn't respect you, even if there are people within the group who are fine," Adams said.
Which will not stop the right wing from declaring Caucasian people society's new "victim." Scott Adams may well become their new knight on his white horse.
(Added content by People's World.)