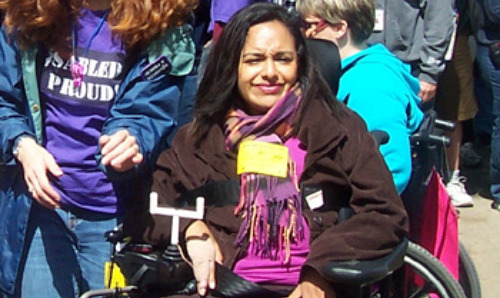 SACRAMENTO, Calif. – More than 2,000 disabled people of all ages, along with their families and supporters, marched here on May 26, to celebrate the 20th anniversary of the Americans with Disabilities Act (ADA), and to lobby their legislators to maintain benefits like in-home supportive services (IHHS), which are threatened with elimination in the proposed California state budget.
"We're here, we're loud, disabled and proud!" they chanted, as they filled the West Steps area of the state Capitol building.
Mary Lou Breslin, co-founder of the Disability Rights Education and Defense Fund, a leading national disability rights law and policy center, recounted the history of the disabled rights movement that forced Congress to pass the ADA.
The movement used dramatic community actions such as sit-ins and "crawl-ins," in which people with disabilities abandoned their wheelchairs to crawl up the steps of inaccessible public buildings.
Bags and bags of written testimony detailing discrimination against disabled people were sent to Congress, where Massachusetts Sen. Edward Kennedy and California Rep. Tony Coehlo were champions of the landmark legislation.
The ADA was passed in July 1990 and signed by the first President Bush, after the movement fought back a proposal to eliminate the rights of people with AIDS and HIV, an idea based on fear and myth.
"We won't back down! We're not going to stop fighting for human rights!" Breslin concluded.
State Sen, Loni Hancock added to the history by recalling disability rights advocate Ed Roberts, founder of the first Center for Independent Living, who "came to the Berkeley City Council and demanded curb cuts on every city corner." Roberts changed the way people live all over the planet, said Hancock.
Hancock is the author of a bill, SB 1256, which would establish every January 23 as "Ed Roberts Day," to encourage schools and educational institutions to incorporate the history of the disability rights movement into their curricula. SB 1256 was passed unanimously by the California State Senate and is now in the Assembly, Hancock said.
Other speakers warned that elimination of the in-home services (IHSS) program, and local programs such as clinics, senior day care centers, Meals on Wheels, and Paratransit, would force many seniors and people with disabilities into much more expensive nursing homes and hospitals.
Besides enjoying the warm weather, speakers, music, dancing and a free lunch, the demonstrators formed lobbying groups to visit their state legislators, urging opposition to the drastic budget cuts proposed by California Gov. Arnold Schwarzenegger.
Photo: "Disabled and Proud" at the Disability Capitol Action Day in Sacramento, May 26. (PW/Gail Ryall)