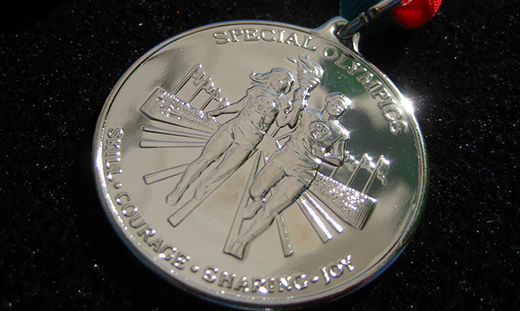 Jenny Youngwith, who is 17 years old and attends Community High School in West Chicago, just wants to play basketball. She has been doing this safely for years, but a decision made by "someone" is keeping the special needs student from hitting the court and fulfilling her dreams to play in the Special Olympics.
The group Equip for Equality, which is an advocacy organization, filed a federal lawsuit on Youngwith's behalf. The lawsuit claims the high school and the Special Olympics are preventing Youngwith, who has cerebral palsy from playing basketball with other disabled students.
Youngwith uses a service dog named Simba to carry a four-pound oxygen tank she needs. The girl's mother, Janice, says Special Olympics states that it's "not appropriate" for her to be on the basketball court with her dog Simba or with the oxygen tank.
But Youngwith and her dog aren't new to the sport. They've been playing basketball in gym class at her high school for two years.
To add fuel to the fire, her family says they're not getting a good answer as to why she can't play.
"We asked them why and they just say, 'Because'," explained the 17-year-old senior's father, Dick Youngwith to NBC.com
School District Superintendent Lalo Ponce says the district's attorneys are reviewing the complaint and Special Olympics Illinois has not returned a call from reporters seeking comment.
Youngwith is saddened by the situation. "I really like playing basketball because I can be with my friends," she said.
"We're essentially asking that Jenny be allowed to participate using Simba, her service animal, and her oxygen tank and be able to fully participate in basketball games and track and field events," said Jenny's attorney Alan Goldstein.
Youngwith and her beloved dog Simba are such a strong and determined duo, they managed to win a gold medal in a state championship softball throw last year at an event run by Special Olympics of Illinois.
Photo: http://www.flickr.com/photos/-marlith-/3582910451/sizes/l/