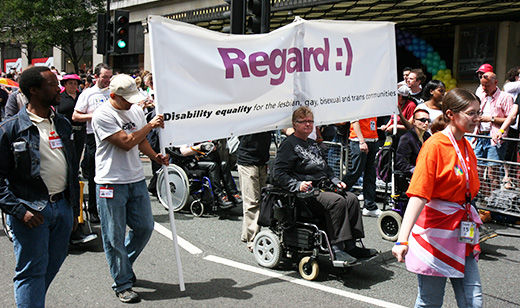 Workers with disabilities face higher unemployment, earn less income, and are more likely to be forced to work part-time, says the first-ever report on the subject by the U.S. government. The study, released Aug. 25, was done by Hilda Solis's Labor Department.
Over 27 million workers in the U.S. are disabled. It is one of the largest sections of the working class facing special discrimination and needs.
Close to 40 million people in the U. S. live with a disability.
With one in every five Americans confronting a physical challenge, the disabled population comprise the nation's single largest minority group All disabled persons, regardless of income, confront unique forms of discrimination.
While unemployment hovers at 9.5 percent and threatens to go higher, over 14 percent of disabled workers are jobless, the same level as for workers without a high school degree. When part-time workers and those who have given up looking for employment are added, the percentage is much higher, reaching levels not seen since the Great Depression.
Unsurprisingly, racism adds a sharp edge to the problem. "As is the case among those without a disability, the unemployment rates in 2009 for those with a disability were higher among blacks (22.1 percent) and Hispanics (19.0 percent) than among whites (13.3 percent) and Asians (11.6 percent)," the report says.
Among full-time workers, the disabled make less than other full-time workers according to the Bureau of Labor Statistics. Fifty-six percent of full-time workers with disability earn less then $750 a week, versus 50 percent of workers without disabilities.
However, disabled workers also confront a sub-minimum wage sanctioned by the government allegedly to promote greater employment. Goodwill Industries is one of the largest employers to pay workers less than the minimum wage, at times under $1.50 an hour.
Describing one such situation, the Cedar Rapids based GazetteOnline reports: "Faith Millburn earns about $1.25 an hour working for Goodwill. She knows that's less than minimum wage, and she thinks it's fair. The 21-year-old with cerebral palsy, who on Thursday was typing labels at Goodwill of the Heartland in Iowa City, is at the center of a complex debate over what to pay people with disabilities for their work."
According to GazetteOnline, the sub-minimum wage is determined as each "organization measures how much work the average able-bodied worker can complete in an hour and then times its disabled employee and pays him or her according to productivity. Sometimes employees are paid according to the number of tasks performed, instead of hourly."
A former employee of Goodwill says the wage is grossly unfair. "I can assure you", he writes, "these wages ARE taking advantage of persons with disabilities. These 'timings' are done every so often and are based solely on productivity."
Sen. Tom Harkin, D-Iowa, has threatened to hold hearings on the sub-mininmum wages. Harkin chairs the Senate Health, Education, Labor and Pensions Committee.
The Obama administration has actively promoted disabled rights and has directed government agencies to take special measures for hiring, including timetables. The Washington Post reports, "President Obama signed an executive order last month ordering the government to hire more disabled people, and the Office of Management and Budget will provide tips to agencies on how to do so by November. The Labor Department also may force government contractors to set similar goals for hiring disabled workers."
Art Perlo contributed to this story.
Photo: http://www.flickr.com/photos/generativecontent/3622435331/ cc 2.0