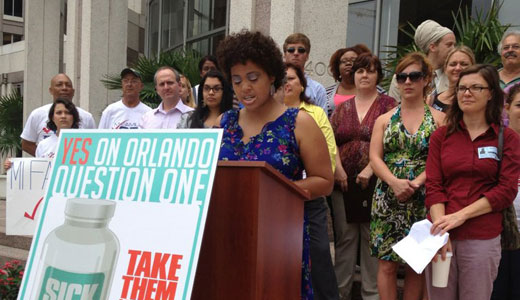 ORLANDO, Fla. – Progressive forces here have put a ballot initiative mandating paid sick time for workers in Orange County onto the Nov. 6 ballot. Disney World and other big business interests are going all-out to block it.
The county supervisor of elections verified on Aug. 17 that Citizens for a Greater Orange County, the coalition spearheading the initiative campaign, had collected over 50,000 valid signatures (6,000 more than necessary) for the measure to be on the ballot. In total, about 74,000 signatures were turned in over a three-month period through the efforts of volunteer and paid canvassers.
Mark Shipley, an organizer for the community group Organize Now!, said he was "very excited, although not exactly surprised with the overwhelming support earned sick time has had in Orange County." Organize Now and Central Florida Jobs with Justice have been mainstays of the coalition. The National Council of La Raza, Mi Familia Vota and other groups, along with organized labor, including the Communications Workers and IBEW, have supported the coalition as well.
If the measure passes, any employer in Orange County (population 1.2 million) with 15 or more workers would have to provide employees with one hour of paid sick time for every 37 hours worked, up to a maximum of 56 hours (seven days) per year.
Under the county charter, commissioners must hold a public hearing on the measure within 30 days of certification at which they can either pass it as an ordinance, or do nothing and allow citizens to have their say.
Since all the commissioners and Orange County Mayor Teresa Jacobs have already expressed opposition to mandated sick time, the hearing will be a pro forma exercise. Nevertheless, said Shipley, sick-time proponents will attend the Sept. 11 hearing "to show a good strong force and support for the issue."
The coalition's campaign for passage of the measure will emphasize continued "voter awareness," said Shipley. "At this point, most people are very aware of the issue and with an over 70-80 percent public approval rating, depending on the polls you use, I think our main drive is just going to be: turn people out to vote."
That overwhelming support may be eroded somewhat under an onslaught from corporate interests, including the restaurant and tourism industries, along with the Greater Orlando Chamber of Commerce and other pro-business forces. The Orlando Sentinel reported that even before the certification there had been "a flurry of lobbying by Walt Disney World lobbyists and other opponents who have pushed Orange leaders behind the scenes to torpedo the petition drive."
According to the newspaper, after three days of lobbying by Disney, the area's largest employer, "five of six Orange County commissioners penned … similarly worded memos urging Mayor Teresa Jacobs to take the maximum 30 days allowed before they have to order that the question be placed on the ballot." The hope was that running out the clock would cause the measure to miss the deadline for getting the county's ballot to the printer.
The Sentinel also reported that county visitor logs indicate that a Disney lobbyist met with Jacobs and the county attorney on Aug. 13 to talk about "charter questions." The same lobbyist signed in the next day for meetings with all commissioners and their aides for discussion of "possible agenda items." About 40 percent of Disney workers don't have paid sick time.
Pro-business forces appear ready to spend big on a propaganda campaign that they hope will induce workers into turning down something that if passed would improve their lives, especially those in low-wage service jobs, and would build worker power in Central Florida. According to the ballot initiative coalition, 40 percent of private sector workers nationally and 81 percent in the lowest-paid jobs don't have sick time.
A confidential email sent on July 27 to local chambers of commerce by the head of the Central Florida Partnership, a group under the aegis of the Greater Orlando Chamber of Commerce, included an attachment intended to give recipients "some idea of what a 'full-blown' campaign will cost." The email was leaked to a local media outlet and subsequently obtained by a People's World reporter.
The two-page document from Consensus Communications, a local public relations and political consulting firm whose founding partners have long histories of involvement in right-wing politics, recommended the use of focus groups, polling, direct mail and TV spots in a potential campaign against the measure. The firm also offered a range of media plans – Bronze ($1.4 million), Silver ($1.9 million) and Gold ($2.2 million)- depending on the number of direct mail pieces and TV ads. Each plan includes a $25,000 consulting fee for Consensus.
The business community already has gone to court to stop the initiative. In a lawsuit filed Aug. 1, plaintiffs including the Greater Orlando Chamber of Commerce, the Central Florida Hotel and Lodging Association and the Home Builders Association of Orlando claimed that the measure's language is "misleading" because it implies that non-profit entities would be exempt from it.
Stephanie Porta of Organize Now! told the Sentinel that "this initiative has undergone thorough legal scrutiny, and we have had no objections raised by the County Commission or the Supervisor of Elections or anyone else." Porta characterized the lawsuit as "a stalling tactic designed to stop Orange County voters from strengthening our local economy and providing stability to workers."
Photo via Vote Yes on Question 1 Facebook page.