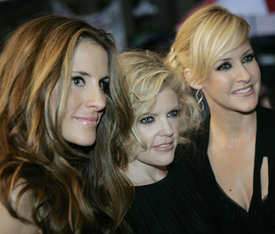 I'm not a big fan of country music. Like most lifelong city dwellers, I found little in country music that resonated with me or was the least bit relevant to my "big city life."
The Dixie Chicks, however, got my attention in March 2003 when lead vocalist Natalie Maines made her now infamous comment to a London audience — on a night when bombs "shocked and awed" Baghdad — that she was "ashamed" that President Bush was from her home state of Texas.
The backlash from the country music world was and continues to be significant, and changed the Dixie Chicks' fan base permanently. Many radio stations refused to play the band's music, and many still refuse to do so — even after their new album, "Taking the Long Way," went platinum shortly after its release earlier this year.
Despite the new CD's obvious success, the Country Music Association has passed it over for any award nominations.
What started as a personal interest in supporting a fellow artist's right to free speech, quickly turned into true die-hard fandom, after I popped in my first "Chicks" CD. I've been hooked ever since. I could barely wait for their much anticipated, "Taking the Long Way" release.
From the disc's title track, "The Long Way Around," to the more direct, "Not Ready to Make Nice," the album is political and stingingly personal. Along with Maines, fellow band members Emily Robison and Martie Maguire have followed in the tradition of antiwar political rockers of the past — and have not backed away from their comments or their opinions of the Bush administration — despite slumping sales and death threats.
The flavor of the album is distinctively rebellious — but with all the righteous indignation of a mother protecting her children. These rock 'n' roll moms don't mince words, but between the political jabs the album is laced with the delicate and lovely lyrics of "Easy Silence," the hauntingly melodic serenade "Lullaby" and the melancholic "Silent House."
A new documentary, "Dixie Chicks: Shut up and Sing," which follows the band after Maines' comment in London and the ensuing backlash by the country music world, is set for release just before the November 2006 elections.
Some are speculating that the film may have a political impact. In one scene, Maines calls Bush a four-letter word as she watches him bumble during a television speech. Oscar award-winning producer Barbara Kopple along with Cecilia Peck, like many of the Chicks' current fan base, took notice of them in 2003 when the kerfuffle began.
"During the '60s there was a cultural movement that happened, we were just coming out of the repression of the '50s, there was music, it was antiwar … you really felt a sense of belonging to a community," Kopple told a Reuters reporter.
"When Natalie made her comments particularly from the country music box, there was no community, they were out there all on their own, and our hope with this film is that people will see it and no longer will the Chicks stand alone."
If standing with the Chicks means buying and listening to "Taking the Long Way," and planning to see the upcoming documentary, then count me in.