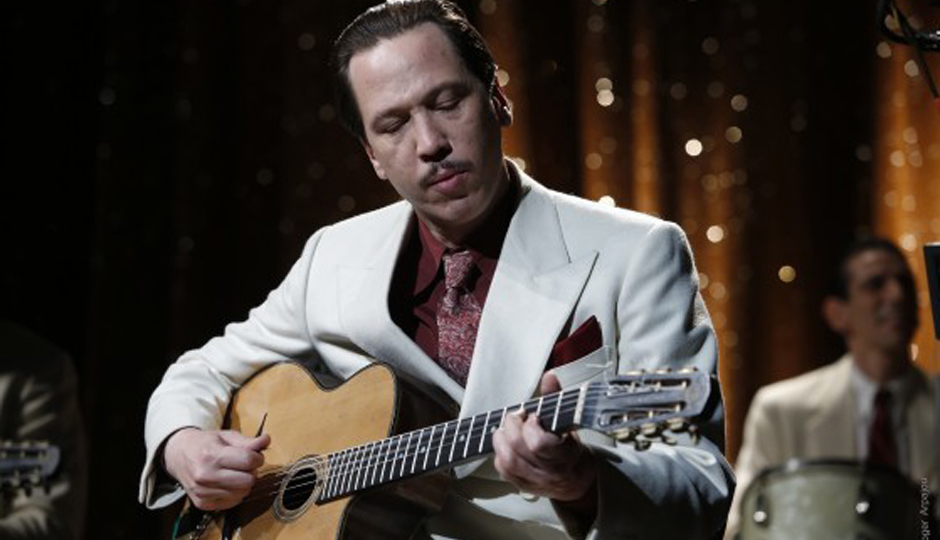 The new feature Django captures a few months in the life of world-famous Belgian-French Gypsy jazz guitarist and composer Django Reinhardt, a time in 1943 when the Germans were occupying Paris and most of France.
For a while, it seemed, the German officers in Paris were enjoying their party town, going out to restaurants, boîtes and concert halls where the music could be heard that at home would have been forbidden as "degenerate." Dominating club life was the exuberantly successful "hot jazz" ensemble of Django Reinhardt—European "King of Swing" now that American musicians could no longer visit France—comprised of family members and colleagues.
But the noose is tightening. Romany people (also known as Gypsies, though that term is falling under a cloud these days) are on the Nazi hit list of "non-Aryan" types, along with Jews, slated for extermination. There are rumors of Gypsies being put onto trains and never heard from again, and summary executions, round-ups and containment of Romany encampments.
Django has always tried to stay above the political fray: As long as he can play his famous guitar and enjoy life, he is unconcerned about what else is going on around him. The Nazis have plans for him, however: To send him and his quintet on a lucrative propaganda concert tour of Germany to lift spirits at home. After all, German music would be quite a more ponderous affair without all those "Zigeuner" Gypsy romances, rhapsodies, fantasies, overtures and operettas that populate the popular wing of Central European culture.
Although lurking in the background is the potential threat that once there the Nazis might betray the musicians and "disappear" them.
Of course, on the German concert circuit the musicians are instructed to severely curtail their repertoire with only a minimum of swing music, blues, solo improvisation, cowbells, anything that smacks too broadly of the Black American roots of jazz. In so many words, the Nazis would like to hear lots of waltzes!
Django, played to the max as a driven artiste by Reda Kateb and bearing an uncanny resemblance to the actual historical figure, is caught between family and lovers, art and conscience, and indeed life and death. Much of the drama in the film centers around his attempt to escape France over the border with Switzerland. Interestingly enough, it's his guitar that saves him.
Aside from the scenes that atmospherically drop the viewer into the musical world under German occupation, we also see how the Romany people lived in the caravan communities on the outskirts of town. Much of the dialogue there is in the Romany language, which we hear alongside French, German and English.
Django's wife Naguine is played touchingly by Bea Palya, his mother Negros by the feisty Bimbam Merstein, and Django's politically ambiguous former lover Louise de Klerk by the sultry Cécile de France.
Django Reinhardt survived (no plot spoiler here—any Google search will tell you that) and at the conclusion of the war composed a Gypsy Requiem to memorialize the estimated 500,000 Romany people who were exterminated by the Nazis. Much of that unfortunately has been lost—for one reason, Reinhardt did not know how to read and write music, and in fact was barely literate at all—but the film score reimagines a part of it in a moving final sequence.
The film is based on a novel by Alexis Salatko. We may never know in much greater detail than we are given here what actually transpired in those fateful months, but for the sake of film it is a effective story worth seeing.
In any case, for some moviegoers the story may be tangential to the main event: The glorious music! It's toe-tappingly delicious from beginning to end. This is a highly watchable, enjoyable film, and not least because we see the malicious and sometimes bumbling Nazis in full conformity with our established views. The trailer can be viewed here.