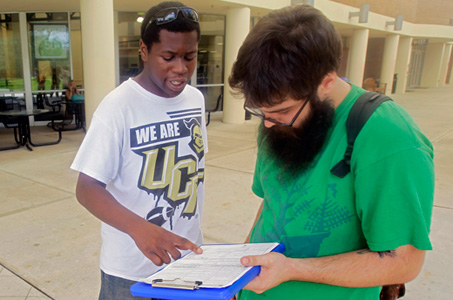 CHARLOTTE N.C. — "Fired up — Ready to go," was the enthusiastic chant at overflow caucus meetings of youth, African-American, Hispanic and Asian-American Pacific Islander (AAPI) delegates on the eve of the opening of the Democratic convention.
The meetings, which filled several ballrooms of the convention center, highlighted positive gains in the last four years in health care, student loans, representation and economic security despite Republican obstructionism. The sessions mapped out plans for massive grass roots voter mobilizations that the planners believe will outdo the multi-million dollar spend fests expected to be thrown by right-wing Super PACs on behalf of the Romney campaign during the next 64 days. More caucus meetings including women and seniors will be held during the week.
Alejandra Salinas, the first Latina president of College Democrats will deliver an address on the convention floor representing 644 delegates under 36. Every state has seated more young delegates than ever before, including 285 students.
"Our voice and our views are being taken seriously," she said to a resounding applause.
"You are the most powerful activist generation," said Patrick Gaspard, executive Director of the DNC and a former union organizer. "But what are you going to do with your power?" he challenged, calling for an election victory won in a way that shows youth leadership.
Buffy Wicks, organizer of the mobilization program addressed each caucus meeting highlighting their particular role as part of the largest grass roots mobilization in the history of the country.
Speaking to the youth caucus she announced that 10,000 college students were registered to vote in Ohio last weekend. The campaign is organizing hundreds of campus teams across all the battleground states.
"How many of you who are under 26 are back on your parents health insurance as a result of the American Healthcare Act?" she asked as hands shot up all across the ballroom. "Well, Romney wants to take that away," she exclaimed angrily.
The Hispanic Caucus meeting focused on their decisive role to the outcome in the swing states of Colorado, Nevada and Florida. Reflecting population shifts, the Hispanic vote can also be decisive in the swing states of Ohio, Pennsylvania and North Carolina. Daylong panel meetings of Latino elected officials, convention speakers and the 'No Documents, No Fear' immigrant rights campaign all highlight an expanding Latino leadership role.
Speaking to a packed meeting of the AAPI caucus, Wicks emphasized that their vote could be decisive in the important swing states of Virginia and Nevada, and also Florida and Pennsylvania. There are 17 AAPI candidates for Congress this year, of whom 14 are Democrats.
Delegates who arrived early enough to get into the double ballroom reserved for the African-American Caucus were addressed by Rev. Jesse Jackson and organizers for Team Obama who laid out what the grass roots campaign needs in order to win.
"We are going to have to fight for the right to vote," declared strategist Donna Brazil speaking of recent victories in Ohio and Texas, where Republican attempts to suppress the vote were overturned. "The choices for America are clear," she said. Many speakers reflecting on the lies exposed during the Republican convention echoed the point, "We will not go back."
Photo: Students at the University of Central Florida register their peers during the summer, July 31, John Raoux/AP