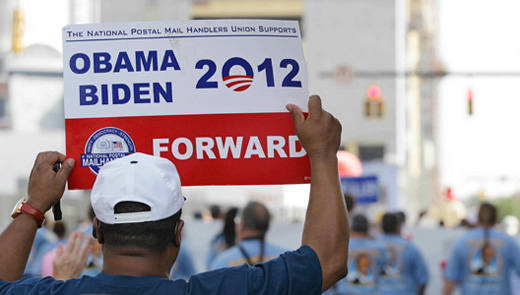 CHARLOTTE, N.C. (PAI) — Hundreds of union members, delegates to the Democratic National Convention, fanned out among their colleagues bearing little orange cards, talking about union rights.
The cards were part of labor's participation at the convention, held ironically in the least-unionized state in the U.S. and one that bans collective bargaining for state and local government workers.
The cards were distributed at a Sept. 4 morning caucus of labor delegates at the convention. AFL-CIO President Richard Trumka used that meeting to take even sharper slams at Republican presidential nominee Mitt Romney than Trumka did at his speech to the convention the next day. Trumka was a Pennsylvania delegate.
"It was profitable for him to bleed companies and kill jobs and end pensions in bankruptcy court and then walk away with millions of dollars. What did he care? He had his at that point," Trumka told fellow labor delegates. "Call me old-fashioned, but I believe it's important to do the right thing."
Democratic President Barack Obama, whom labor strongly supports, has made a point of attacking Romney's jobs record as CEO of Bain Capital. That's to offset Romney's claims that as a businessman, he can revive the economy.
Trumka said Romney not only outsourced U.S. jobs, but even outsourced even his own bank accounts. Romney has admitted that he stashed his millions in accounts in Switzerland and the Cayman Islands, both considered "tax havens" used to shield income and assets.
In an interview with CNBC, Trumka also predicted Romney's policies, which he said mimic those of George W. Bush, would drive the U.S. back into a recession. And he blasted Romney for being anti-workers' rights.
Trumka told CNBC that the Republican platform, enacted the week before, is " "a vicious attack on workers" and "the most anti-worker, anti-union platform of any party in the history of the United States." He said the GO wants to kill collective bargaining, among other workers' rights.
The GOP platform also endorses a nationwide so-called "right to work" law. North Carolina is a right to work state, which was another reason that many unions – notably the building trades – decided not to participate in the convention.
Photo: At the Sept. 3 Labor Day parade, in Charlotte, N.C., before the start of the Democratic National Convention. Chuck Burton/AP