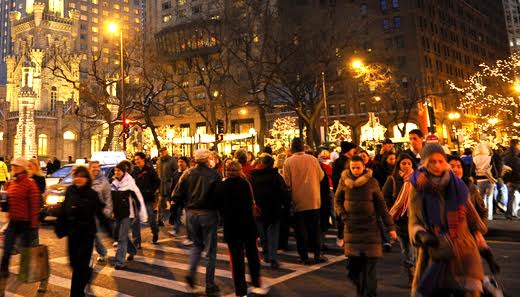 CHICAGO — While boutiques may be known for elitistism, it's not uncommon for upscale stores to mishandle interactions with diverse customers. A Michigan Avenue Chanel store here stirred up controversy last week when they printed out a receipt that referred to a customer as "Ms. Chinese Tourist." A couple of months ago, Milwaukee Bucks Power forward/Center John Henson's social network post went viral when he was racially profiled at a jewelry store in Wisconsin.
Ms. Jing Song, a Chinese immigrant, has been in the country for over eight years. "It was my fourth visit to the Chanel boutique and the second purchase with the same sales associate," Song states. She posted a picture of the receipt Sunday on her Facebook with the caption "Are you serious?"
According to Song, who has a Masters degree from U of I, the store was only occupied by a handful of people at the time. Song mentioned that she had filled out a customer information card when she first made a purchase at the boutique in May. The clerk who gave her the receipt has assisted her in the past, as is indicated by the cashier number in a previous receipt she had from Oct. 5.
A sales associate is typically able to find customer information through their system if a client is registered with the boutique. Song notes that her real name and address were listed on the original receipt from October. With her recent purchase, however, the sales associate seemed to have bypassed the information search and simply put Ms. Song in as "Chinese Tourist." Once she realized what had been printed on the receipt, Song reached out to Chanel headquarters. "I don't see any reason why anyone would find this acceptable in any way." She was not immediately able to reach anyone directly but did receive a standard email response, "we are sorry for your experience and we will share it with appropriate department."
Milwaukee Bucks John Henson, who is African American, posted about being racially profiled on Instagram, describing his uncomfortable encounter with store staff who locked him out and then called the police. Even after it was confirmed who the NBA player was, the store clerk insisted that the cops stick around to keep a watchful eye over Henson.
These types of presumptions about individuals of color enable ugly stereotypes and discriminatory behavior. For Jing Song, that behavior manifested during her visit to Chanel.
Since the occurrence, the Chicago Chanel boutique director reached out to Jing Song and apologized for what happened. She also said that she was going to have a conversation with the sales associate. Song was also "offered a fragrance from Chanel" but rejected the offer.
The Wisconsin jewelry store owner publically apologized for the incident and sent a letter to John Henson: "Everyone – professional athlete or not – deserves to be treated with dignity and respect," and that he looked forward to the opportunity "to sit down directly with John Henson to look one another in the eye, shake hands, and apologize for what he experienced."
Photo: Magnificent Mile shopping area. City of Chicago