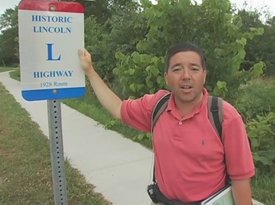 In an effort to expose the failures of the current health care system, Dr. Ogan Gurel, 45, is trekking nearly 700 miles on foot from Chicago to Washington D.C. in order to bring to the attention of lawmakers the real hardships and suffering of people he meets on the way, when it comes to the lack of health care.
Gurel is appalled at how certain special interests and corporations have been dominating the debate, spending millions on lobbying, and working to maintain their own "piece of the pie" with little consideration for the people – those truly affected broadly by healthcare. Gurel says he's fed up with recent statements made by insurance company executives, pharmaceutical interests, as well as the American Medical Association, the American Hospital association, and other groups who are trying to manipulate and distort the heated health care debate now taking place in Congress.
The World spoke with Dr. Gurel on the phone July 8 as he was walking along the Lincoln Highway just East of Upper Sandusky, Ohio.
"Nearly 50 million Americans lack health care insurance and many more are grossly underinsured," said Gurel. "Every American deserves health care and as a matter of public health, economic security, and simple human dignity, health care is a common good," he added. "As a nation, health care for all makes us greater and as individuals it allows us to reach our full potential."
Gurel said health care is about people, not lobbyists or special interests. Gurel notes his Walk for Healthcare does not uphold any particular policy position or piece of legislation yet he believes the principles of universality and affordability represent a framework for moving the health care debate forward. "The walk is about the 'voice of the people,'" he said.
Choice is also important, Gurel explained. But the choices for millions should not entail choosing between foregoing healthcare, bankruptcy or worse, he said. "This is not choice, it is injustice."
"Health care reform is the biggest legislative issue today since the Civil Rights era," said Gurel. Reforming the system appeals to both sides of the political aisle, he added. "Invariably from the most conservative to the most liberal this issue affects people from both spectrums."
Gurel was born in Turkey and came the U.S. at age two with his parents. He lived in New York most of his life and has been living in Chicago with his wife and stepdaughter since 2001. Throughout his career Gurel has worked as a surgeon and was a CEO of a medical device company. Currently he is a self-employed health consultant. Gurel said he is currently uninsured.
"I have seen many sides of the health care industry and people are naturally more open to talking to a physician," he said. "It's important that physicians, patients and really everyone play a role at the center of this struggle."
So far Gurel has been talking to people at hotels, coffee houses, and truck stops as well as along the road at houses he stops at for water. Stories he has gathered include families going into bankruptcy due to the economic crisis as well as some (U.S. citizens) who have traveled to India for major surgeries where costs are more affordable. Others told him how they have been denied insurance.
"People get differing care and as a result are forced to go to emergency rooms as their only option for treatment," said Gurel.
Gurel's hike follows the Lincoln Highway, traveling through cities and towns across Indiana, Ohio, West Virginia, Pennsylvania and Maryland. Walking along the Lincoln Highway is an appropriate metaphor for health care since the route began as a patchwork of private roads that was federalized into a cross-country highway to benefit the common good, he says. "Health care, likewise is a common good and it ensures our economic strength as well," said Gurel.
Gurel walks about 25 miles per day, with rests in between, and he stays at hotels each night. Some hotel owners who support Gurel's cause have allowed him to stay overnight for free. He hopes to arrive in Washington July 26 after collecting hundreds of personal stories.
It's just not right that special and corporate interests are spending millions on lobbying fees that advocate no change in the system, said Gurel. "They're only concerned about their piece of the pie and health care reform is about people's needs not monetary reasons."
Gurel continued, "This walk, I hope will contribute to a more appropriate perspective about real people's lives. I intend to send a strong message to lawmakers and tell people's personal accounts so that they can change things, perhaps radically."
Gurel added, "By the end of the walk, the many stories we have gathered, shared, and documented will provide a compelling narrative which absolutely cannot be ignored."
Elected officials would do the right thing if they just listened to people's stories and not corporate interests, notes Gurel. Fighting for health care reform is a win-win situation, everyone wants it, says Gurel. "It doesn't need to be a battle."
Gurel gives first hand accounts throughout the day via Twitter (), and on his blog at . Gurel said he already has 100 followers on Twitter and over 500 friends on his Facebook group. Those wishing to support or make contributions to cover lodging, meals or host Gurel in their home should email Kerem Arig (logistics coordinator for the walk) at kerem@walk4healthcare.org. Donations can also be made via Pay Pal to donate@walkf4healthcare.org.
plozano @pww.org