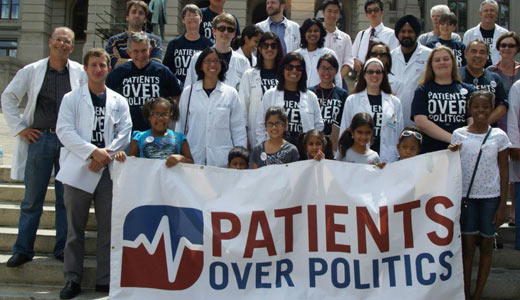 CHARLOTTE, N.C. – A big bus emblazoned with the words, "Patients Over Politics" rolled into town during Carolina Fest, and came to a stop a block or so from the site where Democrats had gathered for their national convention.
Aboard were medical doctors from 17 states wearing their white smocks. They had just journeyed here from Tampa and the Republican National Convention. They are members of Doctors for America, a 6,000 member organization in all 50 states. They are defending the Affordable Care Act, often called "Obamacare," that Republican Presidential nominee Mitt Romney promises to repeal if elected.
The doctors were greeted as heroes at a half-day forum here sponsored by Families USA and the Service Employees International Union at the NASCAR Museum that adjoins the Convention Center.
Dr. Vivek Murthy, founder of the doctors' group, told the near-capacity crowd in the vast museum lobby that they had gathered "not just to celebrate what we have done. We're not there yet." The national debate on health care reform, he charged, is "driven by politics not by the good of our country."
Ignorance is an enemy, he said.
At the University of South Florida in Tampa, the doctors ran into a young student who had been hospitalized with a serious illness, Murthy said. "Fortunately, he got better but he was saddled with a hefty medical bill. He didn't know that he is covered by his parents' health insurance until age 26. You should have seen his face light up when we told him about it."
Health care should be "an issue that unites the country, not divides the nation," Dr. Murthy said. "We need to stand together in support of the Affordable Care Act."
After the forum ended, Murthy told the People's World, "I think this election has pushed health care to the forefront. We have a situation as a nation where we have to make a decision whether to move forward with health care reform."
Doctors for America, he said, has adopted a resolution in strong support of preserving the Affordable Care Act.
The resolution states, "We believe in an America where everyone has quality, affordable health care and where doctors and the public work together to build a health care system that works for all."
The Affordable Care Act is a "critical first step toward this vision," the resolution adds. "We the undersigned demand our politicians put Patients Over Politics. We must work together to build on the Affordable Care Act with further reforms and commit to a future where everyone can get health care when they need it."
Among the signers are Dr. Howard Hiatt, MD, former dean, Harvard School of Public Health; Dr. Jonathan Gruber, economics professor, MIT; Dr. David Feinberg, MD, MBA, UCLA Health System; and Kimberlydawn Wisdom, former surgeon general, State of Michigan; and hundreds more.
Murthy spoke of the fearful appeal, during the first night of the Democratic National Convention, from an Arizona mother, her infant daughter stricken with a congenital heart defect. The little girl was in her father's arms a few feet away as the mother praised Obamacare for lifting the cap on insurance coverage for the child, a huge blessing that saved the family from bankruptcy and insured continued treatment of the little girl. But what if Romney is elected, the mother asked, and makes good on his threat to repeal Obamacare? What will it mean? Death for the little girl? Economic ruin for her family?
Said Murthy, "If you listen to the Arizona family who appeared before the DNC last night, their story is one of millions of people who are affected by his health reform law. You can be healthy and fall sick in a moment due to illness or injury. Everybody in America needs and deserves secure health care."
As a physician in Massachusetts, he witnessed the benefits of former Massachusetts Gov. Mitt Romney's health care program. "I am proud of Romneycare and Romney should be proud of it too," he said. "Many of us from Massachusetts were surprised that Gov. Romney has not celebrated Romneycare."
Doctors for America is a non-partisan organization, he said. "Our organization includes people who supported Romney's health reform law and now support President Obama's Affordable Care Act."
Photo: Patients Over Politics Facebook page.