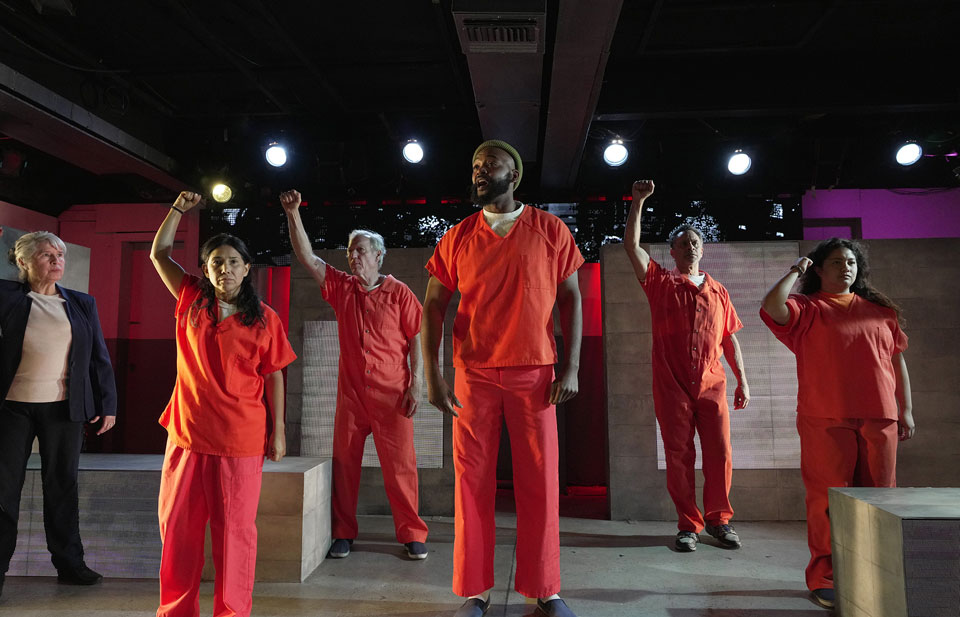 LOS ANGELES — Yesterday, today, and tomorrow. Immigrants across America who might years ago have had some minor brush with the law are being rounded up, torn from their families, concentrated in brutal detention centers often halfway across the continent, kept waiting for months, even years for their case to come up, then denied a fair, in-person hearing where a judge can come to know who these people are beyond their nationality and immigration status. Their American Dream has been reduced to orange-suited imprisonment. Organize a hunger strike to protest the lack of PPE in the Covid era, and you'll be sent to two weeks in shackled solitary.
A new world premiere play, Detained, unravels some of these individual stories to exemplify the injustice and unfairness of a cruel, punitive system that ostensibly serves no great worthy purpose. The tapestry of humanity and incidents in the play leads a theatergoer to suspect that aside from interrupting life to make it miserable for these particular individuals, the torturous experience is designed largely to intimidate other immigrants. There are big profits to be made when your undocumented fast-food or domestic or packinghouse workforce are too afraid of deportation to ask for bathroom breaks, or a raise, or paid sick days.
The assault on immigrants has undergone any number of phases over the years, under both Republican and Democratic administrations. The rhetoric against "illegals" usually heats up as election time approaches: Keep America safe from foreign drug dealers and rapists! Though common sense dictates that this is the strategy primarily promoted by the xenophobic right-wing, there is good statistical reason why Barack Obama has been dubbed "Deporter in Chief."
This city's Fountain Theatre, founded in 1990 by Stephen Sachs and Deborah Culver and appreciatively reviewed many times in our pages, has won hundreds of awards for its productions and is an essential voice in the L.A. community. Despite the virtual shutdown of theaters in 2021, in an end-of-year retrospective, Los Angeles Times theater critic Charles McNulty called the Fountain "L.A.'s most enterprising intimate theater [that] continues to punch far above its weight… No L.A. theater has done a better job of asking us to reexamine our lives through the lens of acute contemporary drama this year than the Fountain."
Detained is yet another triumph in that long line of work, examining the economic, social, and psychological effects of detentions on families in a kaleidoscopic compilation of true stories of "complicated grief" and "ambiguous loss" that will mark, especially the children, for life. The ensemble production was written by 2021 Lorraine Hansberry Award-winning playwright France-Luce Benson, and directed by Mark Valdez, winner of the 2021 Zelda Fichandler Award.
The play has an interesting genesis. Originally commissioned by New York-based immigration attorney Judy Rabinovitz of the ACLU Immigrants' Rights Project, Detained is based on interviews with longtime U.S. residents held in immigration detention, and with their family members, advocates, attorneys, and representatives of ICE. Ms. Rabinowitz, who for the past 20 years has served as an adjunct assistant professor of law at NYU Law School, traveled to L.A. for the Feb. 19 premiere, as did some of her interviewees. Inspired by their stories, Detained explores how families fight to stay together as increasingly cruel U.S. immigration legislation keeps them apart through mass deportations and immigration detention centers. It offers a deeply affecting, in-depth look at the human lives behind the policies, at the same time honoring the strength and determination of the ordinary people who must fight against a Kafkaesque system while keeping their hope and faith in humanity intact.
"All of the stories in this play are true, and they are heartbreaking," says Benson. "The more people I met, the more time I spent with them, the more important it became to tell their stories. When you go through trauma, you want to be seen, to be given a voice. My own family immigrated to America in the 1970s, and my father received a humanitarian award for the work he did at Krome Detention Center in the '80s and '90s. This is his story too, and a way for me to honor the sacrifices he made for us."
When Rabinovitz first approached Benson, Obama was still in office. Since then, with harsher immigration legislation enacted under Trump and the current Covid-19 health crisis, the situation for many immigrants has become ever more dire. As more stories of injustice persist and legislation changes, so does the play.
"This play is a living document, and I'm constantly updating it," Benson says. "People think that now that Biden is president, things are better. But thousands of people are still facing deportation every day. Many of these people have been living in this country for decades. They own houses, run businesses, pay taxes, have families."
Some of the characters in the play include a teenage foodie aspiring "chef-lebrity," a bemedaled eight-year U.S. military veteran, a mother of two who works as a high-rise roofer in New York City, and a Haitian man with hallucinations and obvious mental disturbance. In addition, prison guards have their own perspectives—and they are not all in agreement with one another—as well as one man who worked as an immigration judge but found it so upsetting that he had to quit. He then went to work for Homeland Security, feeling that he might be able to make a difference in the occasional case. Together, their collective voices weave a compelling and complicated tale.
In the last few minutes of the 80- or 90-minute play (I lost count) the cast goes almost into agitprop mode, exhorting the audience to do something, take action, get involved, speak out. But without more clarity about specifically the kinds of pressure, advocacy and help needed, or a list of local organizations to link up with, the appeal sadly falls flat.
Moving as the play is, with its multiplicity of tragic stories that never had to be, it can also be faulted for the absence of a more systemic analysis. A detainee's daughter at one point asks, "Who benefits from this? Taxpayers?" But the question goes unanswered.
Her mother, the roofer, who has been treated so horribly, asks in despair why they're doing this to her. "Who am I hurting? Who are they protecting from me?"
The answer of course is "No one." But that is not the point. Many in the wide network of detention centers are privately owned—GEO is one such corporation—and fully contracted by taxpayer dollars. They really don't care who you are, who you're hurting or not, if anyone's protected from you, or whether you're guilty of anything or not. All they care about is being paid for those thousands and thousands of occupied beds night after night, month after month, delay after delay. The more they can skimp on nutrition, healthcare, counseling, social programs, the more hard cash they make in profit. It's just a parasitical business, a cruel and heartless one, but extremely lucrative tucked way out of sight to most Americans.
Another subsidiary point to be made is that the inmates of such detention centers and prisons are counted in the census of the mostly rural counties where they're sited, so even though the prisoners cannot vote, they contribute to higher rural representation in state and national legislatures. Asking audience members to "get involved" might be more successful if information cards were handed out, or printed in the program, with these revealing statistics.
Ensemble members, playing a range of roles all dressed in their basic orange with accessories according to character, include Camila Ascencio, Christine Avila, Jan Munroe, Liana Aráuz, Marlo Su, Michael Uribes, Theodore Perkins, and Will Dixon. The austere cinder-block scenic design is by Sarah Krainin, lighting design by Christian V. Mejia, composer and sound designer Marc Antonio Pritchett, media designer Matt Soson, costume designer Jeanette Godoy, and movement choreography by Annie Yee. Mark Valdez engaged all the attention and energy of his cast to make for a cohesive ensemble, each one visibly involved in each other's stories.
Performances of Detained run through April 10 on Fri. and Sat. at 8 p.m., Sun. at 2 p.m., and Mon. at 8 p.m. Pay-What-You-Want seating is available every Monday night in addition to regular seating (subject to availability). The Fountain Theatre is located at 5060 Fountain Ave. (at Normandie). Secure, on-site parking is available for $5. The Fountain Theatre is wheelchair accessible. Proof of booster vaccination will be required for admission. Masks, covering both mouth and nose, must be worn throughout the performance. For reservations and information, call (323) 663-1525 or go to www.FountainTheatre.com.