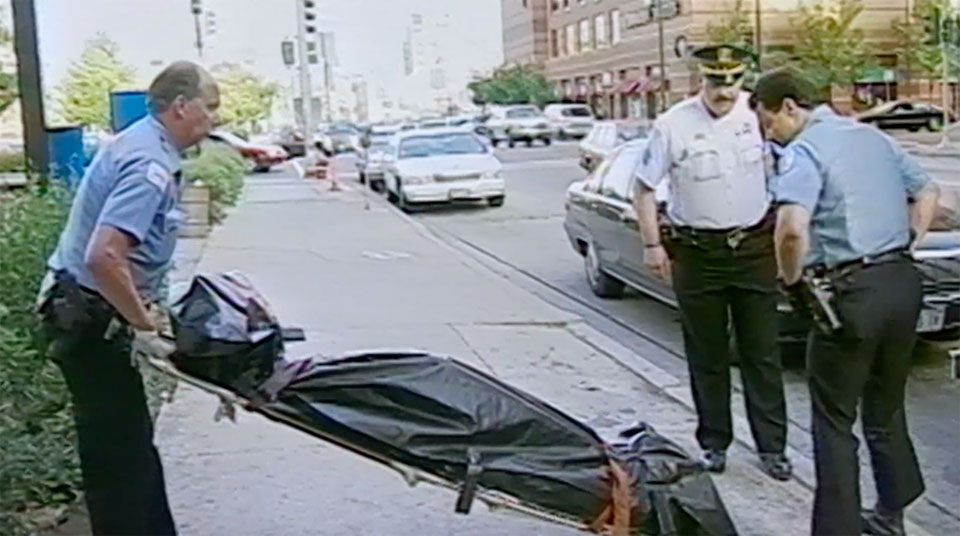 Trump's controversial tweet about sending the squad of four—Reps. Ayanna Pressley, Alexandria Ocasio-Cortez, Rashida Tlaib, and Ilhan Omar—back to where they came from has certainly captured the media's attention, recycling seemingly endless and pointless debate about whether or not Trump is a racist.
Don't we have bigger issues of racism to address other than adjudicating whether or not Trump is racist?
We arguably need to understand racism, poverty, and the larger capitalist class system of which they are a part as human-made disasters we can address and prevent, indeed eliminate.
In the midst of Trump's latest intentionally self-inspired ruckus, I viewed the documentary Cooked: Survival by Zip Code, a co-production between Kartemquin Films and Judith Helfand Productions produced by Fennell Doremus, in its Chicago premiere as it makes it ways across the nation.
While it might be ironic to say the film offers a breath of fresh air in this political climate, given the film in part treats a deadly heat wave that struck Chicago in the summer of 1995, Cooked: Survival by Zip Code, directed by Judith Helfand, does, in fact, offer fresh and vital perspectives for understanding and addressing racism, poverty, and climate change, doing so by asking us to re-think how we define, respond to, and seek to prevent disasters in our nation.
Helfand's brilliance in Cooked is precisely the way she shifts and re-orients our entire social mentality and approach to thinking about racism, poverty, and disaster. She asks us to think about and re-define racism and poverty as, indeed, disasters.
The film argues that if we devoted as much political will as well as social energy and resources to addressing poverty and racism as we do to preparing for so-called "natural" disasters, those disasters would inflict much less devastation on human lives and, more importantly, the quality of human life and the humanity of our culture overall would be exponentially increased for the better. Indeed, we could effectively eliminate poverty and racial disparities, if not racism itself, through more socially conscious, thoughtful, and intentional use of resources.
Opening with Helfand's personal and family experiences preparing for Hurricane Sandy, underscoring the financial resources individuals require to prepare for a natural disaster, the film moves quickly into the heat wave that struck Chicago in the summer of 1995, accounting for the deaths of 739 residents.
Her representation of the disaster and the city's response puts in stark relief the film's perspective, provoking us to re-think conventional, yet deeply embedded, ways of thinking about death and disaster.
At one point, we see Mayor Richard Daley speaking at a press briefing on the heat wave, and we hear him give an update on the number of "nonviolent" deaths resulting from the heat.
Helfand, of course, pressures this characterization of these deaths as "nonviolent," as the film demonstrates that many of these deaths weren't so much the result of heat but of poverty and racism; and Helfand moves us to understand poverty and the effects of racism as preventable forms of violence. (On leaving the theater, I was able to pick up a postcard to send to Chicago Mayor Lori Lightfoot, asking her to declare racism a disaster; declaring an event or phenomenon a disaster can qualify a city to receive funding to address the damage done.)
The film expands its scope to provide detailed analyses of the city's poorer neighborhoods, particularly those inhabited by people of color, to highlight the racial disparities at work in the city. We see neighborhoods that have little access to healthy food (sometimes called "food deserts") or healthcare, or that don't receive the same upkeep and services from the city such that they become havens for crime and unsafe. We learn about the racist effects of redlining that prevented African Americans from owning and keeping up homes to create stable neighborhoods. The lack of safety in neighborhoods prevented people from opening windows and going outside during the heat wave, and the lack of an overall healthy environment weakens a body's ability to withstand the impact of intense heat.
In contrast to these representations of poverty and racial disparities in health and wealth, Helfand documents how resources are used to respond to and prepare for disasters. For example, in one scene she depicts how Chicago had to rent several enormous refrigerated trucks to store all the corpses during the heat wave, while the living received little help from the city to cope with the heat, highlighting the ridiculously inhumane and racist devaluation of life, particularly Black lives, evident in the way social resources are allocated. This point is compounded in a later moment when Helfand attends an event celebrating a nearby city's receipt of a grant to prepare for such future disaster. She provides images of enormous vehicles that cost millions of dollars, including vehicles to refrigerate corpses (that one person interviewed calls "victim containment units"), underscoring the illogical use of resources to deal with the effects of a disaster rather than address the present disaster of poverty and racism.
Indeed, in one scene, we learn that Chicago received a $250,000 grant to deal with tornado relief, even though over the past six decades the Chicago area averages one death per year due to tornadoes (30 years ago a tornado hit a southwest suburb causing 60 deaths). The film compares this number to the 3,200 African-America women who die of breast cancer in this region annually, highlighting the horror of our priorities and, again, the inefficient and inhumane allocation of resources.
She also highlights the millions of dollars the government spends to prepare for a Midwestern earthquake along the New Madrid fault line extending from Illinois, through Kentucky and southward.
Throughout, Helfand attends conventions for the burgeoning disaster-preparedness industry. As she asks people if they've ever thought about poverty as a disaster, we see that people just haven't thought about it, largely because our cultural narratives condition us to blame individuals for poverty, not larger structural or systemic processes. The film seeks to challenge and re-write these narratives so deeply ingrained in the larger national cultural consciousness.
Cooked urges us to rethink poverty, to re-define disaster, and to explore—and insist on—allocating resources to support all lives, to challenge racism and its effects, and really deal with these everyday disasters we have not had the mentality to yet define and address as disasters.
Cooked: Survival by Zip Code is showing at Chicago's Gene Siskel Film Center through July 26. See here for other screenings.