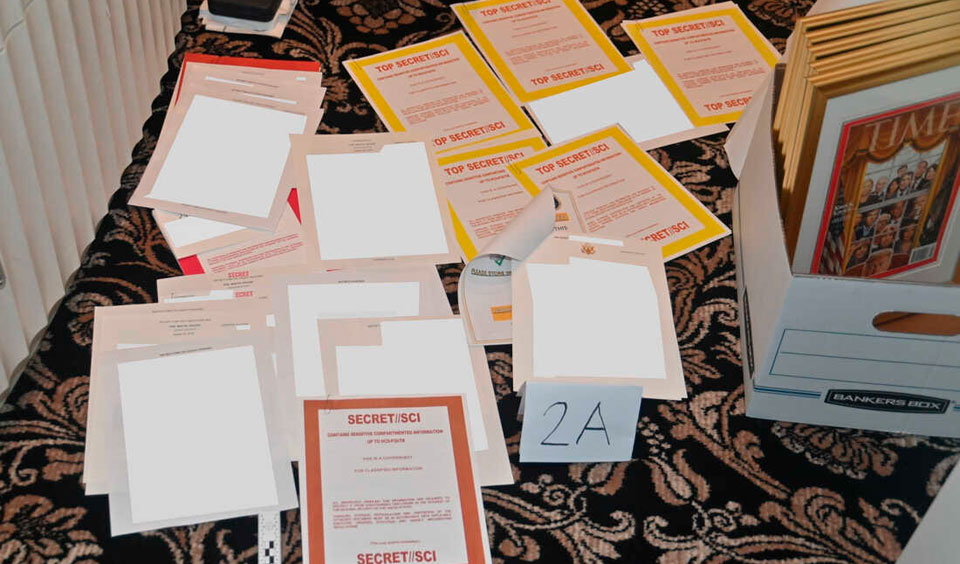 WEST PALM BEACH, Fla.—The Justice Department's affidavit explaining why FBI agents searched former Oval Office occupant Donald Trump's Mar-A-Lago mansion for missing—and classified—documents shows how the law is moving ever closer to indicting Trump for various real crimes.
Trump will try to halt that investigation by a demand that U.S. District Judge Aileen Cannon in West Palm Beach, Fla., appoint a "special master" to review the documents and decide which ones should be handed over intact, which ones should be redacted—have passages blotted out—and which ones should be turned back to Trump. Cannon will hear Trump's complaint, and DOJ's response, on September 1.
But the federal criminal, not civil, probe of Trump's already illegal removal of the documents from the White House, not to mention the unsecure circumstances at Mar-A-Lago—symbolized by the photo of classified documents scattered haphazardly on the floor—is just one of the mounting instances of legal peril Trump faces. Others include:
The FBI's affidavit—a warrant really—was just one facet of a wide-ranging DOJ investigation into Trump national security and constitutional violations during his term in the Oval Office.
The House Select Committee's hearings and looming report, by the end of this Congress, on Trump's coup d'état attempt, seven-layered schemes, and encouragement—and virtual ordering—of the Jan. 6, 2021 U.S. Capitol Trumpite invasion and insurrection.
DOJ has closely monitored the hearings and sworn testimony, with their voluminous evidence of Trump and his team's planning to subvert the Constitution to keep himself in office. DOJ also interviewed some of the same witnesses the panel has called.
Fulton County (Atlanta) DA Fani Willis's investigation of Trump's lobbying to steal Georgia's electoral votes in 2020 by pressuring state and local officials and even volunteer precinct workers to "find" 11,780 more popular votes for him—enough to win the state by one vote.
That closed-door probe is temporarily slowed as statements from two key Trump allies, including golfing buddy Sen. Lindsay Graham, R-S.C.—who also lobbied state officials on "vote fraud"—were postponed. But legal analysts say Willis's investigation has already led to potential criminal charges against lead Trump lawyer Rudy Giuliani.
New York Attorney General Letitia "Tish" James's investigation of Trump's cheating on his real estate valuations, and thus on his taxes, covering his Westchester County estate, his Manhattan apartment and his New Jersey golf club. Trump low-balled New York City and state on the first two, and high-balled expected revenue from the golf club to get bank loans he needed to buy it.
After months of legal wrangling, James's office forced Trump and his kids—officers in the family real estate firm—to give grand jury depositions. Trump invoked the Fifth Amendment's right to refuse to testify against himself through the whole multi-hour hearing. The grand jury, unlike a trial jury, can infer from "taking the Fifth," that the witness has something to hide. The Trump firm's longtime top financial officer has pled guilty and is cooperating with James.
But by itself, the Justice Department affidavit is serious. Legal commentators, including a retired federal judge talking with CNN, say Trump's request for a special master is not. It has no legal standing, and is just a delaying action—a frequent Trump response to legal troubles. Key DOJ points include:
"Classification levels" in the papers the FBI hauled away "ranged from CONFIDENTIAL to TOP SECRET information." (emphasis in DOJ's filing). That included SCI information—the highest level of classification, sensitive compartmentalized information, such as nuclear weapons data. The date on one document corresponds to the date Trump pulled the U.S. out of the agreement to denuclearize Iran.
DOJ told Judge Cannon the classifications were so high that even the FBI counterintelligence agents named to the review team had to undergo "additional (security) clearances before they were permitted to review certain documents." Politico reported 700 pages of classified documents were either recovered before or hauled away by the FBI.
And while the Trump team wants a special master to toss out any documents covered by attorney-client privilege, the Justice Department responds its team has already done that. Trump also wants Cannon's special master to cull out any documents covered by executive privilege.
Trump held the documents in a Mar-A-Lago storage room, and the reason the FBI had to enter the mansion was because his first turnover of the illegally taken material was incomplete. "The government developed evidence that documents were likely concealed and removed from the Storage Room and that efforts were likely undertaken to obstruct the government's investigation."
In plain English, obstruction of justice.
Trump's lawyers and staff claimed they conducted "a diligent search" for classified documents before a June 3 turnover of 11 boxes of documents to the National Archives, the official custodian of all presidential materials. But "in a matter of hours" the FBI recovered twice as many. That "casts serious doubt on the extent of cooperation" by Trump and his team.
Legal commentators say Trump and his team will have few legs to stand on in the Florida court, even before Cannon, a Trump appointee to the federal bench.
Retired white collar crime Professor Gregg Barak, writing in thecrimereport.org blog, says Trump's lawyers tried to make a case" the FBI search of Mar-A-Lago "may have been illegal. But the legal justification does not pass legal muster," and Judge Cannon should deny it.
Even more important, Barak wrote, is "when Trump turned those documents over to the Archives, assuming he was knowledgably aware of their content"—something the photo shows via his handwritten notes at their edges—"he effectively provided prima facie evidence that he had violated federal laws by removing national-defense information from their 'proper place of custody,'" the federal government.
"Case proved. Nothing more to know about Trump's guilt."
May grant request anyway
Judge Cannon may grant Trump's special master request anyway, Barak wrote. If she does, it would have one big impact: It would shut down Trump's claims of government overreach and illegality, by shutting him up.
One other snag, however, is a combination of prosecutorial case construction and Trump's adept ability to stall legal proceedings, and stall and stall and stall—which he's done in thousands of cases of all types over the last 40 years or more.
Prosecutors "first must investigate and evaluate a situation: gather facts and witnesses, interpret, document, analyze, and then decide on a course of action," Boston defense attorney Jams Doyle wrote in another crimereport blog.
"Then, they have to advocate: to marshal the witnesses, convert facts into admissible evidence, and, ultimately, work within the rules to shape and present a persuasive story to a court or jury.
"Prosecutors, and especially elite federal prosecutors, take special pride in their mastery of the first set of tasks…This focus on preparation is hard to resist, for both Attorney General Merrick Garland and his prosecutorial team.
"The storytelling function fades to an afterthought."
Meanwhile, Trump's team won't play by the rules, but will try to cause maximum confusion, befuddling judge, jury and the public, Doyle adds. The prosecutors can counter that, in the Mar-A-Lago papers case against Trump, or any other, he says.
Trump's team "might blow some smoke between the jurors and the event, but what happened at the trial, the jurors saw with their own eyes, right there, in the courtroom," Doyle wrote.
"Every story is better with a Hero. In the story of your trial you have to remember that the Hero is not the prosecutor. Your Hero can be the Jury."
Barak has one more suggestion for the Justice Department, which he admits may be far-fetched. Once DOJ gets done amassing this evidence and preparing this case, tie all the cases up together with Trump's cabal of cronies, Giuliani et al. Add to them Trump's obstruction of justice in the Ukraine quid pro quo former Special Counsel Robert Mueller uncovered.
Then indict Trump for breaking the federal Racketeering Influenced and Corrupt Organizations (RICO) law. Barak didn't say so, but prosecutors most often use RICO against the Mob.