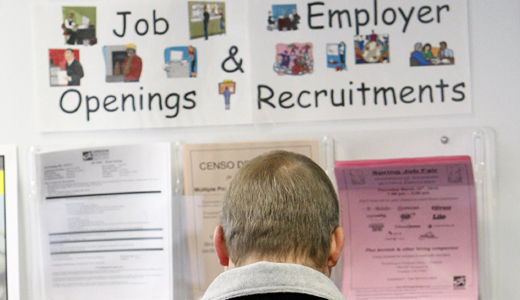 WASHINGTON (PAI) — The current economy is "not normal," unemployment affects different groups of people than it did before, and the recovery – in terms of the joblessness numbers – will take longer than it did in prior slumps, the Labor Department's top economist says.
Long-term unemployment now does not hit just the disadvantaged with a low education," Jesse Rothstein, the agency's chief economist, told a May 26 Economic Policy Institute seminar.
"Now, unemployment compensation is going to many college-educated people" who worked in "higher-quality" occupations, he added. "That's because there isn't anyone hiring them, either."
Rothstein and the other economists on the EPI panel – the think tank's own Heidi Shierholtz, Ray Chetty of Harvard and Till Marco van Wer of Columbia – called the economy, in Rothstein's words, "not normal."
And it won't return to normal for years, they added.
That's because business isn't hiring, the economists say, not because the unemployed have given up seeking jobs, as some Republican lawmakers allege.
"The number of job openings is 40% below what it was before the recession started," Shierholtz said. And one of the others pointed out that in Dec. 2007, when the Great Recession began, there were 1.5 jobseekers per opening, and now there are 5.6.
"As a result, people are getting stuck in unemployment for long periods of time," Shierholtz explained.
Due to the prolonged crash, caused by the policies of anti-worker GOP President George W. Bush and his business backers and controllers, the recession officially started in Dec. 2007 and has seen unemployment rise to close to 10%. Economists, seeing sustained gross domestic product (GDP) growth since early 2009, proclaim the recession is officially over. But the panel said that for workers, it's still going.
"This is a recovery only a statistician could love," Shierholtz commented.
And the panel said it'll take years to bring unemployment down. That's another reason this recession differs from prior post-World War II slumps, they added.
Shierholtz noted the economy added 290,000 jobs in April, the fourth straight month of employment growth. But she said it would have to add that many jobs each month for five years to reduce joblessness down to 5%. Before Bush took office, it was 4%. Bush left Democratic President Barack Obama with a jobless rate of 8% and rising.
Rothstein agreed. "The president's 2011 budget forecasts a 7% unemployment rate in 2014 and full employment in 2015-17," he said of Obama's projections. Economists define 'full employment" as an economy with a 5%-6% jobless rate.
"We're still in a fairly deep hole," Rothstein warned. "Sure, GDP went up" – formally ending the recession – "but we had a big dip in 2007-08, so there's a trillion-dollar gap between current GDP" and what the economy would produce at full potential, he said.
As for the unemployed, "They're desperate," Rothstein added.
Chetty argued that helping the unemployed with long-term jobless benefits helps the economy in many ways — and not just by putting more money in workers' pockets. He also said studies show that extending jobless benefits typically extends the period an average recipient is out, by all of one week — again contrary to GOP claims.
Chetty said other studies have found lack of savings is a key to determining whether and how the unemployed workers spend their checks. "These people have no savings, no income and need outside sources of money," he said. Jobless benefits, which produce almost $2 of economic "bang" for every dollar distributed, inject more money into the economy than other boosts — including tax credits for hiring — he added.
Long-term, the economists said that changing a "not normal" economy calls for some big-ticket solutions. Chetty warned against accepting high unemployment rates as the "new normal." He cited their negative impact: Everything from workers' long-term income declines to rising crime to less education for jobless workers' kids, and more.
Long-term solutions they suggested included linking lengthier jobless benefits to extensive retraining of workers for jobs in growing occupations. "And there should be a lot of infrastructure spending to put construction workers — where unemployment is more than 20% — on the job" and to build economic capacity, Shierholtz said.
We should have a WPA-like program, with 80% of the money put on wages," she declared, referring to FDR's Works Progress Administration. Rep. Phil Hare, D-Ill., an union shop steward, has been advocating that — unsuccessfully — for a year.
Rothstein added unionization as a long-term solution to joblessness. "Until the labor movement strengthens, we need to provide some more help" for the jobless, he said. "By the end of the year, hopefully, the labor movement will have strengthened."
Photo: Searching for a job at WorkSource Oregon, March 16, in Tualatin, Ore. Rick Bowmer/AP