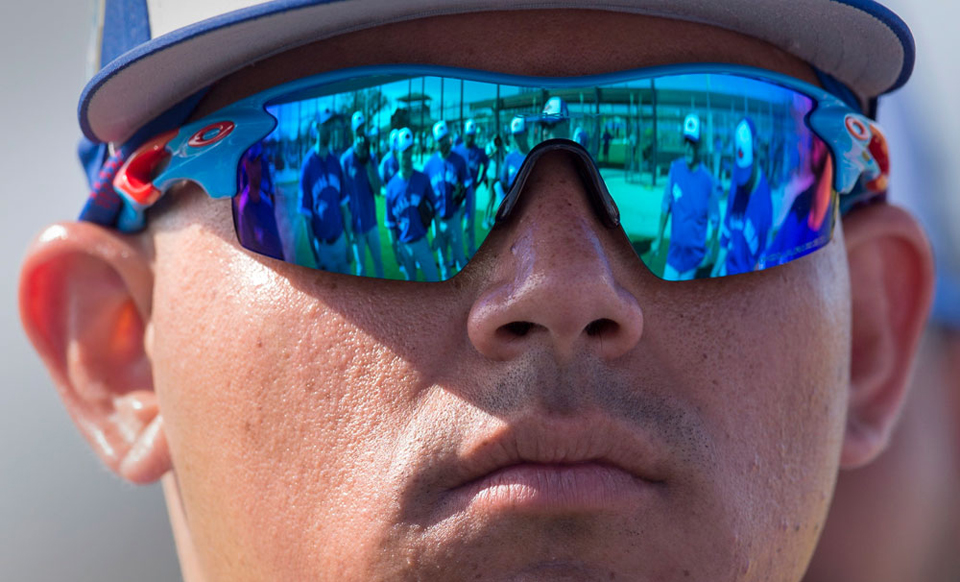 All-star closer Roberto Osuna, 23, of the Toronto Blue Jays was charged with assaulting a woman, according to multiple Toronto Police Service reports, Tuesday, May 8, and was placed on administrative leave by Major League Baseball.
But that suspension isn't a real "punishment." Osuna will go on the restricted list and will continue to receive his $5.3 million salary, though ineligible to play.
The leave will last seven days, giving the Commissioner's Office time to investigate, or request an extension. Osuna may challenge the leave before baseball's independent arbitrator, Mark Irvings.
"MLB takes all allegations of this nature very seriously," the league said in a statement. "We are investigating the circumstances and have placed Roberto Osuna on administrative leave in accordance with the joint MLB-MLBPA Domestic Violence Policy." So far, Toronto law enforcement have not confirmed the assault charge is related to a domestic incident and is withholding details of the case to protect the identify of the victim, "not because he's a baseball player"—I sure as hell hope so.
The Toronto Blue Jays released a statement through Twitter saying:
"We are aware of the incident involving Roberto and fully support the decision by the Commissioner's Office to place him on administrative leave. We are taking the matter extremely seriously, as the type of conduct associated with this incident is not reflective of our values as an organization. As this remains an ongoing investigation by Toronto police, the Club will not comment further on the matter."
"You can't express it in words, that feeling that you have," said Blue Jays general manager Ross Atkins. "It's a physical feeling, an emotional feeling that you hate to get, you hate to have."
The Blue Jays are currently 20-17 in the American League East division. Osuna has nine saves in 15 appearances this year with a 2.87 ERA and 0.92 WHIP. He has a recorded 104 saves—including 39 last year—in his three seasons with the team.
Osuna's first court appearance is scheduled for June 18 for administrative matters. The Crown (prosecutors) will present evidence against him, then the case will adjourn before going to trial.
The trial itself could run 18 to 30 months, as the legal process moves slowly.
For Osuna, this creates a separate problem if he wants to go back onto the field. If MLB waits to finalize its investigation or decision until the legal proceedings are complete, it would mean an even longer playing suspension for Osuna.
Also, since assault is considered a crime of "moral turpitude" under U.S. immigration law, Osuna could be blocked from entering the States.
MLB and the players' union signed off on a domestic violence policy in 2015. Suspensions under that policy include: Jose Reyes (51 games), Aroldis Chapman (30 games), Jeurys Familia (15 games), and Steven Wright (15 games).
With domestic violence a crime that makes sporting news headlines as often as widespread doping scandals and Performance Enhancing Drug (PED) use by athletes, it's abhorrent how quickly and quietly those headlines fade.
All it takes is heartfelt, scripted apology in front of family, friends, and sportswriters. Makes me wonder where our priorities lie—with winning the game, or addressing a chronic widespread issue within the professional leagues? I'd say it's winning…sadly.