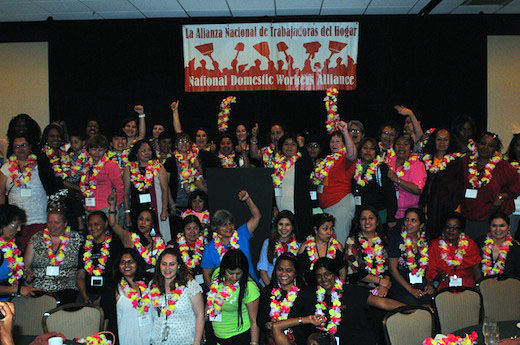 LOS ANGELES – Maria says she began working for an elderly woman, cleaning her house and preparing her meals. When she started the job she had asked for a contract "but they refused to give me one. After two months I was asked to take on additional duties that took many more hours of my time. In addition to cleaning her house and preparing meals, I had to bathe her, shop for her, wash her clothes, administer her medicine, and accompany her to all medical appointments. They continued to pay me the same $250 dollars per week.
Then, for Maria, things went from bad to worse.
Five months later two relatives of the woman, both with many health problems of their own, came to live with her. "I had to provide round-the-clock care for them as well, Maria said. "I was now caring for three people and still paid $250 per week. I was there 24 hours a day."
Maria's own children now had the same problem so many children of domestic workers have. Although the hunger pains had stopped for them because mom had a job, they could no longer see their mother because she was taking care of other people round the clock.
"At best, I could get home for 15 or 20 minutes to see the kids," she said. "It was the most exhausting seven months of my life but I stuck it out. I really cared about the elderly women who depended on me."
Then there is Sylvia, a single mother with two daughters, 18 and 7 years old.
Sylvia talks about how, two years ago, she got a call asking her to clean a house with two bedrooms, a bathroom, a kitchen, a living room and a dining room. "You don't see houses over the phone," she said. "So I estimated it would take four hours.
When Sylvia got to the house, there was a very bad smell, trash on the floor, lots of hair and waste from two dogs that lived inside, and the house was filled with mice. "You could barely avoid stepping on them," she said. "The man told me not to hurt or kill the mice since they had a right to be alive too. I even found mice in the refrigerator when I opened it."
What Sylvia thought would take four hours turned into 10 hours, and 14 bags of trash. "But the man did not want to pay me for the extra time since he said the house still wasn't clean. But his mother, a senior citizen, said that wasn't fair and insisted on paying me."
Sylvia said she didn't walk out on the job because she felt an elderly person shouldn't be living in such horrific conditions and because she needed the job to feed her two daughters.
"I'm very proud of my older daughter, who just graduated high school and will be starting college," Sylvia said. "I want my daughters to have a better future, where they don't have to clean up the excrement of dogs and mice."
These and other domestic workers have come to Los Angeles this week to be part of the AFL-CIO's 2013 National Convention. Maria Reyes, the national organizer of the National Domestic Workers Alliance, told labor journalists meeting here in advance of the convention that it is her organization's aim to organize domestic workers to win respect on the job.
"Domestic workers are going to become even more important than ever as the number of seniors needing care continues to grow," she said.
Founded in 2007, the National Domestic Workers Alliance quickly became almost the official voice for domestic workers, most of whom are immigrant women and women of color. Started by a handful of domestic worker groups, it is now an alliance of 39 organizations in 18 cities and 14 states.
Reyes said the fight is on here in California for passage of a Domestic Workers Bill of Rights similar to the one passed in New York State.
"While our work often goes unnoticed and isn't factored into specific figures on productivity, domestic workers free up the time and attention of millions of other workers, allowing them to be productive in so many ways. Life for millions would be so very unbearable were it not for the labor of the domestic workers who enter homes every day. Domestic workers have to face issues in their workplaces all alone, without the benefit of co-workers.
"That's where we come in and that is why we must organize. This is what we mean by building a labor movement for today and for the future," says Maria Elena Durazo, executive secretary-treasurer of the Los Angeles County Federation of Labor. "Domestic
workers are critical to the U.S. economy. They help make all other work possible."
Photo: Domestic workers celebrate at the 2013 National Domestic Workers Alliance convention. National Domestic Workers Alliance.