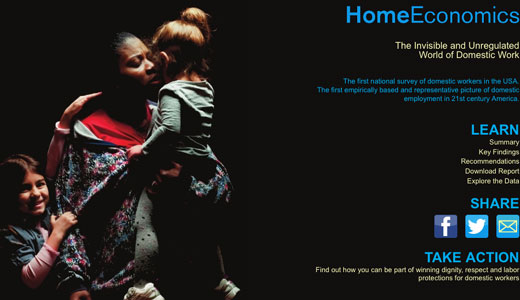 In recent years, the problems faced by low-income workers – not just Walmart workers but those in restaurants, retail stores, car washes, etc. – have drawn increasing attention. Campaigns have been launched around the country to help them win livable wages and working conditions and overcome abuse and harassment.
Until recently, the situation of domestic workers – nannies, caregivers, housecleaners, etc. – has largely stayed below the radar. Most of the workers are women of color, both immigrant and native-born.
In a far-reaching report, Home Economics: The invisible and unregulated world of domestic work, released Nov. 27 by the National Domestic Workers Alliance, the responses of nearly 2,100 domestic workers to a survey conducted in 14 metropolitan areas and nine languages are ripping the cover from the plight of domestic workers across the country.
"Over the past several decades, in big cities, suburbs, and small towns across the country, a crucial but largely unacknowledged segment of the U.S. labor force has steadily expanded," the report notes.
"Nannies, caregivers, and housecleaners are changing the way middle-class America works, plays, raises their children, and cares for their elders, but the conditions in which they themselves work are barely recognized. The rise of this sector of the labor force involves workers from across the globe, yet it is a thoroughly American story."
Among the findings:
Nearly a quarter of domestic workers, and two-thirds of live-in workers, are paid below the state minimum wage.
Nearly half the workers are paid an hourly wage in their primary job that is too low to adequately support a family.
Most work for employers who don't pay into Social Security, and almost none receive retirement or pension benefits from their primary employer.
As a result, many suffer acute financial hardship.
Working conditions are a major issue:
Over one-third of domestic workers said they had worked long hours without breaks during the previous year, and a quarter said their responsibilities kept them from getting at least five hours of uninterrupted sleep at night.
Of workers who were fired from a domestic job, 23 percent lost their job for complaining about their working conditions.
Domestic workers often experienced verbal, psychological and physical abuse on the job, and most did not complain for fear of losing their job, or because they feared their immigration status would be used against them.
Among the remedies proposed by the Domestic Workers Alliance:
Covering domestic workers under employment and labor laws, with minimum wages, the right to organize, overtime pay, regular meal breaks and uninterrupted sleep, workers compensation, and unemployment insurance.
Building a more equitable economic environment for all low-wage workers, with a higher minimum wage, a stronger safety net, paid sick and family leave, access to affordable medical care, and for immigrant workers, a path to citizenship.
Meanwhile, domestic workers are increasingly acting to improve their wages, working conditions and labor rights.
Even without legal protections for doing so, "Domestic workers are mobilizing in creating ways to improve their position in the industry," the Domestic Workers Alliance says. "Both in the U.S. and globally, a domestic workers' movement for rights and respect has been steadily gaining strength," including the International Labor Organization's establishment last year of global standards for the treatment of domestic workers."
Photo: Domesticworkers.org