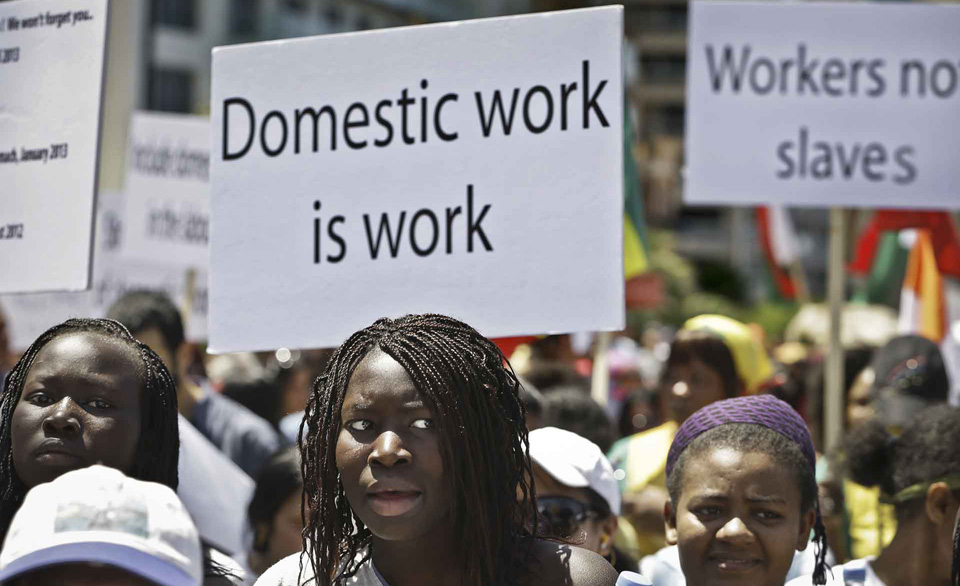 WASHINGTON – Today, domestic workers are speaking out for Black Women's Equal Pay Day – the day when the earnings Black women in the United States finally catch up to those of white men from the previous year, which require an additional seven months of work. Despite being integral to the well-being of their families, their communities, and the nation as a whole, Black women continue to make only 63 cents to every dollar that white men make.
The Status of Black Women, a new report from National Domestic Workers Alliance (NDWA) and Institute for Women's Policy Research, confirms this unequal reality: Black women experience poverty at higher rates than all other racial and ethnic groups except Native American women, despite being the sole providers in over 80 percent of Black households. The report highlights particular ways in which Black domestic workers are impacted by racial disparities, gender discrimination, and immigration enforcement that further marginalize and disempower Black women. Based on its findings, the report recommends increasing minimum wage to improve earnings; enacting policies such as paid family and medical leave and paid sick days to create job longevity; and creating access to higher paid career training opportunities.
Below, two leaders from We Dream in Black, a program of NDWA dedicated to the organizing of Black domestic workers, speak out on their experiences with the racial and gender wage gap:
Priscilla Smith, a home care worker from Fayetteville, North Carolina, and leader with We Dream in Black, a program of NDWA, said: "I go to work five days out of the week, and my day starts from the moment my feet hit the floor. I have to get the kids ready, prepare their food, make sure the power is still on, and still make it on time to catch the city bus. I also provide special care for my daughter who was diagnosed with a rare neurological disease three years ago. Black women have to work twice as hard, and we're always trying to prove ourselves. We should be treated for the quality of the work that we perform and get paid for that quality as well."
Ludie Delva, a nanny from Haiti and France living in Brooklyn, New York, and leader with We Dream in Black, said: "I've been working for 10 years in this country. I didn't buy a house or car or expensive clothes or even good food. But if I pass six months without working, I have nothing to live off of. I've had clients who hardly paid me minimum wage for taking care of their 3-month old baby as a live-in nanny. And others who expected me to work two jobs for the pay of one! We are working so hard, taking care of children and families. The system must change for Black women. We have been abused in so many ways, not just in this country, but all over the world."
To fight back against efforts of wage secrecy, groups across the country are calling on Congress to protect equal pay data, though the Employer Information Report (EEO-1) of the Equal Employment Opportunity Commission and the U.S. Department of Labor.
For more information, visit: http://www.equalpaytoday.org/black-womens-equal-pay-day
The NDWA is a leading voice for dignity and fairness for the millions of domestic workers in the United States, most of whom are women. Founded in 2007, NDWA works for the respect, recognition, and inclusion in labor protections for domestic workers. It's won legislation protecting domestic workers' rights in seven states including New York, California, Hawaii, Massachusetts, Oregon, Connecticut, and Illinois. The Alliance is powered by over 60 affiliate organizations — plus local chapters in Atlanta, Durham, Seattle and New York City — of over 20,000 nannies, housekeepers, and caregivers for the elderly and people with disabilities in 37 cities and 18 states.
We Dream in Black (WeDIB) is a program of the National Domestic Workers Alliance that is designed to build the organizing and movement building capacity of Black diasporic domestic workers. WeDIB organizes U.S.-born and Black immigrant domestic workers.