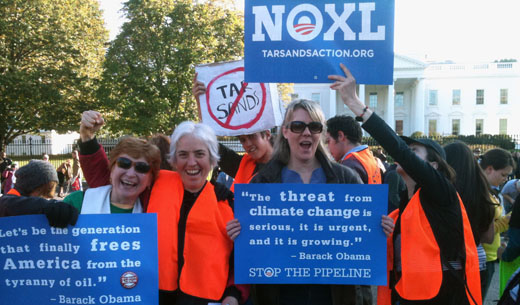 NEW YORK – Domestic Workers United, which the AFL-CIO recently honored, and Occupy Wall Street, the anti-greed grass-roots movement labor backs, decided to oppose construction of the Keystone XL pipeline from Alberta to Texas.
Their decisions set up a disagreement with the AFL-CIO's Building and Construction Trades Department, which includes two unions – the Laborers and the Teamsters – that strongly support Occupy Wall Street.
DWU and the National Domestic Workers Alliance join two other AFL-CIO unions, the Transport Workers and the Amalgamated Transit Union, in opposing Keystone. Pipeline foes, led by environmental groups, say that its transport of oil-laden tar sands from Alberta to Texas would increase pollution and damage the environment.
"Many of our members come from countries already severely impacted by climate change and environmental devastation. If constructed, Keystone XL pipeline will have a huge impact on our communities, on First Nation communities, on global greenhouse gas emissions, and risks major contamination of the largest freshwater aquifer in North America," the two domestic workers unions said in a statement.
President Obama's State Department was going to recommend whether Keystone should be built, but on Nov. 10 it delayed the decision until at least next year. It wants to evaluate alternative routes. Building trades unions signed a Project Labor Agreement covering Keystone construction several years ago. They say it would bring 20,000 direct jobs and thousands more indirect jobs to the U.S.
The two domestic workers unions agree construction workers need more jobs.
Unemployment in that sector is 13.7 percent and underemployment is even higher. But NDWA and DWU say construction workers could be employed replacing old water pipelines, repairing bridges and tunnels, and rebuilding transportation infrastructure.
"We need jobs, but not jobs based on increasing our reliance on Tar Sands oil," NDWA and DWU concluded.
Photo: Tim Wheeler