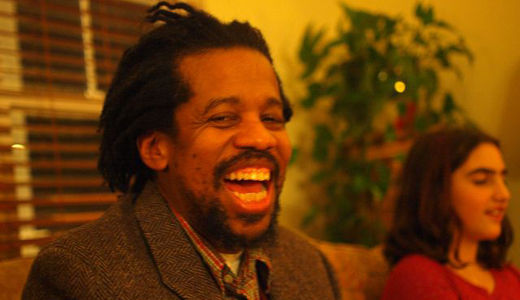 The mutilated body of Don Belton, an African American English professor at Indiana University, was found in his Bloomington apartment three days after Christmas. Belton had been stabbed repeatedly in his back and sides.
For the purposes of this article several facts about Belton's life should be stated upfront.
A writer of fiction and an essayist, Belton had taught literature and creative writing at numerous institutions and he was, in the mid-1990's, the editor of "Speak My Name: Black Men on Masculinity and the American Dream," a well known anthology published by Beacon Press.
Belton was also gay.
Police in Indiana were just beginning to try to put pieces together when they were contacted by the girlfriend of an ex-Marine named Michael Griffin who, she told them, was involved in Belton's death.
The police arrested Griffin and, according to a detective's affidavit available online, Griffin told them that Belton had sexually assaulted him on Christmas Day. Two days later, the affidavit said, Griffin went to Belton's apartment to have a "conversation" which turned into a "scuffle," ending up in the professor's death.
Striking about the way that part of the detective's affidavit is written is the mild language used to describe what had to have happened for the professor to end up dead. After all, the "scuffle" involved plunging a knife repeatedly into a man's back and sides, pulling the bloody instrument out of the punctured body and then back in and out again until the victim was more than dead.
But then again, why complain about the language used to describe things? The knife Griffin used, which he bought before he "served" in Iraq as a Marine, was called a "peacekeeper."
When Griffin went to have his "conversation" with Belton that day he was thoughtful enough to bring with him a change of clothes and a plastic trash bag. Who, after a good heart to heart conversation, doesn't need a bag for bloody clothes?
The affidavit says Griffin then "went about and ran several errands before he eventually discarded the bloody clothing into a dumpster and then returned home where he stated he told his girlfriend what he had done."
People in the academic community all over the country have been shocked and saddened by Belton's death. Professors at Temple University, where he worked for many years, describe him as a "sweet-natured" and "brilliant" colleague. Almost everyone who knew him, however, does not list physical strength as one of his attributes. Most say he was as frail as he was gentle and would never have made it as a weight lifter.
The idea that Belton, who was 53, could violate an ex-Marine who was 25, not once, but twice, if one were to believe statements by Griffin, would be laughable if it were not so sad and horrible.
The story is sad because apparently this was, at one time, a relationship that involved love and happiness.
The police detective said in his report that he had found a journal kept by Belton and in that journal Belton had written, in the week prior to Christmas, that he was very happy that an individual by the name of Michael had come into his life. The journal even reflected that Belton had spent Christmas with both Michael and his girlfriend.
The columnist Scott McLemee, writing about this case in "Views" on Jan. 13, says that with this information it is easy to speculate about what may have or may not have happened. He warns, however, that regardless of specific details, what he sees emerging here is a classic case of what he calls the "gay panic defense."
This defense rests on the idea that "the wave of disgust created in a heterosexual person at exposure to gay sexuality can create a state of temporary psychosis. The panic-stricken victim loses responsibility for his (for some reason, it always turns out to be 'his') actions."
McLemee expects this line of defense because, despite his confession, Griffin has pleaded not-guilty to murder.
Griffin, it can also be noted, comes out of a military which has historically condoned and enforced homophobic rules.
The culture fostered in the United States military probably contributed to this tragedy. The Marines prize and value men who can be both manipulated and counted upon to carry out acts of violence.
In order to achieve these aims the Marines encourage a high degree of "male bonding" while simultaneously condemning homosexuality. The impact this has on young men is anything but positive.
In a hopeful sign-of-the times, however, Belton's death is not going unnoticed.
Hundreds turned out for a vigil on New Years Day and thousands are visiting a website called Justice for Don Belton. The chair of his English Department has published an open letter on the website.
Also on that website one of Belton's friends placed a quote from James Baldwin that, he says, best describes his friend:
"Love takes off masks that we fear we cannot live without and know we cannot live within." Belton's friends say this was the essence of his writing and that Belton always wanted to go beyond and beneath prescribed roles and rules governing "identity."
"This is easier said than done. It is also dangerous, love can be dangerous," McLemee noted. "Belton wrote in his journal 'that he is very happy that an individual by the name of Michael has come into his life.' It is not necessary to use pseudo-psychological terms like 'gay panic' to describe the response this created. Keep in mind that the killer brought his own special knife and a change of clothes."
Photo: http://justicefordonbelton.com/?page_id=100