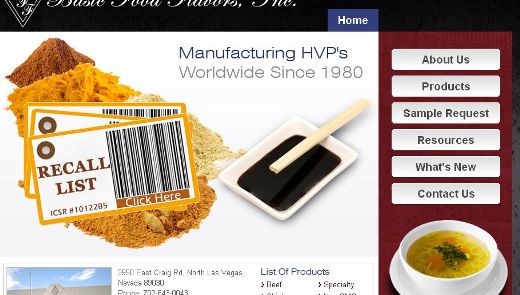 Stop. Before you eat that honey mustard onion pretzel, did you know it could make you sick?
Don't put it in the onion dip, either, because that may also give you food poisoning.
On March 4, the Food and Drug Administration announced a recall of hydrolyzed vegetable protein (HVP). The federal agency, on a tip from a consumer, tested the HVP produced by Las Vegas-based Basic Food Flavors, Inc. and found a strain of salmonella. Salmonella is a bacteria typically found in feces, and not food, and is the most common cause of food poisoning in the United States.
The FDA told peoplesworld.org it hasn't pinpointed the source of the contamination and its investigation is ongoing.
The president of Truth in Labeling, Jack Samuels, who has spent 19-years investigating the food industry and its use of monosodium glutamate (MSG), said the bacteria could have been introduced in any number of ways, from the handling of the materials to being on the soy, corn or wheat when it came to the factory.
The recall has far-reaching consequences because HVP is basically in every processed food in the country. This paste or powder product is added to everything from soups, sauces, chilis, stews, hot dogs, gravies to seasoned snack foods, dips and dressings. It is processed corn, soy or wheat with acid and is added to foods to "enhance" the flavor.
Dozens of big name companies have already started to recall their products, including McCormick, Pringles, National Pretzel, Herbox (boullion), Quaker, Safeway and CVS snack products. Many, including the FDA, are already predicting that this could lead to the biggest food recall in North America. It could take months before food manufacturers figure out if the recalled HVP is even in their products. Experts say this is due to a weak tracking system for such a common ingredient.
Best Food Flavors has a list of close to 800 HVP products recalled. To date, there have been no reports of illness. Salmonella could be killed in the cooking process but many of the food products that have HVP are uncooked and "ready-to-eat."
Best Food Flavors, Inc. distributes HVP internationally, and recalls are underway in Canada. Inquiries to Europe, South America and the Middle East were not answered. But a spokesperson for the FDA said the agency contacts its partners in each country regarding recalls.
The name, hydrolyzed vegetable protein, rarely appears on food labels. Instead, consumers may see "hydrolyzed corn protein" or "hydrolyzed soy protein." It is also mixed with spices and identified simply as "natural smoke flavor" or "natural flavors."
Not only does HVP enhance flavors of food, it enhances the food shelf life and the food industry's bottom line.
"In the food industry, the word 'natural' is meaningless," Samuels said. They have turned Webster on its head, he said. "As long as something is started in nature, no matter what is done to it, it can be called natural."
Samuels, and other food industry watchdogs, are hoping the recall brings a renewed scrutiny to the weak regulatory food system. For Samuels the attention the recall has brought to HVP, which he says is also linked to MSG, carcinogens and genotoxins, could bring scrutiny to this little regulated industry. "Flavor and flavoring are considered proprietary. And for the first time, in my experience, the FDA has admitted HVP is a 'flavor enhancer.'"
MakeOurFoodSafe.org, a coalition of public health organizations that includes American Public Health Association and Center for Science in Public Interest, urges the public to send a message to the Senate to pass food safety reform legislation that has languished in that body since the House passed its version in July 2009. According to the group, one in four Americans will get sick from contaminated food this year and 5,000 will die!
Photo: Basic Food Flavors, Inc. website.