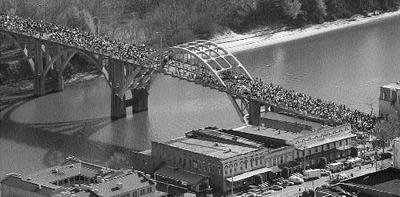 SELMA, Ala. — The Rev. C.T. Vivian of Atlanta stood in the midst of the surging crowd at the conclusion of the Bridge Crossing Jubilee here March 6. Well-wishers congratulated him on the big turnout for the reenactment of the Bloody Sunday march across the Edmund Pettus Bridge.
Alabama state troopers brutally attacked the original marchers March 7, 1965. Vivian was one of Dr. Martin Luther King Jr.'s closest aides during that struggle."We took it for granted that if we had the right to register and vote our votes would be counted. We never imagined that 40 years later we would have to launch a whole new struggle," he told the World. "But we know that many poor people never had their votes counted in the 2000 election or in the 2004 election. Given the character of the people now in power, we can have no confidence that our votes are being counted."
Vivian delivered the same warning two hours earlier during a Sunday morning service at Brown's Chapel AME Church packed with marchers, including Senate Majority Leader Bill Frist (R-Tenn.). Frist had come as part of the GOP "charm offensive" seeking to woo African American voters, but Vivian blasted President George W. Bush for dragging the U.S. into the Iraq war and for devastating programs that serve poor and working people. The crowd gave Vivian a standing ovation.
Meanwhile, two blocks away at First Baptist Church, Rep. Maxine Waters (D-Calif.) told the crowd not to be fooled by smooth talkers like Bush or Frist. "Some of those who have come here to march today are going to punch that button and vote against us every time," she said. "They try to talk the talk, but they can't walk the walk. We need to call them out."
Waters blasted Bush's 2006 budget. "Bush calls himself compassionate but he's got his foot on the necks of poor people," she said, citing his proposal to terminate Community Development Block Grants, slash Section 8 low-income housing and force 200,000 people off food stamps.
"We've got to fight. We've got to stand up and protest," she said.
In weighing the truthfulness of Bush's claims on Social Security, Waters said, "Isn't he the one who told us there were weapons of mass destruction in Iraq? He got us into a war in Iraq and Afghanistan and now he is asking for $87 billion more for war."
Administration strategists know, she said, that unless they "can get a section of the African American people to come over and support the right wing they can't win."
That is why the administration is seeking to lure Black ministers into a crusade against same-sex marriage, she said. "They are trying to get us to take our eyes off the prize. … They preach of morality. We know what morality is: Feed the hungry. House the homeless. That's morality."
Even on the issue of voting rights there were warnings of trickery. Frist and Sen. Mitch McConnell (R-Ky.) are co-sponsors of a bill to "permanently" reauthorize Section 4 of the Voting Rights Act. That is the measure that requires states with a history of racist disenfranchisement to obtain "pre-clearance" of any changes in voting procedures to insure that they don't negatively affect minority voting rights.
But Ted Shaw, the NAACP Legal Defense and Education Fund's chief legal counsel, warned that making the Voting Rights Act "permanent" is a "trap, a set-up." It could open the door for the Supreme Court to declare the measure unconstitutional. Any race conscious reform, he said, must include a provision for periodic review and extension on the assumption that discrimination will be abolished eventually and the measure will no longer be needed.
A petition initiated by the Rainbow PUSH Coalition "to support reauthorization of the Voting Rights Act of 1965" makes no mention of making the renewal permanent. Rainbow PUSH President Jesse Jackson has called for the collection of 1 million signatures on the petition. The coalition is sponsoring a voting rights march in Atlanta Aug. 6.
greenerpastures21212 @ yahoo.com